One of the trade deadline's major chips has switched teams, as the Angels have acquired Zack Greinke in a trade with the Brewers.  Milwaukee will receive top infield prospect Jean Segura and Double-A right-handers Ariel Pena and John Hellweg in exchange for their ace.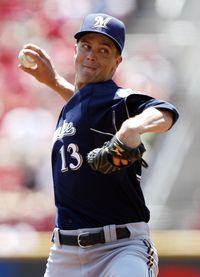 Greinke returns to the American League after spending the last season and a half with the Brewers.  The right-hander lived up to expectations in Milwaukee, posting a 3.67 ERA and a 9.9 K/9 rate in 49 starts with the team and playing a major role in the Brewers' charge to the NLCS last season.  Still, the Brewers are undoubtedly disappointed to be moving their ace less than 20 months after acquiring him from the Royals for a major prospect haul that included Lorenzo Cain, Alcides Escobar, Jake Odorizzi and Jeremy Jeffress, though they were able to recoup some of that minor league depth back in this deal.
Segura was rated as the 55th best prospect in baseball by Baseball America headed into this season and the shortstop put up solid numbers at Double-A Arkansas, hitting .294/.346/.404.  Segura also made his Major League debut on July 24 as the Angels called him up as depth for the injured Erick Aybar.  With Mike Trout and Garrett Richards now in the majors, Segura was considered to be the top prospect remaining in the Halos' system.  The 22-year-old has been considered by some teams to be best suited for second base, according to ESPN's Buster Olney, though for now Segura fills the shortstop void left behind by Escobar in the Brewers' system.
Pena, 23, has a 3.37 ERA, an 8.9 K/9 rate and a 2.2 K/BB rate in 111 games (103 of them starts) over six seasons in the Angels' system.  Hellweg, also 23, was a 16th-round pick for the Angels in the 2008 amateur draft.  He has a 3.66 ERA and a 9.6 K/9 rate in 127 minor league games (38 starts) though control has been an issue, as Hellweg has a career 6.4 BB/9 rate.
Pitching wasn't expected to be a need position for the Halos going into the season, but with Dan Haren and Ervin Santana struggling, the team was in need of another big arm.  Greinke is a free agent this winter and the Angels are in a good payroll position to keep him; Los Angeles could decline its $15.5MM and $13MM options on Haren and Santana, respectively, plus Torii Hunter and Bobby Abreu's contracts will be off the books after this season.
The Angels not only upgrade themselves by acquiring Greinke, they also deal a blow to their AL West rivals — the Rangers were one of several teams in the mix for Greinke.  With one major arm removed from the trade market, teams like the Rangers, Braves, White Sox or Dodgers could now their attention to other possibly available aces like James Shields or Josh Johnson.
Ken Rosenthal and Jon Morosi of FOX Sports (via Twitter) broke the news that Greinke was going to Anaheim, as well as the news about which prospects would be going back to Milwaukee.
Photo courtesy of Frank Victores/US Presswire.