Pick one player from each of eight tiers and you've got a shot at part of the $400 prize pool in DraftStreet's latest MLBTR freeroll!  You've got nothing to lose by signing up and making your picks, as this game has no entry fee.  You'll be competing based on the stats your eight players accumulate in games on Tuesday, July 31st – trade deadline day.
I've chosen an all-offense strategy, with huge power coming from bats like Ryan Braun, Prince Fielder, and Michael Morse, plus plenty of speed from Mike Trout, Ian Kinsler, and Jacoby Ellsbury.  Check out the scoring categories in the rules section.  A screenshot of my roster: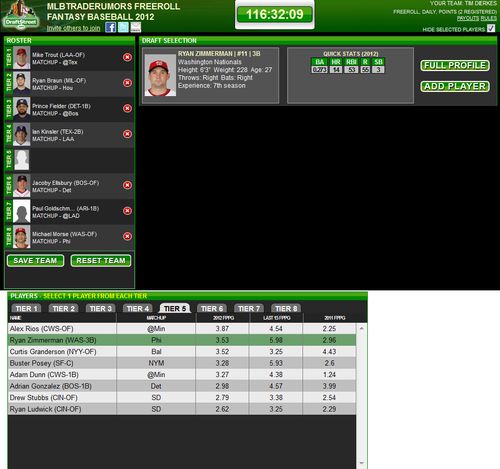 Take five minutes to make your picks for Tuesday's games, and you've got a shot at the $400 prize pool!  Please note that this post is a paid advertisement by DraftStreet.