Ozzie Guillen and Bobby Valentine get more than their share of the coverage, but the Marlins and Red Sox weren't the only teams that hired new managers this past offseason. Five teams made managerial changes for the 2012 season and two other managers are in their first full seasons with their current teams. Here's a look at how the managerial changes are going…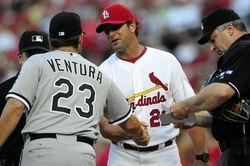 American League
Valentine has been in the spotlight often, publicly questioning Kevin Youkilis' effort level and producing a documentary about baseball in the Dominican Republic. The Red Sox are in fourth place in the AL East with a disappointing 53-53 record. 
While Valentine has considerable experience managing MLB teams, Robin Ventura hadn't managed a single game when he accepted the managerial job with the White Sox. The results have been excellent so far; the first-place White Sox have a 57-47 record.
Bob Melvin managed the Athletics for much of the 2011 season, but this is his first full season in charge. The surprising A's have a 57-48 record under Melvin, the 2007 NL Manager of the Year.
National League
Guillen's year started off poorly when he expressed admiration for Fidel Castro and drew a five-game suspension from his new team. The Marlins opened the season in a new stadium with lofty expectations, but they're just 48-57 entering today's action. Meanwhile, Davey Johnson's Nationals lead the NL East with a 62-42 record in Johnson's first full season as Washington's manager.
Rookie manager Mike Matheny replaced future Hall of Famer Tony La Russa on a Cardinals team that won the 2011 World Series, but the former catcher (pictured with Ventura) has done well in St. Louis, leading the Cardinals to a 56-49 record. Dale Sveum's roster doesn't have the same kind of talent that the Cardinals have, so it'd be unfair to judge him by the Cubs' 43-60 mark.
Photo courtesy of US Presswire.