David Ortiz has played in just one game since July 16 due to a right Achilles strain, and while he hopes to be back in September, this prolonged injury isn't a good sign for a 36-year-old on the way to free agency.  The injury adds another twist to that should be a very interesting free agent case for Ortiz, especially in the wake of the recent overhaul of the Red Sox roster.
Before the injury, Ortiz was enjoying one of his best seasons.  The veteran slugger has hit 23 homers and posted a .318/.415/.611 line in 2012, providing solid production all season long and avoiding the slow starts that plagued him over the last three years.  Even though he turns 37 in November, it appears as though Ortiz still has plenty left in the tank and, if healthy, projects as one of the biggest bats on the free agent market.  Ortiz's suitors will be limited to AL teams given his inability to play the field, but as he recently pointed out to WEEI.com's Rob Bradford, his full-time DH status and his recen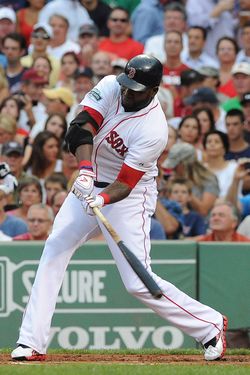 t health issues will be less important to teams than his potent bat.
"In this game when you are capable to do what I do, that's a plus. I don't care what anybody says. It's a plus," Ortiz said.  "It's hard to hit a damn baseball. Harder than what anybody can imagine. If you put two, three David Ortiz in your lineup you're going to have some results. I guarantee that….[Offense is] what everybody is looking for right now.  They don't care if you're a catcher, first base, DH, whatever. If you can produce, trust me, you're going to play."
Ortiz has a point.  Teams have been reluctant in recent years to spend on the DH spot, thus limiting a number of veteran designated hitters to modestly-priced one-year deals.  Several of those veterans are back on the free agent market in 2013, and of that group, Ortiz has by far had the most recent success and is able to consistently produce against both right-handed and left-handed pitching.  His current Achilles strain aside, Ortiz is quite durable for an older player, with just one other DL stint since 2002.
After having to settle for accepting Boston's offer of arbitration last offseason and agreeing to a one-year, $14.575MM contract, I would guess that Ortiz will certainly be able to find a multiyear contract this winter.  Agent Fernando Cuza should be able to find, at minimum, a two-year, $30MM deal for his client.  The Red Sox will make Ortiz a qualifying offer, but given how such offers are one-year deals worth around $13.35MM, Ortiz will surely turn it down in hopes of finding a better deal elsewhere. 
The Sox would get a supplemental first round draft pick if Ortiz did reject that qualifying offer and signed with a new team, but it's likely that Boston would make a significant push to bring back its long-time star.  With Adrian Gonzalez, Josh Beckett and Carl Crawford all gone to the Dodgers, the Red Sox suddenly have loads of future payroll space to work with in the offseason. 
Two years and $30-$35MM is a very fair price for a hitter who can still generate a 1.026 OPS and locking up a franchise icon like "Big Papi" would also be a good PR move for ownership in the wake of a tumultuous season.  For his part, Ortiz has been vocal about going through the "humiliating" arbitration process and his displeasure with the constant controversy surrounding the Sox, but said earlier this week that he wanted to return to Boston in 2013.
If not Boston, where else could Ortiz land next season?  The Royals, White Sox and Tigers already have their DH spots filled, the Yankees are known to keep their DH spot flexible so they can rest their older players and Ortiz will want to play for a likely contender, ruling out the Astros, Mariners and Twins.  This leaves…
Angels.  This one is doubtful, as while it's possible the Halos could trade or non-tender Kendrys Morales, they're unlikely to do so in favor of a DH who is seven years older.
Blue Jays.  Edwin Encarnacion could become a full-time first baseman.
Indians.  The Tribe are known to be looking for hitting help this winter and will have an open DH spot with Travis Hafner's contract expiring.  That said, Ortiz might not consider Cleveland to be close to contention in 2013.
Orioles.  Jim Thome is in the mix but is a free agent himself and could also choose to retire.  The O's could decline their $11MM option on Mark Reynolds for 2013, move Chris Davis to first base and sign Ortiz as their designated hitter.
Rangers.   With Josh Hamilton and Mike Napoli headed for free agency, Texas could well make a play for Ortiz depending on how the rest of their offseason shakes out.
Rays and Athletics.  I group these teams together as signing Ortiz would be a larger salary outlay than either is usually comfortable making.  For just a two-year deal, however, Andrew Friedman or Billy Beane could think Ortiz is worth it for a pennant run.  The Rays are the likelier of the two to pursue Ortiz given that the Rays are more established contenders, whereas the A's have been a surprise this year.
Photo courtesy of Bob DeChiara/US Presswire