Six years ago this month, Daisuke Matsuzaka was the best pitcher in the world not employed by an MLB team. He dominated Nippon Professional Baseball with the Seibu Lions, winning the league strikeout title four times from 2000-2006. The Lions posted him after 2006, and the Red Sox won his negotiating rights (for $51M+) and then signed him to a six-year contract (worth $52MM).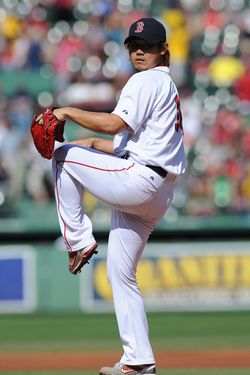 Things are much different now, as Dice-K is a few weeks away from becoming a free agent for the first time time in his career. He helped Boston win a World Series in 2007 and finished fourth in the Cy Young Award voting in 2008 (18-3, 2.90 ERA), but things have gone downhill since. Matsuzaka pitched to a 5.76 ERA while missing considerable time with a groin injury in 2009. He stayed reasonably healthy in 2010 but pitched to a 4.69 ERA. After allowing 24 runs in his first 37 1/3 innings of 2011, Dice-K underwent Tommy John surgery.
Matsuzaka, 32, has posted a 7.14 ERA with 8.3 K/9 and 4.0 BB/9 in 40 1/3 innings this season since coming off the DL. All of the hype from 2006-2007 is gone, and that six-year contract expires after the season. It's been four years since Dice-K's last sub-4.50 ERA, five years since his last sub-4.0 BB/9, and five years since his last 200-inning season. He has said he would like to pitch until he's 40, though he'll head into this offseason as a reclamation project.
The starting pitching free agent market offers a number of reclamation types, including Colby Lewis, Erik Bedard, and Carl Pavano, all of whom are older than Matsuzaka. A move to a pitcher's park should help his numbers, as would a potential shift to the NL. There wasn't any interest in the right-hander when the Red Sox put him on waivers last month, but that's not surprising given his salary ($10MM). Agent Scott Boras has a way of finding better than expected contracts for his clients, but it's tough to see him getting Dice-K anything more than a one-year, low-base salary deal (with incentives) this winter.
Photo courtesy of US Presswire.