Few trade deadline acquisitions have had as much impact as Marco Scutaro, who has hit .341/.361/.447 in 44 games for the Giants after being acquired from the Rockies for prospect Charlie Culberson. He's continued to show off his trademark versatility by filling in at third base while Pablo Sandoval was hurt before taking over second full-time.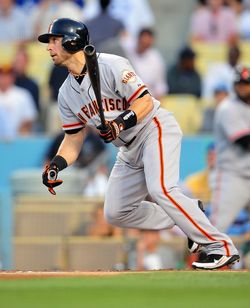 Scutaro, 36, owns a .293/.336/.388 overall batting line this season between Colorado and San Francisco. He hit .299/.358/.423 in 445 plate appearances for the Red Sox a year ago, before they exercised his $6MM option and traded him to the Rockies. Other than that versatility, Scutaro's calling card is his ability to make contact and get on-base. He's struck out in just 7.8% of his plate appearances this year, the second lowest mark in baseball. His career 8.7% walk rate is rock solid as well.
Earlier this week Scutaro made it clear that he would like to return to the Giants next season, so much so that he would be open to re-signing during the exclusive negotiating period after the World Series. The upcoming free agent class is light on quality middle infielders though, so his services will definitely be in high demand especially when you factor in his strong second half performance for a contender.
Scutaro originally signed a two-year $12.5MM contract with the Red Sox prior to the 2010 season (plus the option), and I don't think it's completely out of the question that he signs a similar multiyear deal this winter despite being three years older. The middle infield market offers few viable alternatives, and his versatility means he won't be locked into one position. The Giants are shedding Freddy Sanchez's $6MM salary after the season, money that could be easily reinvested in the team's current second baseman.
Photo courtesy of US Presswire.