The last few seasons have been a rollercoaster for 30-year-old Nate McLouth, a former All-Star with the Pirates who finished the season as the regular left fielder for the Orioles. In between he was traded to the Braves, had his option declined, re-signed by the Pirates, released by Pittsburgh, and signed by Baltimore.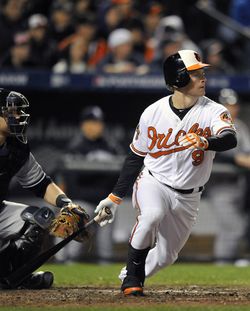 McLouth earned himself a three-year deal worth $15.75MM back in 2009 after hitting .276/.356/.497 with 26 homers, 23 steals, and a league-leading 46 doubles back in 2008. He was traded to Atlanta shortly thereafter, where he put together just a .229/.335/.364 batting line in over 1,000 plate appearances across three years. After a second tour of duty as a bench player with the Pirates failed, McLouth hooked on with the Orioles and had the best stretch of his career since breaking out in 2008.
Called up in early-August after hitting .244/.325/.461 in 209 plate appearances for the team's Triple-A affiliate, McLouth quickly assumed Baltimore's left field job full-time and even batted third for a few weeks. When Nick Markakis went down with a season-ending thumb injury, the 2008 All-Star assumed the leadoff spot. McLouth finished the season with a .268/.342/.435 batting line in 236 plate appearances for the Orioles, and he went 7-for-22 (.318) with a homer and two steals against the Yankees in the ALDS.
McLouth is now set to head back onto the open market, this time on much more favorable terms after the Braves declined his club option last winter. He's a .248/.335/.421 hitter in nearly 3,000 career plate appearances, and he's shown both speed and decent pop from the left side. As a left-handed hitter, most of his damage comes against righties (.257/.346/.447) and not lefties (.223/.303/.346). Although he's is a strong defender by reputation, the various advanced metrics actually rate him as below-average.
Two strong months and one great playoff series with the Orioles won't be enough to make teams forget McLouth's performance with Pirates earlier this year as well with the Braves. He fits best as a platoon corner outfielder who can fill in at center on occasion, and the good news is that he's on the "heavy" side of the platoon as a lefty. I think McLouth's best free agent comparable may be Casey Kotchman, another guy who bounced around and struggled for years before having the proverbial "one good year" with the Rays a season ago. He turned that year into a one-year, $3MM contract with the Indians last offseason.
Earlier today we learned that McLouth would like to return to the Orioles, but the club already boasts impressive outfield depth with Markakis, Adam Jones, Nolan Reimold, and even Chris Davis. There simply may not be a spot for him in Baltimore next season. McLouth played well enough down the stretch that he will likely be able to find a guaranteed contract (rather than a minor league deal) on the open market, but that contract may only be for one year and a few million bucks. He'll have to repeat this year's his success again in 2013 before richer opportunities come along.
Photo courtesy of US Presswire.