The Diamondbacks will look to reinforce the left side of their infield and acquire starting pitching depth while weighing trades for their outfielders.
Guaranteed Contracts 
Arbitration Eligible Players (estimated salaries)
Contract Options
Free Agents
Some general managers prefer to keep their offseason plans private, speaking in abstractions instead of specifics and offering up vague or evasive answers. It's their prerogative, of course, and a case can be made that controlling information leads to a competitive advantage. At the same time, it's a whole lot simpler to listen to someone like Kevin Towers outline an offseason plan.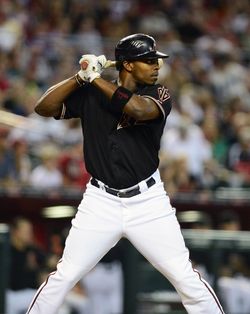 When Towers recently explained his goals to Barry Bloom of MLB.com he didn't leave much to the imagination. The Diamondbacks will pursue veteran pitching via trades, look for upgrades on the left side of the infield, trade an outfielder and exercise J.J. Putz's option. As for the team's payroll, Towers said it could rise as high as $85MM or so. 
Longtime Diamondbacks shortstop Stephen Drew leads a relatively unremarkable class of free agent shortstops, but he's "probably not" coming back to Arizona in the words of his former GM. If Towers looks to free agency for solutions on the left side of the infield, players such as Marco Scutaro and Kevin Youkilis could catch his attention. Yet the trade market might offer more variety, especially if Towers looks to acquire a long-term answer. Shortstops such as Elvis Andrus, Yunel Escobar or Jed Lowrie could draw trade interest from Arizona this offseason if Towers decides to bypass the free agent market.
Toward the end of the regular season, the Diamondbacks seemed content to rely on internal options at third base, and they have a fallback plan of using Chris Johnson (vs. RHP) and Cody Ransom (vs. LHP). Staying within the organization at shortstop seems less likely, as Willie Bloomquist and John McDonald aren't viewed as everyday options at the position.
Unfortunately for the Diamondbacks, their most prominent organizational strength — outfield depth — happens to be a strength of the upcoming free agent market. There will still be demand for Arizona's outfielders, and at least one of Justin Upton, Chris Young, Jason Kubel and Gerardo Parra figures to be traded. The presence of Adam Eaton and A.J. Pollock means Towers can — and should — explore potential trades.
Upton, the 25-year-old right fielder whose name surfaced in trade rumors all summer long, would likely bring the most substantial return. The Rangers, Mariners, Mets are a few of the many teams that could have interest in completing a deal for Upton. The former first overall selection battled thumb injuries this past season, before finishing strong, with six September home runs. Towers knows Upton could play at an MVP level again as soon as next year, but the GM can't justify an exorbitant asking price for a player whose overall performance was good but not great in 2012. It means the Diamondbacks could keep Upton and trade someone else.
Kubel would draw interest coming off of a 30-home run season. So would Young despite a so-so season at the plate. And Parra, the youngest and most affordable of the three with a projected salary in the $2MM range, would appeal to many teams as well. Towers and other top Diamondbacks executives will have to weigh numerous possibilities with so many trade candidates to choose from — it's a good problem to have.
The Diamondbacks could seek an experienced starting pitcher in a trade for an outfielder. Though they have an assortment of promising young starting pitchers, Towers has said he'd like to acquire a veteran starter this winter. Rival teams will no doubt have interest in the likes of Tyler Skaggs, Patrick Corbin and Trevor Bauer, but to this point there's been no indication those young starters will be available. While manager Kirk Gibson figures to enter Spring Training with an enviable selection of starting rotation options, such depth can disappear quickly so it'd be imprudent to make moves based on the assumption that the rotation will always seem so deep.
Josh Johnson, a ground ball pitcher with one year remaining on his contract, might appeal to the Diamondbacks, who pursued top-of-the-rotation arms this past summer. His $13.75MM salary could be prohibitive, so a pitcher like Jon Niese might be preferable.
Reliever J.J. Putz will return, assuming the Diamondbacks exercise his 2013 option, as expected. Retaining a shutdown reliever for one additional season at a net price of $5MM makes sense for Arizona. As challenging as it can be to predict reliever performances accurately, the right-hander adds lots of value and the Diamondbacks can afford the $6.5MM commitment. Conversely, Matt Lindstrom's option could safely be declined. The hard-throwing right-hander looks more like a $2MM player in this market, so it'd be unnecessarily expensive to exercise his option at $4MM. Instead, free agents like Jeremy Affeldt, Randy Choate and Tim Byrdak could appeal to Towers, who has indicated he's interested in adding left-handed relief.
The Diamondbacks have committed approximately $55MM to next year's payroll, according to Cot's Baseball Contracts. This gives them $20-30MM to work with, using Towers' estimate of next year's payroll. About half of that sum would go to the team's arbitration eligible players, assuming Brad Ziegler, Matt Albers, Chris Johnson, Gerardo Parra and Ian Kennedy are tendered contracts. That scenario has Arizona non-tendering Ransom, Wil Nieves, Mike Zagurski and Brad Bergesen instead of retaining them for another year.
Though Kennedy didn't appear to have interest in an extension last offseason, the Diamondbacks could explore the possibility of a new contract with agent Scott Boras this winter. Towers might also ask Aaron Hill about his interest in a contract extension that would cover 2014 and beyond.
There's no ambiguity about Towers' offseason goals. If he hasn't bolstered the left side of his infield and acquired starting pitching depth by Opening Day, the offseason will arguably have been a disappointment. But if the Diamondbacks follow the path they've traced for themselves and their fans, this team should enter the 2013 season with the expectation of contending again.
Photo courtesy of US Presswire.