The Reds will look for an outfielder who can bat leadoff this coming offseason.
Guaranteed Contracts
Arbitration Eligible Players (estimated salaries)
Contract Options
Free Agents
The Reds addressed some of their most pressing long-term needs this past spring, when they signed Joey Votto and Brandon Phillips to contract extensions worth a total approaching $300MM. After 97 regular season wins and an NL Central title, Walt Jocketty's roster still seems strong. The GM will likely pursue an outfielder who can bat leadoff and add relief depth in the offseason ahead.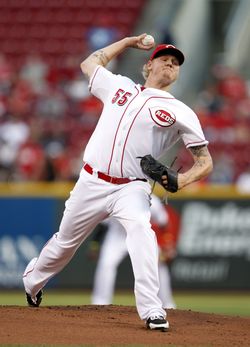 Jocketty already took care of one major move, re-signing manager Dusty Baker to a two-year extension. The veteran skipper returns with the expectation that he'll have a similarly competitive roster in 2013.
The team's most pressing need exists in the outfield, as Ryan Ludwick will decline his side of the mutual option on his contract. The Reds could re-sign Ludwick — they do have interest — or pursue a leadoff hitter. Jocketty has indicated adding a leadoff man will be a priority (and no, it doesn't sounds as though the Reds expect speedy shortstop-turned-outfield prospect Billy Hamilton to be ready by Opening Day 2013).
The free agent market includes potential leadoff hitters such as Michael Bourn, Angel Pagan and Shane Victorino. While these players will enter the offseason as top free agents seeking multiyear commitments, others, like Juan Pierre, will be more affordable. Mark Sheldon has suggested Coco Crisp could be a trade target for Cincinnati following Oakland's acquisition of Chris Young. A short-term option such as Pierre or Crisp might make most sense for the Reds if they believe Hamilton will be an impact leadoff hitter within a year or so.
It should also be noted that the Reds could acquire a center fielder and re-sign Ludwick. Drew Stubbs continues to struggle against right-handed pitching, so limiting his exposure to righties would be a positive, at least from an offensive standpoint. And while we're discussing outfielders let's make it clear that the chances of Josh Hamilton signing with Cincinnati are quite slim. As John Fay recently explained, the team wouldn't have room on its payroll.
The infield seems set for 2013, with Todd Frazier expected to start at third base in place of Scott Rolen. Rolen, a 37-year-old free agent, has said he's not sure whether he'll retire or continue playing. If he's open to returning as a part-time player, he could be a fit on Cincinnati's bench. The Reds will also need a backup middle infielder, assuming they non-tender Wilson Valdez. A Ronny Cedeno-type player could provide the Reds with the insurance they need up the middle while prospect Didi Gregorius develops.
Five pitchers started 161 of the Reds' 162 games in 2012 and, not coincidentally, no National League team allowed fewer runs in 2012. Though it'd be unreasonable to expect similar effectiveness and health again in 2013, Jocketty won't have an easy time convincing free agent starters to sign in Cincinnati. As of now there doesn't seem to be much opportunity on this starting staff. So how does a general manager maintain depth when he doesn't have jobs to offer up? As the Brewers demonstrated in 2012, teams can avoid the problem by having a system that includes pitchers who could step into the MLB rotation. Left-hander Tony Cingrani might be able to fill this role for the Reds in 2013. While Aroldis Chapman would also be an intriguing rotation option, it's probably not a transition the Reds would want to make midseason. It'd also be prudent to seek starting depth in minor league deals or trades when possible.
The Reds' arbitration class includes a number of non-tender candidates in Valdez, Bill Bray and Logan Ondrusek. They've also got a pair of extension candidates in Mat Latos (pictured) and Homer Bailey. The Reds have signed ten players to extensions since the beginning of the 2010 calendar year, more than any team except the Rockies (the Reds are tied with Blue Jays and Giants at ten). Given Jocketty's recent history, it won't be surprising if Latos or Bailey gets a multiyear deal.
The contract of reliever Ryan Madson includes a mutual option for 2013 that won't be exercised. The right-hander didn't throw a pitch for Cincinnati, missing the entire 2012 season to undergo Tommy John surgery. Though the Reds will decline their side of the mutual option, Madson could be a fit on a one-year, incentive-based deal. It's unclear if the Reds will discuss re-signing Jonathan Broxton, who pitched well in 25 appearances after Jocketty acquired him in a midseason trade. Retaining one of these relievers or signing another comparable pitcher would make sense, especially if Jocketty's entertaining the idea of using Chapman as a starter. Alternatively, they could wait for bargains or add bullpen depth on minor league deals. 
The Reds resemble the Cardinals in that their list of offseason needs appears to be relatively short. Jocketty will pursue outfield help, acquire some backup infielders and bolster his pitching staff this offseason. If he completes those goals within the next few months, the Reds will head to Spring Training with a team capable of repeating as division winners. 
Photo courtesy of US Presswire.