Is it possible for a free agent to have much stock after he missed the entire season due to injury? It is when you've been one of the best relief pitchers in baseball for the last half-decade and are still just 32 years old.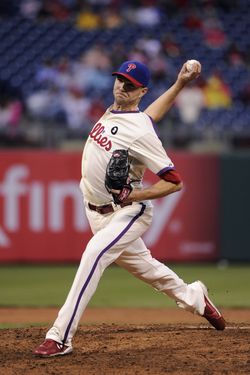 The Reds invested a one-year, $8.5MM contract in Ryan Madson last winter only to watch him blow out his elbow and require Tommy John surgery near the end of Spring Training. They came into today with an 11-game lead in the NL Central thanks in part to Aroldis Chapman, who has emerged as one of the two or three most dominant closers in baseball in Madson's stead. The team survived the injury just fine.
Madson, however, faces an uncertain offseason. He pitched to a 2.89 ERA with 8.6 K/9 and 2.6 BB/9 in 329 2/3 innings from 2007-2011, including a 32-save campaign in his walk year last season. Agent Scott Boras spent the offseason trying to secure a multiyear pact – at one point it appeared that Madson would be returning to the Phillies before they signed Jonathan Papelbon – before taking the one-year deal from the Reds in late-January.
There isn't much precedent for relievers entering free agency coming off Tommy John surgery, but Manny Corpas did it a year ago. He ultimately took a minor league contract with the Rangers before hooking on with the Cubs this past winter. Given his pedigree, Madson should still be able to land a guaranteed contract this offseason, though it might be of the low-base salary plus incentives variety.
It's worth noting that there is an $11MM mutual option ($2.5MM buyout) in Madson's contract with the Reds. It seems likely that he would exercise his half of the option, but the Reds are unlikely to do the same given Chapman's emergence plus Sean Marshall's presence as the backup plan. Acquiring a pitcher of Madson's caliber on a low-base salary deal is very intriguing and something I'm sure multiple clubs will offer him after the season.
Photo courtesy of US Presswire.