The Royals will pursue pitching in the hopes that a deeper starting staff will result in the club's first winning record in a decade.
Guaranteed Contracts 
Arbitration Eligible Players (estimated salaries)
Contract Options
Free Agents
The Royals haven't had an elite starter since they traded Zack Greinke to Milwaukee two winters ago. This offseason GM Dayton Moore will seek rotation help as Greinke hits free agency for the first time in his career. While the Royals aren't expected to be the high bidder for their former ace, they appear ready to spend on starting pitching.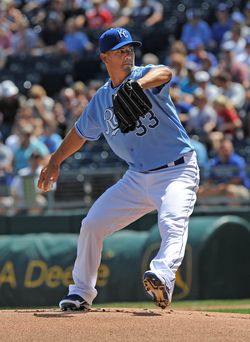 Unless they obtain rotation help, it'll be hard for the Royals to win more games than they lose. Royals starters completed 890 innings this past season, the third-lowest total in MLB. The team's starters combined for an ERA of 5.01 (26th in MLB) while ranking toward the bottom of the league in strikeout rate (6.5 K/9, 25th in MLB), walk rate (3.2 BB/9, 24th in MLB) and ground ball rate (41.7%, 30th in MLB).
To be fair, Felipe Paulino and Danny Duffy missed most of the season with injuries and Jonathan Sanchez was far less effective than expected. But injuries limit just about every team, and general managers must create depth beyond the top five names on the pre-season depth chart. This winter the Royals could look to re-sign Jeremy Guthrie, who pitched well in his return to the American League, posting a 3.16 ERA in 14 starts. No one's going to mistake him for a top-of-the-rotation starter, yet there's value in players like Guthrie, as long as the financial commitment remains modest — say a short-term deal for no more than $7MM annually.
Luke Hochevar pitched himself into possible non-tender territory, posting an ERA of 5.73. No organization likes to give up on a former first overall pick, so Hochevar could be tendered a contract this offseason. He'd earn $4MM-plus if he's offered arbitration.
Regardless of what happens with Guthrie and Hochevar, the Royals have Bruce Chen, Luis Mendoza, Paulino and Duffy in place for 2013. It'd be encouraging to see the team pursue a top-of-the-rotation option to supplement this group, and owner David Glass has indicated he's willing to spend to improve his team's rotation.
Greinke's name will no doubt surface, since the longtime Royals starter will be available in free agency. Other free agents, such as Kyle Lohse and Anibal Sanchez appear to intrigue Moore at a time that the rotation lacks anything resembling an ace. The free agent market will probably include familiar names such as Dan Haren and Jake Peavy and pitchers like Josh Johnson, Jason Vargas and Justin Masterson could be available in trades. David Price could be a tantalizing trade target, even though the Rays would inevitably ask for an elite young position player — Wil Myers perhaps? — in return for the 27-year-old who might be the top left-hander in baseball.
Conversely, the Royals' bullpen was a force in 2012. Not only did Kansas City's relievers pitch more innings than every team except the convention-defying Rockies, the group ranked sixth in ERA (3.17) and led MLB bullpens in wins above replacement (7.3 WAR, according to FanGraphs). This hard-throwing group (93.8 mph average fastball, third in MLB) is generally young and controllable, which means most of these arms will return. Still, every team should pursue relief help over the course of the offseason, since injuries inevitably occur and some players regress. Moore has also traded relievers such as Jonathan Broxton for prospects in the past, so surplus relief wouldn't necessarily be a problem.
Improbably, the Royals' bullpen pitched this well without a single inning from the team's most prominent reliever. Right-hander Joakim Soria missed the season after undergoing Tommy John surgery and his status with the team now looks uncertain. Soria's contract includes an $8MM option and while he has said he would like to stay in Kansas City, $8MM would be too much for a small market team with bullpen depth to spend on a recovering reliever. Perhaps the sides can agree to a one-year contract with incentives and a low-base salary.
Though the Royals out-scored just two American League teams in 2012, their offense doesn't need as many changes as the pitching staff. In fact, the team's lineup seems to have breakout potential. Injuries limited Lorenzo Cain and Salvador Perez this past year, and both could play a full season in 2013. More production can also be expected from 22-year-old first baseman Eric Hosmer, who struggled at the plate despite lofty pre-season expectations. Plus, Myers, Baseball America's 2012 Minor League Player of the Year, could break camp with the club as its everyday right fielder (Jeff Francoeur could then be released or become a bench option for Ned Yost to use against lefties).
The pieces are in place at every position except one. Royals second basemen combined for a .256/.289/.359 batting line last year. Five players played the position ten times or more and four of those infielders — Irving Falu, Chris Getz, Johnny Giavotella and Tony Abreu — remain on the Royals' 40-man roster. Despite the array of internal options, I believe it'd make sense for the Royals to consider pursuing second base help this winter. The free agent market looks thin at second, but Moore could pursue a trade for a player such as Skip Schumaker, who's now being used off of the bench in St. Louis. The versatile Schumaker continues to get on base (.339 OBP this year), though he's a platoon bat who should be shielded from left-handed pitching. Trading for Schumaker would create depth without blocking 2010 first rounder Christian Colon.
The Royals' class of arbitration eligible players looks relatively modest this year, even if the club retains Hochevar. Getz, Blake Wood, and Brayan Pena project to have affordable salaries in 2013, so they're expected to return in supporting roles (Wood missed the 2012 season to undergo Tommy John surgery). Should Moore continue to pursue extensions for his young players, Mike Moustakas could be next in line. The pre-arbitration eligible third baseman hit 20 homers in 2012, his first full season.
The Royals have enough above-average players in place to surprise people in 2013. But major improvements don't happen by accident. One recent example, the Nationals, didn't contend until they made meaningful upgrades to their rotation. It's hard to imagine that Kansas City's path to contention will be much different.
Photo courtesy of US Presswire.