The next strikeout Luke Hochevar records will set a new career-high for the right-hander, but that's one of few positives to take away from an otherwise disappointing season. The 29-year-old has pitched to a 5.46 ERA despite reasonable peripheral stats such as his 6.9 K/9, 3.1 BB/9 and 43.6 percent ground-ball rate. All of those are pretty close to the numbers Hochevar has posted to date in his career: a 5.33 ERA, 6.2 K/9, 3.0 BB/9 and 47.9 percent ground-ball rate. Suffice it to say, that's not quite what the Royals were hoping for when they selected Hochevar first overall in the 2006 draft.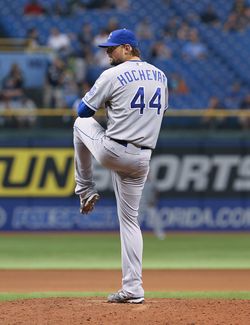 The University of Tennessee product has spent his entire career with the Royals after refusing to sign with the Dodgers when they selected him in both 2002 and 2005. He appeared on Baseball America's list of Top 100 prospects prior to both the 2007 and 2008 seasons, but that pedigree never manifested at the Major League level.
Hochevar avoided arbitration with the Royals last winter, agreeing to a one-year deal that guaranteed him $3.51MM. At the time, he was coming off a 198-inning season in which he posted a 3.52 ERA in the season's second half. That won't be the case this upcoming offseason, but he's still on pace to rattle off roughly 180 innings. That durability will lead to another raise for Hochevar through arbitration, which could push his salary north of $5MM.
As Rany Jazayerli recently pointed out, Hochevar has the fifth-worst ERA and sixth-worst ERA+ of any starting pitcher to ever exceed 120 starts at the Major League level. Given the 752-inning sample size of subpar performance, it seems likely that even a pitching-starved organization like the Royals could move on from Hochevar and seek alternative rotation options. In the event that he's non-tendered, Hochevar would likely be in line for a one-year deal with a low base salary and some performance-based incentives from his new club.
Photo courtesy of U.S. Presswire.