The Padres will look for starting pitching this offseason as they aim to re-establish themselves as an NL West contender.
Guaranteed Contracts 
Arbitration Eligible Players (estimated salaries)
Free Agents
With new ownership and a new television contract in place, there's optimism that the Padres can expand payroll in the relatively near future. Though the newly-approved, Ron Fowler-led ownership group has not revealed precisely where payroll will sit, GM Josh Byrnes recently indicated to Barry Bloom that it could increase. Regardless of how much money he has at his disposal, Byrnes is expected to prioritize starting pitching in the team's first offseason under new ownership.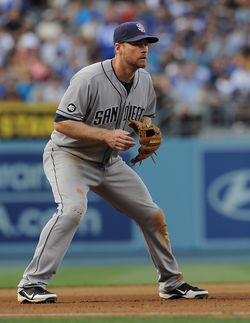 The Padres have $30MM committed to the 2013 payroll, according to Cot's Baseball Contracts. San Diego's class of arbitration eligible players looks unusually large again this offseason, so much of the team's remaining flexibility will go toward players in their arb years. 
Chase Headley (pictured) will be of particular interest following a season in which he emerged as an elite offensive producer despite Petco Park's pitcher-friendly tendencies. His salary could reach the $7MM range through the arbitration process, so he's not the bargain he once was. He's only going to get more expensive, and could command $50-80MM on an extension.
There are indications the new ownership group will spend to keep Headley, but if they aren't willing to do so, they should consider trading him. It might be difficult for fans to tolerate the move just one year after the Mat Latos trade and two years after the Adrian Gonzalez trade. Yet there's no sense in losing a franchise player for nothing but a draft pick when multiple MLB-ready prospects would be available in trades. The Padres have helped develop one of the game's top farm systems by trading elite MLB players before they become prohibitively expensive. If the team's new ownership group continues operating on one of the league's smallest payrolls, Byrnes will have to consider parting with Headley. At a time that teams such as the Braves, Phillies, White Sox and Diamondbacks could be in the market for third base help, demand for a player of Headley's caliber would be overwhelming. Hopefully for Padres fans, ownership decides to spend at a level that can accommodate an elite player as he approaches free agency. If not, the Padres must re-consider trading Headley.
Though the Padres out-scored just six teams this past season, they now seem set at most positions. They got an early start on the offseason by signing Carlos Quentin to a three-year contract and extending Chris Denorfia, the right-handed hitting platoon partner for Will Venable, on a modest two-year deal. These signings solidify an outfield that includes Venable, Cameron Maybin and Jesus Guzman, who also thrives against left-handed pitching.
The Padres also have enough internal options to pass on a relatively weak class of free agent infielders. Headley, Yonder Alonso, Logan Forsythe and Everth Cabrera have earned places atop the team's depth chart, and Jedd Gyorko also figures to get the chance to contribute next year. San Diego struggled against right-handed pitching this past year, so if Byrnes can find a way to supplement Forsythe, yet another lefty masher, with a left-handed hitting second base backup he should do so.
The Padres could cut ties with arbitration eligible pitchers Tim Stauffer, Dustin Moseley and Micah Owings. Stauffer, a valuable contributor from 2009-11, appeared in just one game this past year because of an elbow injury. He'd earn $3MM or so if tendered a contract, so it's hard to argue that a low-budget team should retain him through the arbitration process. Similarly, Moseley appeared in just one game for the Padres in 2012. He underwent season-ending shoulder surgery in April and should also be non-tendered given his current salary of $2.01MM.
John Baker could be deemed expendable now that Nick Hundley and Yasmani Grandal are in place at catcher, so he's a non-tender or trade candidate. Kyle Blanks, the former top prospect who underwent season-ending labrum surgery in April, can expect a contract offer despite his lost season.
As mentioned, the rotation will be an offseason focus for San Diego. Presently it includes few sure things other than Clayton Richard and Edinson Volquez. Promising arms such as Andrew Cashner and Casey Kelly could make an impact and Cory Luebke and Joe Wieland could return from injuries midway through the 2013 season. But Byrnes intends to add starters from outside of the organization following a season in which Richard and Volquez were the only pitchers to start more than 15 games.
Fly ball prone free agents such as Carlos Villanueva, Shaun Marcum, Brandon McCarthy and Jeremy Guthrie could succeed in Petco Park and they figure to be in the Padres' price range. Former Padres ace Jake Peavy, another free agent who allows his share of fly balls, could appeal to the Padres on a short-term deal, but he has significant leverage as one of the top pitchers available. An the other end of the spectrum, Carl Pavano and Daisuke Matsuzaka could be worth adding for a minimal commitment.
The Padres had a strong finish to the 2012 season, winning 42 of 75 second half games. To improve the chances that this success continues in 2013, Byrnes must obtain starting pitching depth over the winter. Extending Headley would be a reassuring move, though a new deal doesn't have to be reached at this time. Over the course of the first offseason since the sale of the club was completed we're sure to learn a lot about just how aggressive new ownership intends to be.
Photo courtesy of US Presswire.