The Braves will seek outfield depth and determine how to replace Chipper Jones in the coming months.
Guaranteed Contracts
Arbitration Eligible Players (estimated salaries)
Martin Prado, 3B/LF: $7.7MM (third time eligible)
Eric O'Flaherty, RP: $3.8MM (third time eligible)
Jair Jurrjens, SP: $5.5MM (third time eligible, non-tender candidate)
Peter Moylan, RP: $800K (third time eligible, non-tender candidate)
Paul Janish, SS: $900K (second time eligible, non-tender candidate)
Tommy Hanson, SP: $4MM (first time eligible)
Jason Heyward, OF: $3.5MM (first time eligible)
Kris Medlen, SP: $2MM (first time eligible)
Jonny Venters, RP: $1.4MM (first time eligible)
Cristhian Martinez, RP: $700K (first time eligible)
Free Agents
The Braves' lineup could look considerably different next year, since Michael Bourn's a free agent and Chipper Jones has retired. General manager Frank Wren will seek outfield depth this winter, at a time that there's an abundance of outfield options available in trades and free agency.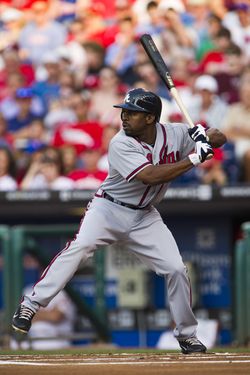 Few outfielders will generate more interest than Bourn, the speedy center fielder who spent the last year and a half in Atlanta. Bourn, a Scott Boras client, will surely decline the Braves' qualifying offer in search of a multiyear deal. The Braves figure to keep tabs on the 29-year-old — they could certainly use a player of his caliber in center field. Still, Bourn figures to obtain a lucrative contract in free agency, and there are questions about how he'll age, as Dave Cameron of FanGraphs explained in September. 
If Bourn signs elsewhere, the Braves could consider free agent center fielders such as B.J. Upton, Shane Victorino and Angel Pagan. While all three have enough leverage to command multiyear deals, they probably won't require as much of a commitment as Bourn. Plus, all three are either right-handed hitters or switch hitters, which would add some balance to Atlanta's lefty-heavy lineup.
The Braves will also consider adding left fielders, since Martin Prado could move from left field to third base. This might be preferable for Atlanta given the lack of third basemen available in free agency. Corner outfielders such as Josh Hamilton, Nick Swisher and Cody Ross are now available on the open market.
Hamilton, the top position player available this winter, intrigues the Braves. He'll presumably cost in excess of $100MM on a multiyear deal, however, and it's not the Braves' style to spend at the top of the free agent market. They should have the resources to spend on premium free agents this year now that Jones has retired, Derek Lowe's contract has expired and Bourn has hit free agency. Still, it's easier to envision the Liberty Media-owned team spending on Swisher or Ross.
Wren could also pursue trades for outfielders this winter. Shin-Soo Choo and Justin Upton could be available, though they play the same position as Jason Heyward. Josh Willingham and Denard Span of the Twins are also potential trade targets for the Braves. Atlanta's search for outfielders started early, when they claimed Jordan Schafer off of waivers in a move that provides them with depth and defense. Reed Johnson could re-sign as a free agent to come off of the bench and provide some offense against left-handed pitching.
If the Braves decide to keep Prado in the outfield and pursue a third baseman, they'll encounter a light free agent market at the hot corner. Right-handed hitting infielder Kevin Youkilis would be one possible target. The trade market could include Chase Headley and David Wright, but those two seem like extension candidates rather than trade candidates at this point. Moving Prado to third base and pursuing two outfielders figures to provide Braves executives with more options.
Besides Bourn — MLBTR's number three free agent — the Braves have lots of role players hitting free agency. As mentioned before, Johnson could return as a reserve outfielder. It won't be surprising if the team's other free agents sign elsewhere. Though David Ross complements Brian McCann nicely, many teams will have interest in Ross, so there's a real chance Wren will have to find a replacement backup this winter.
The Braves' large arbitration class includes a handful of non-tender candidates. Jair Jurrjens should be cut loose if the Braves can't trade him by the November 30th deadline for teams to tender contracts to arbitration eligible players. Paul Janish provides insurance behind Andrelton Simmons and Tyler Pastornicky, but he recently underwent shoulder surgery and could also lose his roster spot this month. Peter Moylan isn't safe either after missing much of the season to recover from a rotator cuff operation. 
Hanson could be a trade candidate at a time that many teams are looking for starting pitching. However, his fastball velocity dropped off in 2012 and his overall numbers were pedestrian: a 4.48 ERA in 174 2/3 innings. Hanson's trade value would have been considerably higher a year or two ago, as a pre-arbitration eligible player. The Braves' internal assessment of Hanson will determine whether they trade him now or hold on in anticipation of a turnaround. 
Martin Prado could obtain an extension now that he's just one year away from free agency. Tim Dierkes has suggested the sides could model a deal after Howie Kendrick's four-year, $33.5MM contract. Jason Heyward, Freddie Freeman and Kris Medlen could also be considered extension candidates, though there's less urgency with those players this early in their respective careers.
The success of the Braves' offseason depends on Wren's ability to acquire two position players who can effectively replace Jones and Bourn in the lineup. They should have the resources to address these needs, and maintain their position as a likely playoff contender in the NL East.
Photo courtesy of US Presswire.