The White Sox will look for solutions at a number of positions this offseason, and they could trade pitching depth.
Guaranteed Contracts
Arbitration Eligible Players (estimated salaries)
Free Agents
The White Sox weren't able to reach the playoffs in 2012, but they have enough above average players to project as contenders in the American League going forward. They have clear needs at third base and catcher in Rick Hahn's first offseason as Chicago's GM.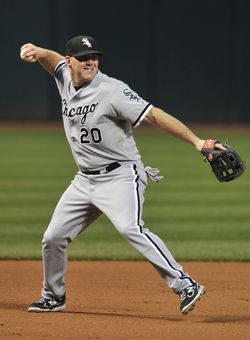 Longtime White Sox catcher A.J. Pierzynski has hit free agency, which means the White Sox need to address their catching depth. It's been reported that Pierzynski will likely sign elsewhere, and if he does leave the White Sox could pursue a free agent replacement. Russell Martin and Mike Napoli are the top backstops available, but Hahn won't necessarily be pursuing a starter. Tyler Flowers could become the team's everyday catcher, in which case Chicago could pursue a backup. The trade market could include players such as Jarrod Saltalamacchia and J.P. Arencibia should Hahn wish to avoid free agency altogether.
The White Sox acquired Kevin Youkilis midseason, when his value was at a low point. He has since restored his value with 80 solid games in Chicago, hitting 15 home runs and posting a .771 OPS. Youkilis, the top free agent third baseman available this offseason, he has already drawn the interest of six teams. Even though he'll turn 34 before Opening Day, Youkilis could be a fit on next year's White Sox team. There's no clear alternative within the organization, and the trade market at third base doesn't seem strong.
It'd make sense for the White Sox to monitor extension talks between David Wright and the Mets and Chase Headley and the Padres just in case. If one of those players becomes available in a trade, it'd be an opportunity worth pursuing. Chicago's offense ranked fourth in the American League in runs scored this past season and it'd look even better with an All-Star at third base. Though the asking price would be high, the White Sox have pulled off many major trades before. 
One player they acquired in a memorable trade recently re-signed with Chicago. The White Sox got their offseason started early, signing Jake Peavy to a two-year deal. Peavy would have been one of the top free agent starters available after his bounce-back season, so keeping him in place through 2014 makes sense. The White Sox didn't get a major discount, but expecting one wasn't realistic considering Peavy's 2012 numbers (3.37 ERA, 194 strikeouts, 219 innings).
Hahn has suggested the White Sox might actually have starting pitching to spare. The club exercised Gavin Floyd's option, which gives them a projected starting five of Peavy, Floyd, Chris Sale, John Danks and Jose Quintana. Non-tender candidate Philip Humber could be traded, or the club could part with a veteran such as Floyd and rely on a less experienced pitcher like Simon Castro or Nestor Molina. Floyd should have good value even though elbow injuries limited him to 168 innings this past season. 
Hahn and Kenny Williams have expressed interest in bringing Brett Myers back as a free agent. Myers apparently prefers to start, so he could be a more realistic option if the White Sox complete a trade involving one of their starters. Francisco Liriano, another midseason acquisition, doesn't seem to be a fit for a relatively deep rotation that already includes three left-handers.
With the exception of Myers, the team's top relievers will return for another season. The White Sox won't need to spend on elite relievers, though, like every team, they should continue looking for pitching depth on low-risk deals. After all, that's how they added Quintana and Donnie Veal a year ago.
Chicago's class of arbitration eligible players consists entirely of first timers. Dan Johnson and Humber could be non-tendered given that they project to have salaries above $1MM. Gordon Beckham and Alejandro De Aza project as starters on next year's team, yet they don't seem like obvious extension candidates at this stage.
If the White Sox aren't convinced that De Aza will replicate his 2012 success, they could pursue outfield depth in free agency. There's been no indication that the White Sox have serious interest in high profile free agent outfielders so far. Perhaps Nate McLouth and Reed Johnson will be viewed as part-time players who could help the 2013 White Sox. A left-handed hitter such as McLouth could mask Dayan Viciedo's struggles against right-handers.
Obtaining help at third base and catcher won't be easy in this market. If these needs have been addressed by Spring Training, the White Sox should again challenge the Tigers for the AL Central title.
Photo courtesy of US Presswire.