The Rangers will seek a catcher, pursue outfielders and add pitching in the coming months.
Guaranteed Contracts
Arbitration Eligible Players (estimated salaries)
Free Agents
In the aftermath of a respectable but ultimately disappointing season, the Rangers find themselves on the threshold of a potentially transformative winter. Their franchise player could sign elsewhere and they have a number of significant needs around the diamond. Yet there are enough impact players assembled on this roster for GM Jon Daniels to focus on their few pressing needs and continue winning in 2013.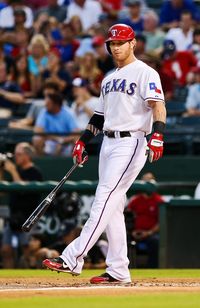 To say the Rangers' offseason revolves around Josh Hamilton wouldn't be accurate. Now that the Rangers have made him a qualifying offer and he has rejected it, the team's involvement with its former star could be over. The Rangers could pursue Hamilton, but they seem to have reservations about making him a long-term offer. Instead, they're expected to pursue other outfielders.
With corner outfielders David Murphy and Nelson Cruz under team control for another year, the Rangers are a potential match for center fielders. Michael Bourn, B.J. Upton and Angel Pagan are among the center fielders headlining a deep group of free agent outfielders. Perhaps the Rangers will bid on one of these players to replace Hamilton as the club's primary center field option. If the Rangers prefer not to rely on Craig Gentry and Leonys Martin in center field, pursuing free agents at the position makes sense.
The Rangers are also interested in corner outfielders Nick Swisher and Justin Upton. Manager Ron Washington could move Nelson Cruz to DH and make Michael Young a utility player if Daniels acquires a right fielder such as Swisher or Upton. The Rangers attempted to acquire Andrelton Simmons from the Braves for Mike Olt in order to flip Simmons to Arizona in a deal for Upton. However, it doesn't appear that the Rangers will trade Elvis Andrus or Jurickson Profar to acquire the Arizona right fielder.
Even so, I'm sure this isn't the last time we'll hear the names Andrus and Profar in trade rumors this winter. Teams in need of shortstops figure to call the Rangers about the possibility of making a trade for one of their talented, young infielders. Few players have more trade value than Andrus, an All-Star caliber 24-year-old signed to a reasonable contract through 2014, or Profar, the switch-hitting 19-year-old regarded as one of the top prospects in MLB. Expect the Rangers to keep Andrus and Profar unless they obtain an equally talented player in return.
If anyone could persuade the Rangers to part with Andrus and Profar it's Andrew Friedman. The Rays executive could move David Price or James Shields this winter, and Tampa Bay could use a shortstop. Price will earn a substantial raise through arbitration and the Rays have starting pitching depth, so both sides could be motivated to complete a deal structured around Price and a Texas shortstop.
It's also possible the Rangers could move Andrus or Profar to second base and move Kinsler to another position, likely the outfield. This could push an outfielder such as Murphy or Cruz to DH and shift Young into a reserve role.
Alternatively, the Rangers could continue using Olt as a trade chip to acquire a starting pitcher. As a controllable player who posted excellent numbers throughout the minor leagues, Olt has considerable trade value.
If the Rangers don't like opposing teams' asking prices in trade talks, they could bolster their rotation via free agency. Zack Greinke, MLBTR's top ranked free agent, interests Texas' front office executives. He'd be an excellent fit alongside Yu Darvish, Matt Harrison, Derek Holland and Alexi Ogando. The Rangers have expanded payroll in recent years, and if they intend to continue spending $120MM-plus on payroll, Greinke could be a long-term fit. Anibal Sanchez and Edwin Jackson are among the other free agent starters who could interest the Rangers. Expect Ryan Dempster to sign elsewhere.
The Rangers also need to add middle relief at a time that Koji Uehara, Mike Adams and Mark Lowe are hitting free agency. The team could pursue some of its own free agents or look to others such as Joakim Soria, Jason Grilli, Jason Frasor and Octavio Dotel. It'd make sense to stay in touch with right-hander Scott Feldman. The free agent could provide depth at a reasonable salary, as Dave Cameron recently explained at FanGraphs.
Now that Mike Napoli has hit free agency, the Rangers are without a clear solution at catcher. They're expected to non-tender Geovany Soto given the former Rookie of the Year's projected $4.6MM salary, which means it'll soon be time to consider free agents and trade candidates. A.J. Pierzynski could appeal to the Rangers, and they're considering Russell Martin. Those are the most appealing free agents out there unless they circle back to Napoli. They won't find a catcher with more power than Napoli, who missed time with a quad injury this past season. The trade market could include J.P. Arencibia and former Rangers catcher Jarrod Saltalamacchia, who has spent the past two and a half seasons with the Red Sox.
The Rangers' class of arbitration eligible players includes just one non-tender candidate — Soto. The club could look to extend Harrison or Murphy later on in the winter.
Losing Hamilton would be a blow, especially in the short term. And Daniels has an extensive to-do list, there's no question about that. But the Rangers have adapted on the fly before. With their roster and resources, there's reason for optimism as the offseason begins.
Photo courtesy of US Presswire.