The Yankees must address a number of needs on offense and on the pitching staff — all while looking to avoid the MLB luxury tax by 2014.
Guaranteed Contracts
Arbitration Eligible Players (estimated salaries)
Free Agents
Rafael Soriano (obtained qualifying offer), Nick Swisher (obtained qualifying offer), Hiroki Kuroda (obtained qualifying offer), Ichiro Suzuki, Derek Lowe, Mariano Rivera, Russell Martin, Freddy Garcia, Andy Pettitte, Andruw Jones, Chad Qualls, Raul Ibanez, Eric Chavez
In his tenure as Yankees' GM, Brian Cashman has often strengthened his team with free agent additions. It's time for some role reversal: the Yankees could lose their catcher, their closer, both corner outfielders and a dependable starter to free agency this offseason. As the Yankees prepare to lower payroll for 2014, Cashman must retain some of New York's free agents and pursue outside help for the Yankees to hold onto top spot in the AL East.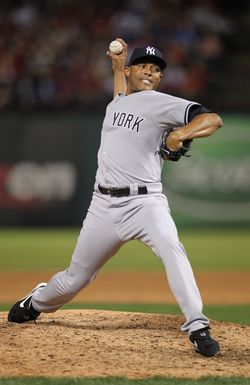 The Yankees have more needs than usual this offseason. They must address their starting lineup, their rotation, their bench, and their bullpen on an apparently limited budget. Let's start with the spending restrictions, since there's something jarring about the notion of the Yankees lowering payroll.
There are significant financial incentives for the Yankees to avoid the luxury of $189MM for 2014. They have committed less than $70MM to the '14 team, so avoiding the tax seems simple enough until you realize that they still have to pay Derek Jeter, Robinson Cano, Curtis Granderson and about 20 others. The way I see it, it'll be challenging for the Yankees to lower payroll below $189MM as long as they continue to rely so heavily on baseball's most expensive commodity: established stars. If their reliance on star players diminishes, and they evolve into a team that's built around younger players, capping costs will be easier. And that, according to Cashman and managing general partner Hal Steinbrenner, has become the plan for sustained success in New York. Still, the Yankees have downplayed their interest in free agency before only to spend big, so many observers will have to see this team show restraint to believe it.
The rotation always seems to be an area of need for New York. The Yankees wisely offered Hiroki Kuroda a qualifying offer only to have the veteran right-hander decline. He'd be an excellent addition given his effectiveness. As a bonus, he'll consider one-year deals. If Kuroda signs elsewhere, the Yankees will have to look at alternatives. Ryan Dempster and Dan Haren are among the starters who might accept the kind of contracts that won't compromise the team's ability to avoid the luxury tax. The Yankees have never seemed convinced Zack Greinke could thrive in New York, but the point is moot, since he appears to be too expensive.
The Yankees might get another season from Andy Pettitte, who returned from retirement to make 12 strong regular season starts and two more in October. Re-signing Pettitte would be advisable, even if he doesn't pitch a full season. The 40-year-old has a history of playing well in the postseason, a bonus for any team that threatens for championships annually.
Some speculative trade targets for the Yankees: Brett Anderson, Gavin Floyd, Ricky Nolasco and Chris Capuano. I'm taking the team at its word and excluding Felix Hernandez from this list because he's now earning close to market value.
Mariano Rivera, arguably the best reliever of all time, and Rafael Soriano, the Yankees' top reliever in 2012, are both free agents this offseason. Assuming Rivera continues pitching, the Yankees should bring him back, perhaps for one year at $15MM. While spending on relievers often seems unnecessary, these are exceptional circumstances: the richest team in baseball needs relief help and its Hall of Fame closer is available on what will presumably be a short-term contract. Expect the sides to reach an agreement.
If the Yankees bring Rivera back, Soriano will presumably leave in search of a closing job elsewhere. The Yankees would obtain a 2013 draft pick in that case, since they made Soriano a qualifying offer. It's possible the Yankees will decide to pursue a setup reliever. Joakim Soria seems interested and could be one option. 
Russell Martin finished the season strong, improving his free agent stock in the process. Naturally, the Yankees aren't eager to overpay. Still, they're interested in Martin, one of the top free agent catchers out there. Mike Napoli, another free agent catcher, has also drawn interest from New York. He'd be an intriguing fit, since the Yankees could keep him in the lineup most days by using him as a part-time designated hitter.
That's another one of the positions Cashman must address this offseason. Playoff hero Raul Ibanez has hit free agency along with Andruw Jones. The Yankees might prefer to keep the DH spot open for days when Jeter, Alex Rodriguez or Mark Teixeira could use a rest, so they won't necessarily target a high-profile bat for the position. Re-signing Ibanez as a platoon bat could make sense, since he provided power all year long before his postseason heroics.
Nick Swisher will probably sign elsewhere, which means the Yankees will be seeking at least one corner outfielder. They showed interest in Torii Hunter and could now turn to free agents such as Cody Ross and Shane Victorino. I think the Yankees should target Shin-Soo Choo in a trade, since he'd add lots of value in right field on a limited one-year commitment. Andre Ethier makes less sense given the Yankees' interest in avoiding the luxury tax. 
Meanwhile, Brett Gardner projects as the starter in left field. If the Yankees are concerned about the health of Gardner's elbow, they could become more aggressive in their search for outfield depth. The Yankees haven't ruled out the possibility of re-signing midseason acquisition Ichiro Suzuki.
Granderson has a case for a long-term extension now that he's just one year away from free agency. The Yankees will almost surely want to sign Cano long-term as well. The team has policy of waiting until players hit free agency to negotiate new contracts, but Cashman could allow for an exception or two this winter. If he does, he'll have to be prepared to spend. Cano has a case for a deal worth in excess of $200MM.
The Yankees have a substantial class of arbitration eligible players that includes much of their bullpen. The group includes three non tender candidates in Jayson Nix, David Herndon and Eli Whiteside. It seems unlikely that any arbitration eligible players will obtain extensions given the Yankees' team policy.
Cashman faces a challenging offseason — perhaps his toughest assignment in recent years. At a time that his stars are aging and his resources are diminishing, the GM must address multiple major needs.
Photo courtesy of US Presswire.