The Nationals will pursue at least one position player while seeking rotation help.
Guaranteed Contracts
Ryan Zimmerman, 3B: $114MM through 2019
Jayson Werth, OF: $99MM through 2017
Gio Gonzalez, SP: $38.25MM through 2016
Kurt Suzuki, C: $7.1MM through 2013
Michael Morse, 1B/OF: $7MM through 2013
Bryce Harper, OF: $5.15MM through 2015
Stephen Strasburg, SP: $3.9MM through 2013
Anthony Rendon, 3B: $3.6MM through 2014
Matt Purke, SP: $2.08MM through 2014
Yunesky Maya, RP: $2MM through 2013
Chad Tracy, 1B/3B: $1MM through 2013
Arbitration Eligible Players (estimated salaries)
Free Agents
Much has changed for the Nationals in the last 12 months. A year ago the team had yet to finish better than .500 since moving to Washington, Bryce Harper was playing in the Arizona Fall League, and Gio Gonzalez was still a member of the Athletics. Now, as the Nationals prepare to defend their NL East title, their offseason plans are closely tied to a player — Adam LaRoche — who seemed all but forgotten a year ago this time.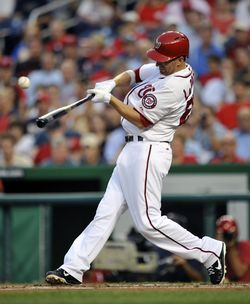 If the Nationals sign LaRoche, they could rely on Michael Morse, Bryce Harper and Jayson Werth in the outfield and bypass a deep class of free agent outfielders to focus on other needs. If the Nationals don't re-sign LaRoche then Michael Morse and Tyler Moore would become the team's primary first base options, and the search for outside outfield help would intensify.
It's also possible that the Nationals could re-sign LaRoche and pursue a free agent center fielder. GM Mike Rizzo could elect to create roster space by trading Morse at a time that many teams are seeking offense. The Rays, Indians and Red Sox are among the many teams that could have interest in trading for the first baseman.
A robust center field market includes B.J. Upton, Shane Victorino, Michael Bourn and others, so the Nationals figure to stay informed in case the right deal emerges. Though Harper handled center field nicely this past season, moving him to right field might make more sense long-term. However, they have some interest in Nick Swisher, an indication that they'd be comfortable spending at a corner position and relying on Harper in center field. The Nationals are also interested in Bourn, who has seemed like a fit in D.C. for a while.
LaRoche, the lone Nationals free agent to obtain a qualifying offer, has had talks with the team about returning for 2013 and beyond. Because of the weak class of free agent first basemen LaRoche has considerable leverage, even though he's tied to draft pick compensation. Still, there's no reason for Washington to spend desperately to retain him given their in-house alternatives.
The Nationals also need help in the rotation, so I found it somewhat surprising when they decided not to make Edwin Jackson a qualifying offer. He pitched well this past season, earning $11MM on a one-year contract. The Nationals could have created the possibility of draft pick compensation by offering a modest raise to $13.3MM on a low-risk one-year deal. Instead Jackson hits free agency and the Nationals' search for starting pitching continues.
The Nationals had a tremendous rotation this past season and with the exception of Jackson it'll stay together in 2013. Still, the Nationals need another starting pitcher this offseason. Ryan Dempster seems like a fit for the Nationals if he doesn't require a long-term commitment. Even though he's 35, the right-hander continues pitching effectively. Dan Haren and Hiroki Kuroda are among the veteran starters who could be available on short-term contracts this winter. Let's not forget about Zack Greinke, who would give Washington a formidable rotation if they could overcome the odds and find a way to sign him. Though there's always the possibility of a trade, the asking price for quality starting pitching figures to be high this offseason.
Washington's bullpen remains relatively young and affordable for now. Most of the relievers will return, yet left-handers Sean Burnett and Mike Gonzalez are free agents. While Rizzo could rely on southpaws such as Tom Gorzelanny, it makes sense for the Nationals to add a lefty specialist if possible. That would add depth and allow Gorzelanny to continue as a multiple inning reliever.
Rizzo addressed one of the team's biggest needs earlier this month when he brought Davey Johnson back for another season. It's possible owner Ted Lerner could look to extend Rizzo, who has just one guaranteed deal remaining on his contract with Washington (the deal includes options for 2014-15).
The Nationals have a large class of arbitration eligible players that includes two non-tender candidates. John Lannan figures to be cut loose after earning $5MM to play at Triple-A in 2012 and Jesus Flores could also lose his roster spot.
After extending three players last offseason the Nationals could pursue more long term deals with their top players. Tim Dierkes has suggested a five-year deal in the $45MM range could work for Jordan Zimmermann. Such a deal would resemble Gonzalez's recent extension and preserve the Nationals' rotation depth long-term. Ian Desmond also has a case for a multiyear deal following a breakout season at shortstop. Some will wonder about the possibility of an extension for Harper, but to me the timing doesn't seem right given the contract he signed after Washington drafted him.
The Nationals project as a scary team in 2013, assuming Rizzo adds a position player and obtains depth for his pitching staff. After years of building, this franchise's time to contend has arrived.
Photo courtesy of US Presswire.