8:28pm: It's a two-year, $6.2MM contract, tweets Rosenthal.
7:49am: The Red Sox have agreed to sign catcher David Ross to a two-year contract, reports Ken Rosenthal of FOX Sports. The deal is still pending a physical. Ross is a Sports One Athlete Management client.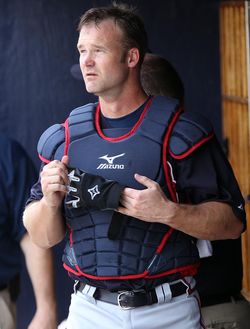 Over the last four seasons, the 35-year-old Ross has established himself as the best hitting backup catcher in baseball. He hit .269/.353/.463 with the Braves during that time, including .256/.321/.449 with nine homers in 196 plate appearances this year. Thanks in part to the presence of Brian McCann, Ross has not come to the plate even 200 times in a single season since 2007. He played with the Red Sox very briefly in 2008.
Rosenthal hears that Ross will be "more than a backup but not a starter" with Boston (Twitter link). The Red Sox already have Jarrod Saltalamacchia and Ryan Lavarnway behind the plate, but the former hit just .170/.211/.283 against left-handers this year while the latter hit .157/.211/.248 overall in 166 late season plate appearances. Ross gives them a platoon partner for Salty while Lavarnway could continue to refine his game in Triple-A. As a right-handed hitter, Ross should benefit from playing in Fenway Park.
MLBTR's Tim Dierkes did not rank Ross on his Top 50 Free Agents list. The backstop earned $1.625MM in each of the last two seasons, and he did not receive a qualifying offer from Atlanta. The Red Sox won't have to forfeit a draft pick to sign him. McCann may miss the start of next year following his offseason shoulder surgery, so the Braves will have to find a capable replacement for Ross.
Photo courtesy of US Presswire.