Last winter, the Rays signed a low-average, high-power hitter in Carlos Pena to man first base in Tampa. A year later, it seems the Rays are turning to Pena's polar opposite. The Rays have officially signed James Loney to a one-year deal worth $2MM, plus an additional $1MM in incentives. Even if he hits all of those incentives, Loney's total payday will be less than half of the $6.375MM he earned in his final year of arbitration last offseason.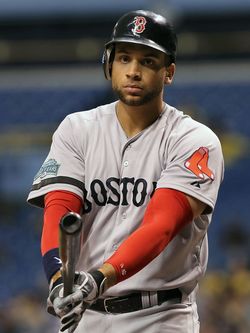 The 28-year-old CAA client batted .249/.293/.336 with six homers in 465 plate appearances for the Dodgers and Red Sox in 2012. He was included as part of Boston's return in the blockbuster trade that sent Adrian Gonzalez, Josh Beckett and Carl Crawford to Los Angeles. Last year marked the first full season of Loney's career in which he posted an OBP lower than .329 and fewer than 10 homers.
The Dodgers selected Loney 19th overall in 2002 out of high school, and he served as the team's primary first baseman from 2007 up until the time of the trade. He never put together the tools that landed him on Baseball America's Top 100 list from 2003-07, however. To Loney's credit, he's regarded as a solid defender and has been incredibly durable throughout his career. He's averaged 156 games per year over the past five seasons.
Jon Heyman of CBS Sports first reported (on Twitter) the agreement between Loney and the Rays, after Tim Brown of Yahoo! Sports reported late Sunday night that the two sides were nearing an agreement. Heyman (on Twitter) and Jim Bowden of ESPN and MLB Network Radio (on Twitter) added the financial details. Luke Adams contributed to this post. Photo courtesy of USA Today Sports Images.