Zack Greinke made quite a few headlines this offseason by becoming the highest-paid right-handed pitcher in Major League history (Felix Hernandez has since topped him). The former No. 6 overall selection in the draft signed a six-year, $147MM with the Dodgers.
Greinke has long been a high-profile arm, thanks largely to his 2009 American League Cy Young Award. His 9.3 wins above replacement (Fangraphs version) that season were the most by any pitcher since Randy Johnson's 2004 season.
So it's no wonder that Greinke had a long list of suitors when it became evident that the Royals were going to trade him. Nor is it surprising that Greinke commanded a young shortstop, a young center fielder and a pair of right-handers that had both been first-round picks.
On December 19, 2010, the Royals traded Greinke and Yuniesky Betancourt to the Brewers in exchange for shortstop Alcides Escobar (24 years old at the time), center fielder Lorenzo Cain (24), right-hander Jake Odorizzi (20) and right-hander Jeremy Jeffress (23). Each player in the deal had recently ranked in Milwaukee's Top 10 prospects, according to Baseball America. Let's take a look at each on an individual basis…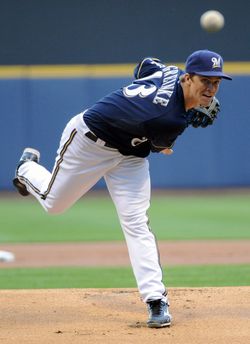 The Major League Side
Zack Greinke: Greinke joined Shaun Marcum as one of two offseason acquisitions for the Brewers that offseason, as the team clearly had an "all-in" mentality entering the final season of Prince Fielder's contract. He broke a rib that offseason playing basketball, limiting him to 171 2/3 innings, but he pitched to a 3.83 ERA with an NL-best 10.5 K/9 when healthy. The Brewers ultimately finished with a 96-66 record, netting them an NL Central Division title. Greinke got his only taste of postseason baseball that year but allowed an unsightly 12 earned runs in 16 2/3 innings. The Brewers lost in the NLCS to the Cardinals, who would go on to win the World Series. Greinke hurled 123 more innings for the Brew Crew in 2012, pitching to a 3.44 ERA, 8.9 K/9 and 2.0 BB/9 before being traded to the Angels. GM Doug Melvin landed Jean Segura, John Hellweg and Ariel Pena in that deal, but that's a whole different post.
Yuniesky Betancourt: Betancourt hit a paltry .252/.271/.381 with the Brewers but still totaled 584 plate appearances in spite of that sub-par production. His defense was also well below-average, and the result was a mere 0.4 wins above replacement, per Fangraphs. Betancourt did manage to swat 13 homers that season — the second-highest mark of his career — but his lack of plate discipline and poor glove mitigated most of that value. He would go on to re-sign with the Royals as a free agent the following offseason and is now in the Phillies organization as a non-roster invitee.
Alcides Escobar: Milwaukee's No. 3 prospect at the time of the trade (per BA) Escobar has blossomed into the Royals' everyday shortstop, posting fWAR marks of 2.2 and 2.6 in his first two seasons with Kansas City. He doesn't walk often (4.2 percent), but he's posted a respectable .274/.311/.368 triple slash line with Kansas City. That includes significant improvement from 2011-12, as his OPS+ jumped from 74 to 98 between the two years. He's developed into an elite base-stealer, collecting 61 swipes in 75 tries (81.3 percent). In 2012, he went 35-for-40 (87.5 percent). The Fielding Bible evaluates Escobar's defense at +12 runs during his time with Kansas City, while Ultimate Zone Rating feels he's been closer to average. Still just 26 years old, Escobar has room for growth.
Lorenzo Cain: Cain's arrival as Kansas City's everyday center fielder was delayed by the acquisition of Melky Cabrera. Groin and thigh strains have cost Cain 98 games between his two seasons with the Royals, but he looks poised to take the reins as the team's everyday center fielder in 2013. It's a small sample, but Cain has a .266/.315/.410 batting line in 267 plate appearances with the Royals. His seven homers and ten steals translate to a 162-game average of 17 homers and 25 steals — a well-above average combination of power and speed for a center fielder. In 726 1/3 career innings in center, UZR/150 rates him at 14.4 runs above average, and The Fielding Bible agrees at +15 runs. He's excelled in the Minors for the Royals and is in the midst of an impressive Spring Training showing, but he'll already be 27 on April 13. Kansas City needs to let Cain play in order to determine if they have a long-term piece this season.
The Prospect Side
Jake Odorizzi: Odorizzi made his big league debut for Kansas City in 2012, but totaled only 7 1/3 innings. Those will likely be the only innings he ever throws for the Royals, as GM Dayton Moore included the now-22-year-old in the James Shields trade. Odorizzi is BA's No. 92 prospect in all of baseball, and he ranks 45th on MLB.com's Jonathan Mayo's version of the same list. BA ranks him fifth among Rays prospects, praising his four average pitches (fastball, slider, curve, change-up) but noting that he lacks a true out pitch. Both BA and Mayo agree that Odorizzi has a chance to become a reliable No. 3 starter, but his ceiling is limited by average offerings across the board.
Jeremy Jeffress: Jeffress' star has fallen considerably since he ranked as BA's No. 100 prospect prior to the 2009 season. Now 25 years of age, the Royals traded him to the Blue Jays for cash considerations this past November. Jeffress pitched 82 innings for Kansas City's Triple-A affiliate and maintained his strong strikeout rate (9.3 K/9) but walked too many (4.7 BB/9) and allowed nearly a hit per inning as well. He received a pair of call-ups to the big league club but walked 24 batters in 26 2/3 innings. He has the potential to be a power arm late in games, but he'll now look to fulfill that upside elsewhere.
In the end, the Brewers got an ace-caliber pitcher and an NLCS berth in exchange for the four prospects they dealt. Greinke managed to net them a trio of prospects including a new, promising shortstop to replace Escobar. Kansas City turned Greinke into an everyday shortstop, a promising center fielder and a pitching prospect that helped them acquire a new ace-caliber pitcher (Shields). However, the Royals are better positioned to compete with this top-of-the-rotation arm than they were the last time they had one.
Both teams fell a bit short of their best case scenarios (Milwaukee didn't win a World Series, and Kansas City cut ties with Jeffress for next to nothing), but this is a trade that definitely reaped benefits for each side.
Baseball America's 2013 Prospect Handbook was used in the creation of this post. Photo courtesy of USA Today Sports Images.