The Cubs have a new face of the franchise, and his name is Anthony Rizzo. The team announced today that it has officially signed the 23-year-old first baseman to an extension covering the 2013-19 seasons, which is reportedly worth $41MM.
The new deal overrides Rizzo's existing 2013 contract, and is therefore essentially a six-year extension. Rizzo will reportedly receive a $2MM signing bonus and earn $750K in 2013. He'll make $1.25MM in 2014, $5MM in 2015-16, $7MM in 2017-18 and $11MM in 2019. The two options are worth $14.5MM each. Rizzo is a client of Sports One Athlete Management.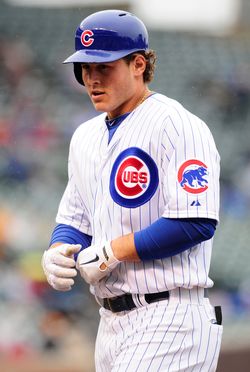 Rizzo's contract contains escalators could drive the total value of the deal to $73MM. The contract does not contain a no-trade clause, though Rizzo may be able to void the 2021 option under certain conditions if he is traded. 
Last August, the Cubs signed shortstop Starlin Castro, their other key young offensive player, to a seven-year deal that also contained guaranteed money through 2019.  Rizzo, 23, is currently hitting .288/.361/.554, and he has a line of .255/.333/.437 for his career. The Cubs acquired Rizzo and a minor-leaguer from the Padres before the 2012 season for Andrew Cashner and Kyung-Min Na.
Without the extension, Rizzo would have been eligible for Super Two status after the 2014 season, Rosenthal notes. Rizzo would have been arbitration-eligible four times, and could not have become a free agent until after the 2018 season, so this deal buys out one year of free agency eligibility and gives the Cubs the rights to two more.
Rizzo's deal tops the five-year, $32MM extension for Diamondbacks first baseman Paul Goldschmidt, to which the two sides agreed shortly before the start of the season. Like Rizzo, Goldschmidt would have been eligible for arbitration after the 2014 season, although Goldschmidt was scheduled to become a free agent a year earlier. Significantly, however, Rizzo is two years younger than Goldschmidt, and would have been eligible for free agency heading into his age-29 season. With the two team options, Rizzo's extension ensures the Cubs can keep him under control through 2021, after which he will be 32.
Ken Rosenthal of FOX Sports was the first to report the seven-year agreement. Jon Heyman of CBS Sports reported that the contract contains a pair of options but does not include a no-trade clause He also added the contract breakdown (All Twitter links). Jesse Rogers of ESPN Chicago added that Rizzo could be able to void the 2021 option if traded (Twitter link).
Steve Adams contributed to this post. Photo courtesy of USA Today Sports Images.