Fausto Carmona was a revelation in 2007 with the Indians, his first season as a starter in the Majors.  He tied for tenth in the AL with 215 regular season innings, tacking on another 15 in the postseason.  He finished second in all of baseball with a 64.3% groundball rate, allowing only 16 home runs on the season en route to a 3.06 ERA.  The campaign earned Carmona a fourth-place Cy Young finish, and the Indians locked up the supposed 24-year-old to a four-year deal with three club options in April the following year.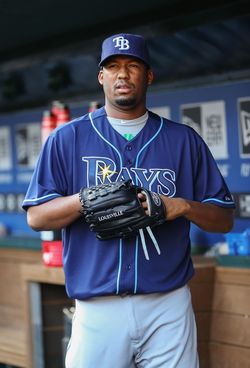 A hip strain cut Carmona's 2008 season short, and in June of the following year a 7.42 ERA across a dozen starts earned him a demotion to the rookie-level Arizona Summer League – a drastic move.  Carmona had replaced Cliff Lee to earn a rotation spot in '07, and when Lee was traded in July of '09, a spot opened for him again.  He was a little better to close out the year, and furthered his comeback in 2010 with 210 1/3 innings of 3.77 ball and his first All-Star nod.  Carmona even became the Indians' Opening Day starter in 2011.  His ERA was higher in '11, but Carmona was pretty much the same pitcher he had been in '10.  It was enough to get his $7MM club option picked up for 2012.
Then came surprising news in January 2012: Carmona's real name was Roberto Hernandez Heredia, and he was arrested in the Dominican Republic for using a false identity.  He was found to be three years older than originally believed.  Charges were dropped, and Hernandez's name, age, and contract were changed.  He rejoined the Indians to make three starts in August before an ankle sprain ended his season.  Though Hernandez's option price had been reduced from $9MM to $6MM, the Indians still chose to move on last October.
Enter the Rays, always open to a project, whether in terms of a performance issue, an off-the-field issue, or both.  They signed Hernandez to a one-year, $3.25MM deal with another $1.25MM in incentives.  The Rays were not able to obtain a club option, a wise choice by agent Charisse Espinosa-Dash of Draft Pix Sports.  As explained by Bradley Woodrum of FanGraphs, Hernandez has tweaked his repertoire with the Rays.  We're only six starts in, but Hernandez has whiffed more than a batter per inning, a rate to which he's never come close in the Majors.  He's still getting groundballs, too.  A 9.0 K/9 and 50% groundball rate is a rare combination, as a qualified starter hasn't managed the feat since Jon Lester and Francisco Liriano in 2010.  This year, Yu Darvish, A.J. Burnett, Jeff Samardzija, C.J. Wilson, Edwin Jackson, and Hernandez have done it in the early going.
Hernandez's ERA sits at an unimpressive 4.66, because 23.1% of his flyballs have left the yard – the worst rate in baseball.  That home run per flyball rate figures to come down significantly moving forward, and the ERA estimator SIERA suggests Hernandez should be well below 4.00 from here on out if he maintains his skills.  If Hernandez can post a sub-4.00 ERA and pitch close to 200 innings with 175 strikeouts or so, he should be quite popular in a free agent market light on above-average, healthy starting pitchers.  The false identity issue may suppress interest, as well as the question of whether Hernandez can maintain success away from the Rays (assuming he does pitch well for the remainder of the season).  A multiyear deal should still be in order, with two years and $16MM a possible floor.  We'll be following Hernandez closely to see if his volatile stock continues to rise.
Photo courtesy of USA Today Sports Images.