The Nationals' 2013 season has hardly gone the way the team hoped and expected. Some of the contributing causes — Ryan Zimmerman's throwing issues; the underwhelming performances of newcomers Denard Span and Rafael Soriano; Danny Espinosa's collapse at the plate — remain concerns going forward. Wilson Ramos's missed time, however, is a factor that promises to turn in the Nats' favor next year. With Ramos set to enter his first year of arbitration eligibility, could this be an opportune time for the Nationals to lock him down for the future?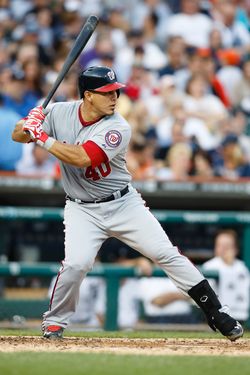 Ramos's importance to the club is undeniable. While he recovered from ACL surgery and battled a hamstring injury, the recently-departed Kurt Suzuki handled the Nats' primary catching duties. Both Fangraphs and Baseball-Reference grade Suzuki right around replacement level over his 79 games and 281 plate appearances in 2013. Meanwhile, in just 47 games and 181 plate appearances, Ramos has been worth about a win and a half over replacement level (1.2 fWAR; 1.8 rWAR). His .289/.320/.480 triple-slash is good for a 120 wRC+ — 11th among catchers with at least 150 plate appearances. Certainly, Washington would have loved to play Ramos for a full season in 2013. Having dealt Suzuki, the team seems poised to do just that next year.
Looking ahead, Ramos seems a good bet to continue to perform. Only recently turning 26, he has a career .273/.330/.443 line over 794 big league plate appearances, well above average for a catcher. Though his defensive performance has had its ups and downs, the Washington Post's Thomas Boswell recently composed an interesting argument that Ramos has consistently enhanced the performances of the Nats' pitchers through his presence behind the dish. 
Of course, Ramos is one of several young Nationals who could warrant long-term commitments, even before considering headline stars Bryce Harper and Stephen Strasburg. MLBTR recently looked at the two primary candidates, with Steve Adams profiling the extension possibilities for starter Jordan Zimmermann back in May and Tim Dierkes exploring the case for shortstop Ian Desmond in April. With the price only rising on those two players as they get closer to free agency and continue to perform at a high level, Ramos could represent an even better value proposition for the team.
Previous first-time arbitration-eligible extensions for established backstops are somewhat sparse, but there are a few potential comparables. Suzuki, for instance, signed a four-year, $16.25MM deal before the 2010 season after two solid platform years. The contract bought out his arbitration eligibility at an average of $4.95MM per season, and included a $8.5MM team option season (as well as a vesting component). More recently, coming off of a strong 2011 offensive campaign, Nick Hundley inked a three-year pact that guaranteed the Padres backstop $9MM over three arbitration-eligible seasons and included a $5MM team option for his first free agent year. (Carlos Ruiz and Chris Iannetta both received similarly-valued, three-year deals.)
By depressing his statistical accumulation, Ramos's injury history will reduce the price he might expect to command through arbitration — and, presumably, the price of an extension. Notably, while Suzuki had logged about 600 plate appearances in the two years before he reached arbitration eligibility, Hundley only managed about 300 plate appearances in his three pre-arb seasons. Ramos, on the other hand, has logged less than 300 total plate appearances since his 113-game rookie campaign. 
If the Nats could structure a deal along the lines of the Hundley contract, the team could reasonably expect to achieve significant excess value. For his part, Ramos could well be motivated to seek guaranteed money; he has never earned more than league minimum, has experienced significant injuries, and already faces prospective arbitration earnings that likely understate his true value. And Ramos is represented by an agency, SFX, that has worked out several recent extensions for its clients.
Of course, Ramos's injury history could also be cause for some hesitation on the part of the team. While his ACL tear was something of a fluke, he has followed that up with two long DL stints for hamstring strains this season. Both Ramos and the Nats seem confident in his durability, however, with manager Davey Johnson calling him "a horse." Nationals GM and president Mike Rizzo, meanwhile, has made clear that he views Ramos as a long-term solution behind the dish.
It will be interesting to see whether Rizzo will seek to turn that expectation into a commitment in the coming months, especially with other extension candidates on the docket. Either way, after paying Suzuki $6.45MM for replacement-level play this year, the Nationals should expect to see a substantially better return on investment behind the dish in 2014.
Photo courtesy of USA Today Sports Images/Rick Osentoski.