On Monday, it was reported that Nationals GM Mike Rizzo has approached Jordan Zimmermann's representatives at SFX about a potential contract extension. While we heard in the offseason that both sides were interested in such a deal, this is the first indication that the two sides have begun talks. 
Zimmermann entered the season with three years, 154 days of Major League service time and is controlled through the 2015 season. A Super Two player, the 26-year-old avoided arbitration for the second time this offseason by agreeing to a one-year deal worth $5.35MM.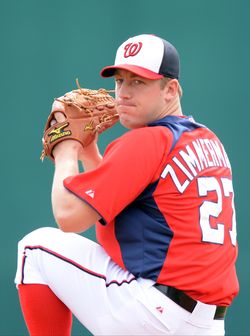 A look at MLBTR's Extension Tracker shows that few Super Two starters with three-plus years of service time have signed extensions, and none are particularly good comparables. Expanding the search to include non-Super-Two starters with three to five years of service gives a few more examples. Justin Verlander and Felix Hernandez signed five-year extensions worth roughly $80MM that included their final two years of arbitration. Dan Haren, Josh Johnson and Zack Greinke all signed four-year extensions in the neighborhood of $40MM that did the same.
In terms of overall value it seems the Greinke, Haren and Johnson extensions are too light. Zimmermann will likely earn more than $8MM via arbitration in 2014 and should see that salary climb well above $10MM in his final arb year. He doesn't have the track record that Hernandez and Verlander had at the time of their extensions, making $80MM seem rich.
Matt Harrison's five-year, $55MM contract could serve as a framework, but Zimmermann has considerably better numbers at this stage of his career than Harrison possessed when he signed his extension. Harrison's contract seems to be the floor for Zimmermann. Something in the range of $60-65MM over five years seems like a more reasonable target. Such a deal could pay Zimmermann $8MM in 2014, $12MM in 2015 and $14-15MM per free agent season.
Keep in mind, also, that the extensions for Verlander and Hernandez occured prior to the wave of new TV contracts that have left teams with far deeper pockets. Those contracts were also signed under the old CBA, when more players were hitting free agency. Today's game sees more and more good players sign extensions before hitting the open market, which is part of the reason that Zimmermann's case is unprecedented to some extent. Given the influx of cash in the game and the increasing imperative for teams to lock up home-grown talent, the $75-80MM range reached by Verlander and Hernandez in 2010 is probably no longer out of the question.
Photo courtesy of USA Today Sports Images.