The Red Sox will make a series of roster moves today, writes WEEI.com's Alex Speier, with none being more notable than the promotion of top prospect Xander Bogaerts.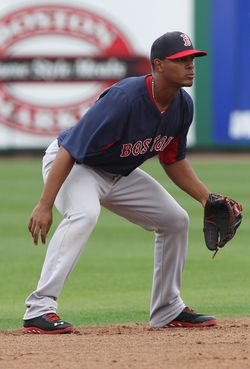 The 20-year-old Bogaerts has mashed his way into a universal Top 10 prospect, ranking third on Keith Law's Midseason Top 50 Prospect list (ESPN Insider required), fourth on Baseball America's Midseason Top 50 and ranking sixth on the current Top 100 list of MLB.com's Jonathan Mayo. The Aruban shortstop is batting .297/.388/.477 with 15 home runs in 515 plate appearances between Double-A Portland and Triple-A Pawtucket this season.
Prior to the season, Law noted that Bogaerts had vastly improved his chances to stay at short, and while he may never become a plus defender at the position, his bat will allow him to be a five-WAR player even with average defense. BA noted that he has plus-plus raw power which he hasn't quite tapped into yet, but his easy swing allows him to spray the ball to all fields and make hard contact. Mayo adds that while he's an average runner, he has surprising range at shortstop and a plus arm. Over at Baseball Prospectus, Chris Mellen projects Bogaerts' ceiling to be an annual 30-homer shortstop once he matures (with more power in his peak seasons), but cautions that he needs to continue to improve his defense at short and also work on his plate discipline.
If he's on the big league roster for good, Bogaerts will miss the Super Two cutoff and be eligible for arbitration three times before reaching free agency as a 26-year-old following the 2019 season. Had the Red Sox kept him down at Pawtucket for the remainder of the season and the first three weeks of the 2014 campaign, they'd have picked up an extra year of team control over Bogaerts and been able to keep him through 2020. As they've shown in the past with Dustin Pedroia, Kevin Youkilis, Jon Lester and Clay Buchholz, however, the Red Sox aren't shy about extending core players when they're amenable to a long-term contract. Clearly that's a discussion for a much later date though, as Boston's current hope is simply that the infusion of a young, talented player like Bogaerts will spark a team that has won just three of its past ten contests.
Photo courtesy of USA Today Sports Images.