A.J. Pierzynski cashed in on a surprising career year with the White Sox at age 35 to sign a one-year, $7.5MM contract with the Rangers that paid him nearly as much in one season as he'd earned via his previous two-year, $8MM contract. Pierzynski's contract was a straight one-year deal without any kind of option, so he'll hit the free agent market once again after another season of plus power behind the plate.
Strengths/Pros
The only catcher in all of baseball with more home runs between the 2012-13 seasons than Pierzynski is Colorado's Wilin Rosario, and he's not hitting the free agent market for another four years. If you're looking for a power-hitting backstop, Pierzynski is only rivaled by Brian McCann, but he won't require the lengthy multiyear commtiment that McCann will.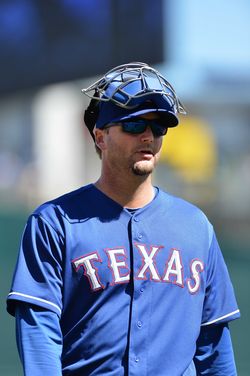 He's also more durable than McCann, and just about every other catcher in baseball for that matter. Pierzynski has averaged more than 130 games per season dating back to 2001 — a staggering testament to his durability. In fact, Pierzynski already ranks 19th all-time in baseball among games as a catcher, and he leads the next-closest active player, Ramon Hernandez, by more than 200 contests. He's spent a total of 35 days on the disabled list over the past decade.
Pierzynski is hitting .273/.296/.428 with 17 homers this year. He topped his previous career-high of 18 homers when he belted 27 last season, and his 17 bombs this year suggest that there's still plenty of power in the tank. He doesn't strike out that often either, as his 14.2 percent strikeout rate and 83 percent contact rate are both better than the league average.
Weaknesses/Cons
Pierzynski has never been one to draw many walks, but his 2.1 percent walk rate in 2013 is the lowest of his career. It's also the lowest among qualified Major League hitters. If Pierzynski gets on base, it's almost always going to come via base hit. When he's on base, it should come as no surprise that he's a slow runner that will clog the basepaths to an extent.
His durability is one of his greatest strengths, but it also causes concern. Pierzynski will turn 37 years old in December, and at some point, conventional wisdom suggests that the sheer bulk of innings he's spent behind the dish is going to catch up to him. Some might look at his second-half swoon in 2013 and think that it's already happening, though there's not necessarily any evidence to suggest that's the case. Still, Pierzynski has followed up a strong .284/.317/.448 first half with a .260/.272/.405 second half. 
Personal
Pierzynski and his wife Lisa have two children: Ava and Austin. He is active within the community and was named one of the 25 "Heroes of Hope" by the Illinois chapter of the Make-A-Wish Foundation — an organization with which he has been very active. Pierzynski's reputation is well-known; he is often booed by fans and has been voted the "meanest" player in baseball in a poll of 215 players conducted by Sports Illustrated. His teammates, however, will tell a different tale. "Until you play with him, you have a misperception of what he is," former White Sox teammate J.J. Putz told SI's Ben Reiter last year. Putz, Adam Dunn, David Ortiz and Chris Sale are among the former teammates who defend Pierzynski to Reiter, with Sale flatly stating that he never once shook off a pitch selection from his former catcher.

Market
Catching is as scarce a commodity as there is in baseball, and Pierzynski's durability and power will drum up plenty of interest despite his age and declining on-base skills. He makes his offseason home near Orlando, so it's possible that he'd prefer a team in the southeast portion of the country, though that's admittedly my speculation and hasn't dictated where he's signed in previous years.
He's still a clear starting catcher and will likely be compensated as such, but he and agent Steve Hilliard of Octagon might be wise to wait until bigger fish like McCann and Jarrod Saltalamacchia are off the market. At that point, Pierzynski and Carlos Ruiz will be the top options remaining. And while Ruiz had a strong track record from 2010-12, he's fallen well short of that pace and been outperformed by Pierzynski in 2013.
Expected Contract
Pierzynski took a one-year deal coming off a career year last offseason. It's hard to imagine him now getting multiple years when he's a year older and coming off a less productive (but still solid) offensive campaign. Another one-year deal looks to be in the cards for Pierzynski, probably at a lesser rate due to the decline in homers and OBP. While a two-year deal can't be entirely ruled out simply due to the dearth of quality catchers in the game, I expect Pierzynski to sign a one-year, $6.5MM contract.
Photo courtesy of USA Today Sports Images.