After eight years on Chicago's south side, A.J. Pierzynski is heading a little further south. The Rangers have officially signed the catcher to a one-year deal, the team announced. It's worth $7.5MM. Fellow backstop Luis Martinez was designated for assignment to clear room on the 40-man roster.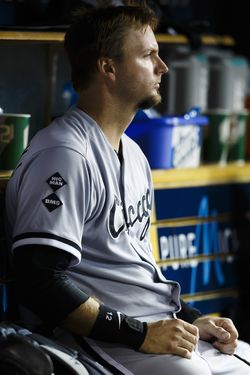 The Octagon client met with Rangers brass last week in Arlington and the club reportedly did extensive homework on him. Pierzynski fills a major gap behind the plate for the Rangers, who lost Mike Napoli. The catcher posted a .278/.326/.501 batting line in 520 plate appearances with 27 home runs in 2012. Pierzynski also appeared in 135 games, reaching the 100 games threshold for the 12th consecutive season.
Texas lost out on a big name free agent last week when Edwin Jackson agreed to a four-year, $52MM deal with the Cubs. With Pierzynski officially joining the Rangers, he'll have Geovany Soto as his primary backup with Eli Whiteside as an additional option. The 35-year-old ranked 30th in MLBTR's list of top 50 free agents this winter and Tim Dierkes correctly predicted that he would sign with the Rangers.
Pierzynski also fills the Rangers' need for left-handed hitting as their lineup is predominantly right-handed. The veteran can also be expected to see time at DH for Texas. The Yankees were also in the mix for Pierzynski, but were less-than-enthused about his defensive skills. Yankees GM Brian Cashman confirmed earlier this month that he checked in with Pierzynski's representatives.
Ken Rosenthal of FOX Sports reported the two sides were close to an agreement while ESPN's Jim Bowden reported the agreement. Jon Heyman of CBSSports.com added details (all Twitter links). Mike Axisa contributed to this post. Photo courtesy of USA Today Sports Images.