Barring an injury in the next 12 days, Bronson Arroyo will be the only pitcher in baseball to make at least 32 starts per year from 2005 to present.  Even Dan Haren, C.C. Sabathia, and Mark Buehrle can't make that claim.  Arroyo, 37 in February, came into his own after a March 2006 trade from the Red Sox to the Reds, but during that time he's never hit the open market as a free agent despite never getting a guarantee exceeding three years.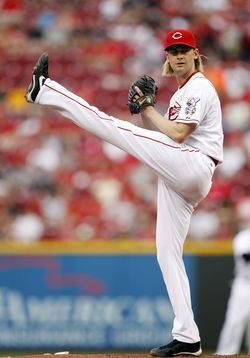 Strengths/Pros
When you hear a pitcher praised for "taking the ball every fifth day," that doesn't mean that he literally never misses a turn in the rotation.  But that truly can be said for the rubber-armed Arroyo, as explained above.  Not only does Arroyo make all of his starts, but he's good for six-plus innings each time out.  He projects for about 205 innings this year, right around his recent annual average.  Arroyo will likely be joined by only Ervin Santana, Ricky Nolasco, and Hiroki Kuroda as 200-inning free agent pitchers.
Arroyo doesn't just take the ball; he adds positive value.  He'll likely finish with a sub-4.00 ERA in four of his last five seasons, and it's down to 3.56 at the moment.  We recently extolled the virtues of Nolasco's walk rates, but Arroyo's is even better.  In fact, only Cliff Lee and Haren have walked fewer batters per nine innings since 2011.
We'll reference Arroyo's age as a negative in free agency, but the fact that he'll pitch at 37 next year is the reason he can expect a two-year deal at best.  Signing Arroyo lacks upside, but one or two years for him seems safer than four for Matt Garza.  As for a qualifying offer?  I doubt Arroyo gets one, as the perenially budget-conscious Reds won't want to risk paying him $14MM next year, even if he says he wants a multiyear deal.
Arroyo is also solid defensively, having picked up a Gold Glove award in 2010.
Weaknesses/Cons
It's always scary to give decent money to a guy with an 87 mile per hour fastball, with the concern that he'll lose another tick of velocity and start throwing batting practice.  He's got one of the lowest swinging-strike rates in the free agent class.  Arroyo is a low-strikeout, pitch-to-contact hurler, and he's had multiple years where he's allowed around ten hits per nine innings.  When that happens, it results in a lot of baserunners even with a low walk rate.  On top of that, Arroyo is mostly a flyball pitcher, so he's relatively prone to the longball.
Arroyo also lacks upside; it's easier to picture Garza, Tim Lincecum, Masahiro Tanaka, or even Scott Kazmir and Phil Hughes ascending (or returning) to the heights of a front of the rotation Major League starter.
Arroyo has a history of avoiding injury, but how many 37-year-olds have reached 200 innings in recent years?  If we include Kuroda for 2013, it has happened only four times in the last five seasons: two seasons from Kuroda, and two from R.A. Dickey.
Personal
Arroyo is an accomplished musician, putting out a CD in '05 and performing in concert at various functions regularly.  He's a four-time winner of the Reds' Joe Nuxhall Good Guy Award.
Market
As the Reds' longest-tenured player, Arroyo's first choice is to stay, but it's less likely if they don't offer multiple years.  Back in January 2011, Arroyo told Michael Silverman of the Boston Herald the other two teams he'd be interested in pitching for are the Rays (he resides in Florida in the offseason) and the Red Sox (his former team).  It is difficult to picture either AL team offering Arroyo a multiyear deal, however.
Expected Contract
Arroyo made it clear earlier this month he considers this his final shot at a multiyear deal.  I think there is a chance of a two-year offer, along the lines of Ryan Dempster's $26.5MM contract.  In the end I predict a two-year, $24MM contract for Arroyo.
Photo courtesy of USA Today Sports Images.