When you think of the ten best second basemen in the game, does the name Omar Infante spring to mind as a contender?  It should.  Infante, 32 in December, ranks eighth in FanGraphs wins above replacement by a second baseman for 2011-13.  This year, despite fewer games played than anyone ranked above him, Infante holds the seventh spot.  Among the six second basemen ranked above Infante in WAR this year, the only other free agent is Robinson Cano, who will be a consideration only for a select few ultra-rich large market teams.  If you're a GM looking to add a quality veteran free agent to solidify second base and you'd prefer not to dole out a nine-figure contract, Infante is your man.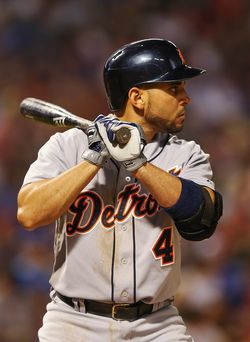 Strengths/Pros
Infante doesn't strike out much, and that generally leads to solid batting averages.  He's had several seasons above .300, including this one, and hasn't hit below .271 since 2005.  
Defensively, UZR/150 considers Infante a plus.  Defensive runs saved from The Fielding Bible suggest he's a bit above-average with the glove as well.
Infante also offers versatility, as he can play third base, shortstop, and the outfield in a pinch.
Weaknesses/Cons
When he hits .300 or better, Infante's on-base percentage will be pretty good, as it is this year at .348.  However, since he generally only draws a walk in about 4% of his plate appearances these days, he's not going to be an OBP threat if he settles back into a batting average in the .270s.  Tigers manager Jim Leyland deserves credit for not confusing the ability to make contact with the ability to get on base, as he's batted Infante in the bottom third of the order more than 80% of the time this year.
Infante rates well among second basemen in slugging percentage, but that gives credit to his many singles, making it a poor choice to measure his power among his peers.  Isolated power puts him 15th among 25 second base qualifiers since 2012, in a similar range as Neil Walker and Dustin Pedroia.  Infante has a few double-digit home run seasons on his resume, but he's not a middle of the order hitter.
It would be unfair to suggest durability is a concern with Infante, who played in almost 150 games in each of the 2011 and '12 seasons.  However, a sprained ankle suffered in July this year kept Infante out for over a month, with a few setbacks during the recovery process.
Infante's stock would be hurt significantly if he receives and turns down a qualifying offer from the Tigers, which FanGraphs' Dave Cameron recommends the team makes.  Losing a potential first-round draft pick to sign Infante would severely limit his appeal, and perhaps he would be compelled to become the first player to accept a qualifying offer.  In that case Infante would earn more in 2014 than he did in the previous four years combined, but would hit the open market again after the season.
Personal
Infante, his wife Yohanna, and their four-year-old son Yomar reside in Lecheria, Venezuela during the offseason.  Omar and Yohanna have been married for over ten years.  From what we've heard, Infante is beloved by other players and coaches and is a hard worker.  He is a family man and a private person.
Market
One feasible scenario is the Tigers and Infante agreeing to a new deal before qualifying offers are due in November, or at least before the open signing period.  My guess is that the Tigers ultimately would not make Infante a qualifying offer — $14MM might be twice the average annual value Infante would get on the open market.  The Tigers don't have to decide now, and are probably keeping an open mind.  Detroit should have strong interest in retaining him, regardless.  The Yankees could be a fit for Infante if Cano signs elsewhere, while the Cubs, Orioles, Dodgers, and Royals could make sense as well.  Free agent competition is light outside of Cano, as Mark Ellis, Kelly Johnson, and Brian Roberts are the top names.  Any team that misses out on Cano could conceivably bid for Infante, should he reach the open market.
Expected Contract
Infante was represented by Alan Nero of Octagon for most of his career, according to MLB.com's Jason Beck, but Jon Paul Morosi of FOX Sports recently revealed the infielder switched to Gene Mato this year.  Two years ago, Infante inked a two-year, $8MM extension with the Marlins in the final days of the 2011 season.  He's improved his stock drastically since then, and this offseason probably represents his one shot at a big contract.
The most relevant contract for Infante might be Marco Scutaro's three-year, $20MM deal with the Giants signed in December last year.  However, Scutaro's deal covers his age 37-39 seasons, while a three-year deal for Infante would cover his age 32-34 campaigns.  Cameron referenced Martin Prado's four-year, $40MM deal as a potential comparable.  That contract was not signed on the open market, and still included $33MM covering Prado's first three free agent years.  While there is a sabermetric case for Infante receiving a bit more than $33MM over three years, I consider that his ceiling on the open market, as Prado is younger and a better hitter (and, incidentally, the godfather to Infante's son).  My guess is that Mato will set his sights on four guaranteed years at the outset, and ultimately I peg Infante at a three-year, $25MM deal.
It should be noted that my prediction includes the assumption that Infante does not reach the open market having turned down a qualifying offer.  If he receives and rejects a qualifying offer and reaches the open market, I would knock my ceiling down to Scutaro's contract.
Photo courtesy of USA Today Sports Images.