In his first full season in 2007, Indians starter Fausto Carmona finished fourth in the AL Cy Young voting.  After some ups and downs, he seemed settled in as a mid-rotation arm with some upside, until he was arrested in January 2012 in the Dominican Republic for using a false identity.  Carmona, now known as Roberto Hernandez, was found to be three years older than originally believed.  After a brief return to the Indians, the Rays swooped in and signed him for a meager $3.25MM guarantee on a one-year deal this past offseason.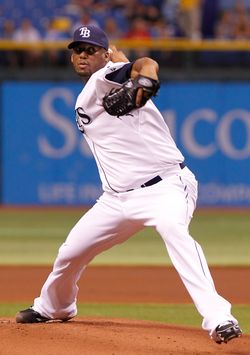 Strengths/Pros
Among qualified pitchers, Hernandez ranks sixth in baseball with a 53.1% groundball rate.  And that's down from Hernandez's groundballing peak, as he was above 63% in 2007-08.  A high groundball rate is almost never a bad thing, but we'll elaborate later in the post.
Hernandez has exhibited strong control this year with a 2.1 BB/9, a career best.  He's also authoring a career-best strikeout rate at 6.8 per nine.  The resulting 3.23 K/BB ratio ranks seventh among free agent starters.
The ERA estimator SIERA suggests the skills Hernandez has displayed this year are good for a 3.58 mark.  Among free agents, only A.J. Burnett and Dan Haren have done better in this regard, and Hernandez bests pitchers such as Matt Garza, Ervin Santana, Tim Lincecum, Hiroki Kuroda, Ricky Nolasco, Ubaldo Jimenez, and Bronson Arroyo, who will all receive larger commitments.
It is impossible to picture the Rays extending a qualifying offer to Hernandez, so he won't come with draft pick compensation issues like Santana, Kuroda, and perhaps Lincecum.
Weaknesses/Cons
If you're a believer in the predictive value of ERA, you won't be inspired by Hernandez's 4.89 figure this season.  It's hard to defend a pretty K/BB ratio as a pitcher gets battered — for example, Hernandez allowed four runs on ten hits in 5 1/3 innings against the Tigers on June 6th, and he doesn't get extra credit for striking out six and walking one that day.  Hernandez has allowed nearly ten hits per nine innings this year, which stands out even if we quietly note his slightly elevated .309 batting average on balls in play.
We also have to talk about home runs allowed.  In theory, keeping the ball in the yard should be among Hernandez's biggest strengths, since he gets so many groundballs.  In reality, he's allowed 1.28 home runs per nine innings in 352 frames since 2011.  This year, he's at 1.45 — third worst in the game among qualified starters.  A whopping 21% of Hernandez's flyballs have cleared the fence, twice the MLB average this year.  Nearly a quarter of the flyballs hit against Hernandez by left-handed batters have gone for home runs this year.  While it's fairly safe to assume Hernandez won't reach those heights again in 2014, it's also fair to say he's worse than the average pitcher at keeping flyballs in the yard, and the ERA estimators are giving him too much credit.
Hernandez was a member of one of the game's deepest rotations, and was demoted to the bullpen in September with the Rays having better options.  Even if he might still be in the rotation for many other clubs, it's not a good development for a pitcher heading back into free agency.
Personal
Hernandez has three brothers and three sisters, according to the Rays' media guide, and spent part of the offseason working with the cattle at his family's farm in the Dominican Republic.  He's in touch with nature, doing much of his offseason running in the mountains near the farm.  Hernandez is married, with three children.
Market
It's too early to pin down potential suitors for Hernandez, as there are a large number of teams that could plug him into the back end of their rotation on the cheap.  He reportedly drew interest from at least five teams last offseason.  Hernandez seems like a free agent who could sign in January, after the bigger names are off the board.  For certain clubs with weak rotations, he could be a big fish in a small pond.  From what we've heard, Hernandez has his mind set on returning to a starting role in 2014.  
Expected Contract
Despite his struggles, Hernandez is in better shape than he was a year ago, when he barely pitched due to his identity fraud situation.  Agent Charisse Espinosa-Dash will likely set out seeking two guaranteed years, and I view the two-year, $10MM deals signed by Carlos Villanueva, Kevin Correia, and Chris Capuano as Hernandez's ceiling.  Back in May, when it seemed likely his home run per flyball rate would come down, I pictured a Brandon McCarthy/Joe Blanton-type contract in the two-year, $16MM range.  Ultimately, since Hernandez will pitch at 33 next year and didn't finish strong, I predict a one-year, $5MM contract, plus incentives.
Photo courtesy of USA Today Sports Images.