Nine months ago, Scott Kazmir could not find a team willing to give him a Major League contract.  After all, the former phenom pitched (poorly) for the Sugarland Skeeters in 2012 and hadn't had big league success since 2008.  However, Kazmir's rise from the ashes began with rediscovered velocity in a bullpen session behind his house last summer, as chronicled by Howard Megdal of Sports on Earth, and now he's probably one of the 15 best free agent starting pitchers available.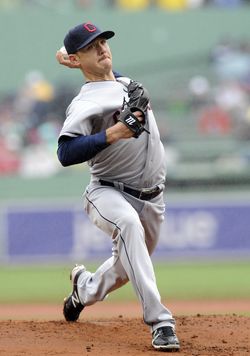 Strengths/Pros
Kazmir doesn't turn 30 years old until January, so by free agent standards he's still young.  His velocity has returned: he's averaging 92.5 miles per hour on his fastball, his best since his rookie season.  His fastball velocity is tied for fifth among all free agent starters, and only seven southpaw starters throw harder in all of baseball.  This year he's whiffed nearly 23% of the batters he's faced, a figure only three free agents have topped.
Additionally, this is the first year in his career Kazmir has walked fewer than three per nine innings.  The combination of strikeouts and control leads ERA estimator SIERA to peg him at 3.62, fourth best among free agent starters.
While Kazmir has put together a nice season, it's difficult to picture the Indians making a qualifying offer and risking a one-year, $14MM deal.  If they don't make such an offer, Kazmir will not be tied to draft pick compensation.
Weaknesses/Cons
Kazmir will likely finish the season with fewer than 160 innings, unless the Indians make the playoffs.  Though he earned the Indians' fifth starter job out of spring training, a right rib cage strain delayed his return to the Majors until April 20th.  Kazmir's innings total is also held down by his inability to go deep into games, as he's averaged about 5.4 frames per start.  He's averaged 17.5 pitches per inning, the 11th-highest in baseball for those with 100 innings.  He's also had some health scares earlier in his career, with DL time in '06 for shoulder inflammation and in '08 for an elbow strain.
The bigger issue is how unlikely Kazmir's story has been.  Years of data suggested he wasn't a Major League pitcher, and now he'll require a multimillion dollar commitment on the strength of 156 innings or so.  What if his velocity disappears again?  What if his arm responds poorly to the innings jump he made in 2013?  Any team signing Kazmir is taking a leap of faith.
2013 hasn't been a flawless year, anyway, as Kazmir has allowed more hits than innings pitched and has allowed 1.18 home runs per nine innings.  Generally I shrug off a .320 batting average on balls in play and a 12.3% home run per flyball rate, but those things did happen, and Kazmir's actual ERA is 4.34.
Personal
Kazmir grew up idolizing Nolan Ryan and later patterned himself after Billy Wagner, according to JockBio.com.  Kazmir's father worked for a Texas welding supply company run by Adam Dunn's uncle, and the two future big leaguers sometimes played Wiffle ball together, reported Albert Chen of SI.com.  Drafted 15th overall by the Mets in 2002, Kazmir was traded to the Rays in '04 for Victor Zambrano in an infamously lopsided deal.
Market
"I would love to stay here," Kazmir told Paul Hoynes of the Cleveland Plain Dealer this month in regard to re-signing with the Indians, adding, "I'm very interested…I'd love to contribute and continue to be with this group."  The Indians also have to determine the future of Ubaldo Jimenez, another coveted free agent starter.
Kazmir has earned over $30MM in his career, mostly by virtue of a 2008 three-year extension signed with the Rays.  It's too early to say whether he'll opt for the comfort of Cleveland, where he resurrected his career, or try to find the largest and longest contract possible on the open market given the uncertainty he faced over the last several years.  Kazmir is a Houston native, but it's unclear whether geography will be a factor in free agency.
Expected Contract
The bar for a two-year contract for a starting pitcher is not terribly high — Brandon McCarthy, Joe Blanton, Carlos Villanueva, and Kevin Correia reached it last offseason.  That third year can be hard to come by, and if Kazmir's main goal is security, perhaps a vesting option could be brokered by agent Brian Peters.  If Kazmir is simply trying to maximize his earnings and has faith in his rediscovered ability, he might prefer a one-year deal in the $8-10MM range, allowing him to further prove himself in 2014 before returning to free agency.
In the end, I expect Kazmir to sign a two-year, $16MM contract.
Photo courtesy of USA Today Sports Images.