The Phillies have signed free agent outfielder Marlon Byrd to a two-year, $16MM deal, according to a team release. The deal includes an $8MM option for 2016 that vests if Byrd gets 600 plate appearances in 2015 or 550 plate appearances in 2015 and a total of 1100 plate appearances in 2014 and 2015. If the option does not vest, it becomes a team option.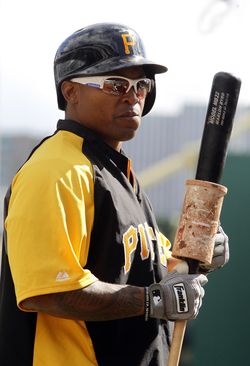 The deal will bring Byrd back to the team that he started his major league career with in 2002.  The 36-year-old is coming off of a season in which he posted a career-best .294/.336/.511 slash line and 24 homers for the Mets and PIrates.  It was a well-timed strong campaign for Byrd and it helped his stock tremendously after he was slapped with a 50-game suspension for PED use in 2012.
Byrd crushed lefties in 2013 slashing .344/.376/.583 with eight homers in 178 plate appearances, but he showed that he can handle right-handed pitchers as well.  Byrd batted .268/.318/.480 against right-handers in 2013, giving him a 129 OPS+ against righties and a 157 mark against lefties.
The Phillies have been linked to Byrd this offseason as they were in search of a right-handed hitting outfielder.  They weren't the only ones, however, as the Mets, Pirates, and Mariners all had varying degrees of interest this winter.
General Manager Ruben Amaro & Co. certainly hope that they'll be getting the 2013 version of Byrd and not the '12 incarnation.  Byrd had just 153 plate appearances in 2012 thanks to his suspension and slashed just .210/.243/.245 for the Cubs and Red Sox.
The outfielder is represented by Seth and Sam Levinson of ACES, as shown in the MLBTR Agency Database.  Earlier this month, our own Steve Adams predicted a two-year, $16MM deal for Byrd.
Michael Barkann of WIP reported that Byrd and the Phillies had agreed to terms. Adam Rubin of ESPN New York tweeted that Byrd would get two years and $16MM. ESPN's Jayson Stark tweeted details of Byrd's 2016 option.
Photo courtesy of USA Today Sports Images.