The Mets have officially signed Curtis Granderson to a four-year deal, the team announced today. Granderson's new contract, which doesn't include a no-trade clause, will pay him $13MM in 2014, $16MM in 2015 and 2016, and $15MM in 2017, for a total of $60MM overall. Granderson is represented by agent Matt Brown of Pro Prospects, Inc.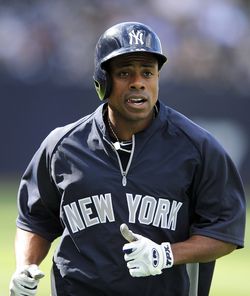 Granderson, 33 in March, would likely have been in for a bigger payday had it not been for a fluke season that saw him miss 100 games on the DL as a result of getting hit by a pair of pitches. When he was on the field, The Grandy Man batted .229/.317/.407 with seven homers and eight steals in 245 plate appearances.
However, the Mets are likely paying for the production that Granderson displayed in the 2011-12 seasons, during which he batted .247/.342/.522 with an MLB-best 84 home runs. Many detractors will try to claim that Granderson is a product of Yankee Stadium, but as I explained in my free agent profile, that's simply not the case; Granderson belted 47 homers at Yankee Stadium in 2011-12 but still went deep 37 times on the road. He benefited to an extent from Yankee Stadium, but as shown by his .244/.339/.493 line on the road, Granderson is more than capable of hitting in other stadiums. Those concerned about his platoon splits can look to his .249/.351/.521 batting line and 127 wRC+ against left-handers from 2011-12. I projected a three-year, $45MM contract in that profile, meaning that Brown and Granderson topped my expectation by getting a fourth year at the same annual value.
Granderson figures to play an outfield corner in Queens, with Juan Lagares manning center field and Chris B. Young (who signed a one-year, $7.25MM contract with the Mets) handling the other corner spot. In Young and Granderson, the Mets have added some much-needed power to their lineup while also adding solid outfield defense. Granderson's glove graded out strongly in 2013, and the move to a corner should help him continue to post strong defensive numbers,
The Mets emerged as the top suitors for Granderson in previous days but were previously reported to be unwilling to up their offer from three years to four. By signing Granderson, the Mets are agreeing to forfeit their second-round pick in next year's draft (their first-rounder is protected). Special assistant J.P. Ricciardi told me at last month's GM Meetings that the Mets would be willing to make that move for the "right" player, but that signing two free agents tied to draft pick compensation was unlikely.
Granderson was also linked to the Red Sox as a possible replacement for Jacoby Ellsbury and said to have drawn interest from teams like the Mariners and Orioles. The Yankees, of course, had interest in retaining Granderson as well. Instead, they will receive a compensatory pick between the first and second round of the 2014 draft — the second such pick they've acquired today, given the news that Robinson Cano is headed to Seattle on a ten-year deal.
The agreement was first reported by Joel Sherman of the New York Post (on Twitter), with Ken Rosenthal of FOX Sports adding terms (Twitter link) and Jon Heyman of CBSSports.com (Twitter links) adding further details.
Photo courtesy of USA Today Sports Images.