7:53pm: Balfour's issue concerns his right shoulder, Connolly reports (Twitter link).  The righty underwent surgery to correct a torn rotator cuff in that shoulder in 2005, Connolly notes, though Balfour hasn't had any subsequent problems.  "More I hear, more it looks like Balfour deal could collapse," Connolly tweets, adding that the Orioles have traditionally been very cautious of signing players (particularly pitchers) with medical concerns.  
7:18pm: A source tells Dan Connolly of the Baltimore Sun (Twitter links) that the Balfour deal "may be in jeopardy," though "serious jeopardy" is probably too strong.  The Orioles would look at other closer options on the open market if Balfour's physical issue is a deal-breaker.
THURSDAY, 6:16pm: The Orioles/Balfour deal is "in serious jeopardy" and could fall apart altogether, MASNsports.com's Roch Kubatko reports.  Balfour's physical revealed issues that "need to be resolved," according to a source.  More word about this setback could come on Friday.
TUESDAY: The Orioles have agreed to a two-year, $15MM deal with Grant Balfour, according to Roch Kubatko of MASNsports.com (via Twitter).  He'll have $500K deferred in each season.  The deal is still pending a physical.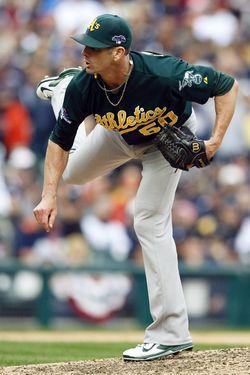 Recent reports indicated that three teams had two-year offers on the table to Balfour, with the Orioles being the most aggressive team and the favorite to land him. Balfour reportedly wanted to pitch for the O's, but was holding out for a three-year deal. There was talk of adding a vesting option to the deal as a compromise, but it appears that a two-year pact was enough to get the job done.
Balfour, who celebrates his 36th birthday on December 30th, turned in a 2.59 ERA with 10.3 K/9 and 3.9 BB/9 on his way to a first career All-Star selection.  Balfour doesn't have the near-95-mph fastball average that he boasted in his best season with the Rays in 2008, but his 2013 average of 93.4 mph was still solid.  The right-hander hasn't had an ERA higher than 2.59 in his last four seasons.
Some may point to Balfour's significant home/road split over the last three seasons as a big reason for his recent success.  Oakland's O.co Colliseum is one of the game's most pitcher-friendly environments, and Balfour has a 1.58 ERA in 113 2/3 innings there, compared to a more pedestrian 3.78 ERA in 85 2/3 innings on the road.
The Aussie missed two full seasons thanks to Tommy John surgery and shoulder surgery following a promising debut with the Twins in his age 25-26 seasons. He rediscovered himself in Tampa Bay before heading to the A's in 2011. Balfour was handed the ninth inning in his second season with Oakland, and has racked up 62 saves from 2012-13 for the back-to-back AL West champions.
Ken Rosenthal of FOX Sports (on Twitter) first reported that the two sides were nearing agreement.  Additional details courtesy of CBSSports.com's Jon Heyman (on Twitter).  Photo courtesy of USA Today Sports Images.