Franchise icon Paul Konerko will return to the White Sox for a 16th season. The White Sox have officially announced the signing of Konerko to a one-year contract. The LSW Baseball client will reportedly receive a $2.5MM guarantee, though $1MM of that amount will be deferred to 2021.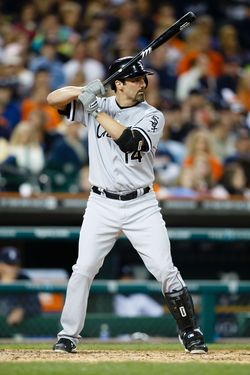 Recent reports indicated that Konerko, who will turn 38 in early March, would inform the White Sox whether or not he wished to return or retire prior to the start of the Winter Meetings. Konerko posted brilliant numbers with the White Sox even in his age-36 season in 2012, batting .298/.371/.486 with 26 homers, but his production fell off the table in 2013. Konerko mustered just a .244/.313/.355 batting line this past season and also missed nearly three weeks with back pain.
The White Sox signed Cuban sensation Jose Dariel Abreu to a six-year, $68MM contract, clearly indicating that they view him as their everyday first baseman. As such, Konerko figures to shift into more of a part-time role for the White Sox in 2014, unless they're able to move Adam Dunn in a trade. Konerko is said to be open to a reduced role with the Sox. Bruce Levine tweets that Konerko was told he will see some time at DH against left-handed pitchers and will spel Abreu at first base on occasion.
Originally selected with the No. 13 overall pick by the Dodgers in the 1994 draft, Konerko found himself traded to the Reds and then the White Sox in a span of six months. The move proved to be a good one for Chicago; in his 15 seasons with the White Sox, Konerko is a .283/.359/.495 batter with 427 home runs. Konerko's name appears frequently on the White Sox' franchise leaderboard, as he's in the Top 10 in games played (third), hits (third), doubles (third), home runs (second), RBIs (second) and total bases (second). It won't take Konerko long to become Chicago's all-time leader in total bases, as he trails Frank Thomas by just five bases. He's 21 homers shy of Thomas, making it possible (albeit unlikely) that he could claim the franchise lead in that department as well.
Ken Rosenthal of FOX Sports first reported that Konerko would return to the White Sox (Twitter link), and MLB.com's Scott Merkin provided the $2.5MM value and deferred payment (via Twitter). Rosenthal added the specifics of the deferment (also on Twitter). 
Photo courtesy of USA Today Sports Images.