The Cubs have officially signed free agent starter Jason Hammel to a one-year, $6MM deal. The 31-year-old Octagon client can earn an additional $1MM in incentives.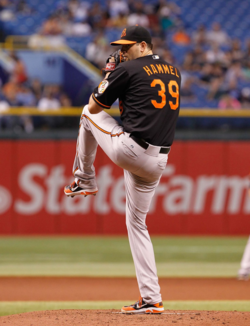 After posting a strong 3.43 ERA in 2012 season that was shortened due to knee surgery, Hammel failed to repeat in 2013. Hammel had reached 8.5 K/9 and 53.2% GB% in 2012, both of which represent career highs by a substantial margin.
As MLBTR's Tim Dierkes noted in ranking Hammel 48th on his list of the top fifty free agents, Hammel saw a dive in his strikeout and groundball rates and dealt with elbow issues. He ultimately ended up with a 4.97 ERA over 139 1/3 innings in 2013.
Prior to the long DL stints in his last two seasons, Hammel had registered three straight years with at least 170 innings for the Rockies. Though he averaged only a 4.63 ERA in that period, those figures were likely inflated by pitching at Coors Field. He posted successive FIP (3.71/3.70/4.83), xFIP (3.76/3.66/4.65), and SIERA (3.90/3.79/4.85) marks that paint a more favorable picture.
The Cubs had signed only three players to guaranteed MLB deals before landing Hammel, none of whom are starters. Hammel will presumably fill out the club's 2014 rotation, joining Jeff Samardzija, Edwin Jackson, Travis Wood, and Jake Arrieta to form the regular starting five.
After missing out on Masahiro Tanaka, Chicago had been rumored to be looking to make a value play on a mid-tier starter. WIth recent injury issues holding down his value, Hammel looks to be the same kind of pitcher that the Cubs targeted last year, when they inked Scott Baker (one year, $5.5MM), Scott Feldman (one year, $6MM), and Carlos Villanueva (two years, $10MM). 
Ken Rosenthal of FOX Sports was first to report the signing on January 31st (via Twitter). Jeff Passan of Yahoo Sports tweeted that the deal was for one year and around $6MM. Jon Heyman of CBSSports.com tweeted the final financial terms. Carrie Muskat of MLB.com first tweeted that the deal was official.
Image courtesy of USA Today Sports Images.