The Nationals have officially acquired catcher Jose Lobaton and two prospects from the Rays in exchange for pitcher Nate Karns. Along with Lobaton, the Nationals will pick up a pair of 22-year-olds that played at the High-A level last year: lefty Felipe Rivero and outfielder Drew Vettleson. Washington placed Erik Davis on the 60-day DL (right elbow strain) to clear 40-man roster space for Rivero.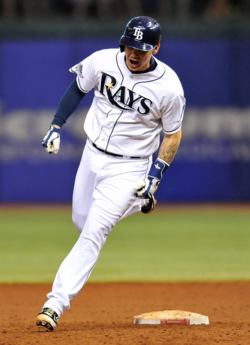 Lobaton is a 29-year-old backstop who figures to slot in behind Nats' incumbent Wilson Ramos on the depth chart. A switch-hitter, Lobaton will presumably see much of his time against righties. Indeed, that has been the case for most of his time in the big leagues, though he has hit from both sides of the plate at roughly the same rate over his career.
Last year, in 311 plate appearances, Lobaton managed a .249/.320/.394 line, good for a league average OPS that plays nicely from the catching position. In addition to offering a left-handed hitting option, Lobaton appeals due to his affordable $900K salary this year and the fact that he can be controlled for three more seasons through arbitration. As MLBTR's Steve Adams noted earlier this month, however, the Venezuelan native's defensive metrics provide cause for some concern.
The 26-year-old Karns underwent shoulder surgery early in his career and just reached the big leagues for three starts last year. Throwing 132 2/3 innings at the Double-A level last year, he put up a 3.26 ERA with 10.5 K/9 against 3.3 BB/9.
Karns is a well-regarded prospect with a big arm, but questions remain whether he will stick in the rotation. Baseball America placed him at the ninth spot among the Nationals' top ten prospects. He had been expected to have an outside chance at earning a rotation spot in D.C., but otherwise would likely have served as minor league depth. Instead, he will presumably find himself facing a similar proposition in Tampa, whose fifth-starter options are perhaps led by 23-year-old prospect Jake Odorizzi.
The prospect return to Washington surely plays an important role in this deal. The southpaw Rivero, who landed at 17th on the BA list this year and 20th last year, threw to a 3.40 ERA in 127 innings at High-A last year, posting 6.4 K/9 against 3.7 BB/9. Rivero has a slight build but reportedly delivers a fastball that touches the mid-90s and carries mid-rotation upside. He occupied a 40-man slot in Tampa. The Nationals had success with a similarly youthful lefty acquired via trade last year, getting some production out of Ian Krol before flipping him in the Doug Fister trade.
Vettleson — the 42nd overall choice in the 2010 draft — also placed amongst the Rays' top thirty prospects. Gaining the 11th overall slot last year, he fell to 20th on this year's version after a .274/.331/.388 campaign at High-A. He knocked just four home runs a year after hitting 15 at the low-A level in 2012, and also swiped only five bases after netting 20 over the prior campaign. Vettleson profiles as a right fielder, with decent legs and a good arm. Baseball America says that, if his power develops as he fills out, and he improves his jumps on the bases and defensive routes, the left-handed hitter could end up with a solid all-around tool set.
The deal shapes up to be a swap of somewhat redundant assets. For Tampa, Lobaton had no obvious role going forward after the Rays acquired Ryan Hanigan from the Reds earlier in the off-season. Meanwhile, the club learned that starter Jeremy Hellickson would miss the early part of the year due to injury. Though Rivero could potentially have a similar ceiling to Karns, the latter is certainly a more established player who is much closer to making a contribution at the MLB level. Even if he does not earn a rotation slot, he could contribute in the pen sooner rather than later.
From the Nationals' perspective, the price was likely easier to bear given presence of other young, MLB-ready starting options (including Taylor Jordan and Tanner Roark, in addition to the more established Ross Detwiler) as well as several other solid arms moving through the system. (To say nothing of the fact that the team already has a strong, young, current MLB rotation that is under control for at least two years.) Though Washington had already traded one well-regarded young starter earlier in the off-season when it sent Robbie Ray (among others) to the Tigers for Fister, Karns did not have a clear place on the big league club and was something of a wasting asset in the minors given his age. By picking up younger talent in the deal, the club managed to maintain a reasonable portion of its talent base while shifting its promotion timeline in a potentially beneficial manner, all while adding a solid piece to the MLB roster.
MLB.com's Bill Ladson first reported the deal (via Twitter). Marc Topkin of the Tampa Bay Times first reported the structure of the deal in its negotiating phase on Twitter. Adam Kilgore of the Washington Post reported (via Twitter) that Karns had been told he was traded to the Rays. Topkin first reported that two minor leaguers would also head to the Nats (via Twitter), and Kilgore tweeted that those names were amongst the Rays' top thirty prospects. Chris Cotillo of MLBDailyDish.com first reported on Twitter that Rivero was included in the deal.