The Diamondbacks have been connected to multiple starting pitchers on both the free agent and trade markets this offseason, but it took until early February for the team to reel one in. The team today announced the signing of Bronson Arroyo to a two-year deal with a club option for the 2016 season. Arroyo is reportedly guaranteed $23.5MM in total. He will earn $9.5MM each in 2014 and 2015, and the club has a $11MM option for 2016 that comes with a $4.5MM buyout.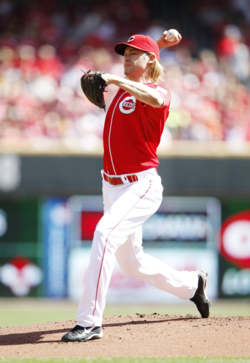 The length and total money in the deal comes in right under the prediction of MLBTR's Tim Dierkes. As Dierkes explained in his profile of Arroyo, the soon-to-be 37-year-old starter's high-floor/low-ceiling profile — combined with his age — made two years and $24MM a good target. Though Arroyo spent much of the off-season looking to add a third guarantee year, he ended up settling in just under the two-year, $26.5MM deal inked last year by Ryan Dempster with the Red Sox.
Arroyo, a client of Terry Bross and Turn 2 Sports Management, has been as consistent and durable a starter as the game has seen in recent years. Since 2004, Arroyo has logged at least 32 starts, logging at least 199 innings in all but the first of those campaigns. His cumulative ERA over that time is 4.10, a mark that he bested in each of the last two seasons (3.74 and 3.79 earned per nine, respectively).
Arroyo succeeds despite offering an 87 mph fastball, which he delivers in less than half of his pitches. He throws three varieties of off-speed pitches: slider, curve, and change. Though Arroyo does not strike out many batters, having hovered in the low-to-mid 5.0 K/9 range in recent seasons, neither does Arroyo hand out free passes. With just 1.2 and 1.4 BB/9 in the last two years, he has maintained a K:BB ratio of better than 3.6 over 2012-13, among the best in baseball. His biggest issue, perhaps, is a tendency to allow the long ball well above the league-average rate, though that is due in some part to spending his last eight years pitching in the homer-prone Great American Ball Park.
Arizona bolsters an already-deep rotation with the signing, which likely means that prized prospect Archie Bradley will not start the year with the big club. Arroyo joins Patrick Corbin, Brandon McCarthy, Wade Miley, Trevor Cahill, and Randall Delgado in the rotation mix.
Despite a fairly busy season on the pages of MLBTR, the Diamondbacks actually had inked just one guaranteed MLB deal (Eric Chavez, one year, $3.5MM) prior to landing Arroyo. Arizona apparently beat out two other clubs to sign the veteran, as the Dodgers and Orioles were also named as finalists for his services. The club had serious interest in adding young, unproven Japanese ace Masahiro Tanaka, but instead ends up adding quite a different type of arm in Arroyo.
John Gambadoro of Arizona Sports 98.7 first reported the deal on Twitter. Jerry Crasnick of ESPN.com first reported the length and option year (Twitter links). ESPN.com's Buster Olney first reported the financial terms (via Twitter). FOX Sports' Ken Rosenthal first tweeted that Arroyo had passed his physical.
Photo courtesy of USA Today Sports Images.