The Marlins made a series of small moves as they wait for their young core to reach the Major League level and climb out of the NL East cellar.
Major League Signings
Jarrod Saltalamacchia, C: Three years, $21MM.
Garrett Jones, 1B/OF: Two years, $7.75MM.
Jeff Baker, 1B/2B/OF: Two years, 3.7MM.
Rafael Furcal, 2B: One year, $3MM.
Carlos Marmol, RHP: One year, $1.25MM.
Casey McGehee, 3B: One year, $1.1MM.
Total Spend: $37.8MM.
Notable Minor League Signings
Trades and Claims
Extensions
Notable Losses
Needs Addressed
The Marlins' offseason began with a long-awaited shakeup that saw president of baseball operations Larry Beinfest dismissed, with assistant GM Dan Jennings being promoted to general manager and general manager Michael Hill assuming Beinfest's old role. The drama leading up to the decision was widely publicized, as Beinfest was long said to have clashed with owner Jeffrey Loria, who often went over Beinfest's head. One example was last summer's one-year extension for bench bat Greg Dobbs; the deal was said to be worked out by Loria and Dobbs' agent, with Beinfest not even being aware that the negotiations were taking place.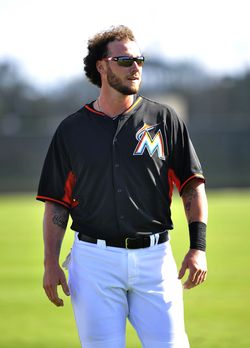 With the front-office shuffle out of the way, the Marlins set to work on supplementing their young core. While the Anibal Sanchez trade brought over young catcher Rob Brantly, who for a time looked to be the catcher of the future, Miami wasn't happy enough with Brantly's progress and elected to fill the void with their biggest signing of the offseason. Saltalamacchia (pictured) was brought in on a three-year, $21MM deal that proved to be far less expensive than most pundits had figured — particularly after 35-year-old Carlos Ruiz signed a three-year, $26.5MM deal to remain with the Phillies.
While Saltalamacchia has his flaws — he strikes out at a prolific rate and does not hit well from the right side of the dish — the deal looks quite favorable when juxtaposed with the much older Ruiz's contract. Saltalamacchia's deal pays him for his age-29 to age-31 seasons. Beyond that, he's bound to be an improvement for a team that saw its catchers post a collective .192/.249/.280 batting line (no, that is not a typo) in 2013 — good for the worst cumulative wRC+ (42) at that position in all of Major League Baseball.
Unhappy with the way former top prospect Morrison had turned out — both on and off the field — the Marlins traded the injury-plagued social media guru to the Mariners in exchange for a flamethrowing right-hander in the form of Capps. While Capps has a good deal of upside as a late-inning arm, it still seems a disappointing return for a player who once looked to be on his way to emerging as one of the National League's top young first basemen. Brash or not, LoMo twice ranked among Baseball America's Top 20 MLB prospects and slashed .259/.351/.460 in his age-22 to age-23 seasons before a pair of knee surgeries diminished his 2012-13 production.
The Marlins aimed big in their attempts to find an upgrade over Morrison, as they reportedly made a serious run at Cuban slugger Jose Abreu and were comfortable pursuing him even when it was learned that his price tag would exceed $50MM. Abreu ultimately signed with the White Sox on a six-year, $68MM contract, forcing Miami to look elsewhere.
It's no Abreu, but the Marlins were able to cobble together a cheap platoon that should be able to provide plenty of pop. The signings of Jones and Baker were met with little fanfare, but the duo could be an under-the-radar source of offense for the Fish. Baker pummelled lefties at a .314/.407/.667 clip with 10 homers in 123 PAs last season and has a career .298/.353/.522 line against southpaws. Likewise, the lefty-swinging Jones has a career .271/.337/.489 batting line against right-handed pitching. The pair may be defensively limited, but they could surprise at the plate.
Loria's issues with second base prospect Derek Dietrich were well-documented last year — Loria wanted to hold Dietrich down in the minors due to the belief that he was one of the reasons hitting coach Tino Martinez resigned after players dubbed him abusive — and the club sought to address that hole on the free agent market. Miami inked Furcal, a lifetime shortstop, to a one-year deal with the idea of him manning the keystone on an everyday basis.
Polanco provided veteran leadership but little else for the Marlins in 2013, and with retirement a likely outcome for Polanco, Miami plucked McGehee out of Nippon Professional Baseball on a cheap one-year deal. McGehee posted a monster season as Masahiro Tanaka's teammate with the Rakuten Golden Eagles, slashing .292/.376/.515 with 28 homers.
Losing Qualls was an undoubted hit to the bullpen, but Miami added Capps and took a reasonable gamble on Marmol's strikeouts. It's easy to chuckle at Marmol's struggles, but he's never whiffed fewer than 10.8 hitters per nine innings in a big league season. Even marginal improvement in his command could make him a weapon.
Questions Remaining
There's no doubt that Jose Fernandez is one of the best young pitchers in the game and the cornerstone of the Marlins' rotation; the $635K payday they gave him proves that, as the Marlins could've given him a mere $1K raise and not been alone in such a pre-arb payscale.
However, they neglected to add any veteran depth beyond re-signing Slowey to another minor league deal, and seem willing to proceed with Nathan Eovaldi, Henderson Alvarez and Jacob Turner behind him in the rotation. Slowey, Tom Koehler, Brian Flynn, Andrew Heaney and others will compete for the fifth slot. The Marlins have depth, but a veteran arm on a one-year deal could've helped lessen the burden for their young stockpile of starters.
Likewise, they seem set to go with youth in the outfield alongside Giancarlo Stanton, as Jake Marisnick, Christian Yelich and Marcell Ozuna battle for the other two slots. All three come with plenty of upside and have been Top 100 prospects, but each is also under the age of 24.
Turning toward the infield, there are question marks at all four spots. The aforementioned Baker/Jones platoon should hit, but neither has shown much defensive aptitude at first base. McGehee left for NPB due to a drastic decline at the plate. Adeiny Hechavarria's defense has impressed the Marlins, but he pulled off the rare feat of posting a sub-.300 average, OBP and slugging percentage in 2013 (.227/.267/.298). This year will be critical for him to show that his bat can trend closer to his Triple-A numbers (.327/.376/.446 in 606 PAs).
Furcal didn't play in 2013 as he recovered from Tommy John surgery, and at age 36, how much does he have left in the tank? He batted .264/.325/.346 in 2012 with the Cardinals and has appeared in just five games at second base since 2001. Can he really be an upgrade over Dietrich, who struggled offensively but showed plus pop with a .214/.275/.405 batting line? Among second basemen with 200+ PAs, only Robinson Cano and Jedd Gyorko bested Dietrich's .191 ISO. He did skip Triple-A, so perhaps some time at that level will improve his all-around game.
Of course, the biggest question with the Marlins on a year-to-year basis regards Stanton. Miami has said that the plan is to build around Stanton (and now Fernandez), but outside of Saltalamacchia and a failed push for Abreu, the Marlins did little this offseason to impress Stanton. Miami is counting on its young core to make large strides and form the basis of a winning team, but that could take until 2016, when Stanton has just one year of team control remaining. Stanton tweeted that he was "pissed off" following the Marlins' 2012-13 firesale in which they traded Jose Reyes, Mark Buehrle, Josh Johnson and others, effectively hitting the reset button just one year into a new stadium. Has the bridge been burned, or could those same players' inability to win with the Blue Jays (along with Miami's bounty of prospects) have quelled Stanton's anger?
Deal of Note
As stated above, the Morrison trade brought back a young arm with some upside, but was that the best possible return the team could have gotten? It's odd to think that Morrison wound up with the Mariners — a team that already had Justin Smoak, Corey Hart, Jesus Montero and several other corner/DH type bats in house.
Fast forwarding to the present day, the Pirates and Brewers still lack a great deal of uncertainty at first base, and either team would likely consider Morrison an upgrade over its current in-house options. Capps has averaged 10.1 K/9 in his young career with decent control (3.6 BB/9) and an average fastball velocity of 96.5 mph. However, he's also yielded a .321/.414/.543 batting line to opposing lefties.
It's fair to wonder if a better deal for Morrison would have materialized had the Marlins exercised more patience.
Overview
The 2014 Marlins could be an improved team simply due to the fact that their young players have another year of big league experience under their belts. Adding Saltalamacchia should help to improve the team's production from behind the plate, but most of their other additions come with questions on defense, offense or both.
While the Marlins could win a few more games, their offseason dealings likely weren't enough to pull them out of last place in the NL East. They'll probably have another Top 5 to 10 selection in the 2015 draft after choosing second this year and sixth last year. However, the clock to extend Stanton is ticking, and an improved on-field product would likely help their cause. At some point, the results will need to show up on the field and in the standings, but for now, another Marlins rebuild continues.
Photo courtesy of USA Today Sports Images.