After making the playoffs in 2013 following the additions of Michael Bourn and Nick Swisher, the Indians had a quiet offseason.
Major League Signings
Notable Minor League Signings
Trades and Claims
Notable Losses
Extensions
Needs Addressed
The Indians made an upside play to address their bullpen by signing John Axford to a one-year deal. Axford was often erratic as the Brewers' closer, but has great stuff and pitched well down the stretch for the Cardinals. If he performs with the Indians, they have the ability to take him to arbitration for two more seasons. The addition of Axford will help compensate for the losses of Chris Perez (who the Indians released after he lost his closer job down the stretch and wound up in trouble for receiving a package of marijuana at his home) and Joe Smith. Josh Outman, acquired in a deal with the Rockies, will also likely play a role in the Indians' revamped bullpen, perhaps along with Axford, Cody Allen, Bryan Shaw, Marc Rzepczynski and Vinnie Pestano. (Also this offseason, the Indians defeated Pestano and Josh Tomlin in their first arbitration cases since 1991.)
Taking Stubbs' place in right field will be David Murphy, who the Indians signed to a two-year deal. Murphy hit just .220/.282/.374 with the Rangers last season, but that was with a BABIP 75 points below his career rate, so he's a good bet to bounce back and provide a bit of offense, along with above-average defense, this season. If he does, Murphy, Bourn, Michael Brantley and Ryan Raburn could provide the Indians with an above-average outfield.
Questions Remaining
The Indians have taken a hit with the departures of Ubaldo Jimenez and Scott Kazmir this offseason, and will depend on a trio of younger arms in Corey Kluber, Zach McAllister and Danny Salazar. They'll also have Justin Masterson in his last season remaining before free agency. Those four players are all clearly worthy of rotation spots and should be fine, and Salazar, in particular, should help soften the blow of losing Jimenez and Kazmir. But the Indians are still without a fifth starter — Josh Tomlin, Carlos Carrasco, Trevor Bauer and Aaron Harang are competing for the job. Shaun Marcum may eventually be a factor, but he's still recovering from issues related to thoracic outlet syndrome.
There's also the matter of what they'll do with Masterson. Masterson should be able to command a hefty multiyear deal next offseason, but he has reportedly told the Indians he would be willing to take a three-year contract to stay in Cleveland. That seems extremely generous of him, but the two sides have not yet stuck a deal. (The Indians have also reportedly discussed an extension with star second baseman Jason Kipnis.)
Finally, the Indians are trying to figure out where they'll play Carlos Santana, who spent the offseason working out at third base. Yan Gomes figures to take most of the playing time at catcher, Santana's usual position. One possibility might be to have him platoon with Lonnie Chisenhall, a left-handed hitter, at third. Santana, a switch-hitter, could then spot Gomes at catcher or DH on days when Chisenhall is at the hot corner. Chisenhall struggled in the big leagues in 2013 but is still just 25 and has hit well at the Triple-A level. Much hinges, however, on how well Santana takes to the position.
Deal of Note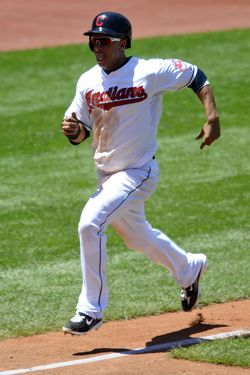 Brantley's four-year, $25MM extension, which contains an $11MM club option or a $1MM buyout for 2018, buys out one and perhaps two years of free agent eligibility. Brantley had filed for $3.8MM in his first season of arbitration, with the Indians offering $2.7MM. That's a fairly large difference, but the midpoint of $3.25MM would have positioned Brantley to make perhaps $13MM-$16MM in his three arbitration seasons. That means the Indians are effectively paying about $10MM for 2017, which is Brantley's age-30 season, plus the possibility of retaining him in 2018. Brantley is approximately an average player — he's never had a star-caliber season and doesn't have much power, but he hits for good averages and is competent in center or in a corner. The deal will be fine if he maintains his current level of performance, and very good if he takes a step forward as he heads into his late twenties.
Overview
The Indians' surprising 2012-13 shopping spree lingered this winter. A year ago, the Indians spent heavily on Michael Bourn and Nick Swisher, improved by 24 games, and received … what? Attendance was actually lower in 2013 (1.57MM) than it had been in 2012 (1.60MM), and tiny home crowds, frequently in the 10K-13K range, watched the Indians down the stretch as they battled for, and won, a playoff spot. Then their season ended unceremoniously as they lost to the Rays in the AL Wild Card game.
The Indians responded with an offseason in which they didn't seem to make much of an effort to re-sign Jimenez, perhaps content to collect a compensation pick and move forward. They also lost Kazmir, who emerged from baseball oblivion to play a key role on the 2013 team.
This isn't to say the Indians will be helpless in 2014. Bourn and Swisher are still on the payroll, and they actually weren't crucial to the Indians' playoff run last year — Kipnis, Gomes, Santana and Raburn were the Indians' four best position players by fWAR. If Bourn and Swisher can contribute more in 2014, they can offset potential regression by Gomes and Raburn and help the Indians compensate for the losses of Jimenez and Kazmir. A full season from the very promising Salazar could also help the Indians significantly. It wouldn't be at all surprising to see them make another playoff run.
After their splashy 2012-13 offseason, though, the Indians haven't followed up, despite the lucrative TV deal to which they agreed prior to the 2013 season. The Indians could have shortstop Asdrubal Cabrera (who will make $10MM in 2014) and perhaps Masterson ($9.76MM) come off the books after the season. If they do, and the Indians' attendance woes continue, it will be interesting to see how the team responds. If Masterson is in fact willing to take a three-year deal rather than a contract more along the lines of the $105MM extension Homer Bailey recently signed with the Reds, then signing him would seem to be a fairly easy decision, and a potential signal that the Indians are still willing to bid on top talent.
Photo courtesy of USA Today Sports Images.