The Rangers won the offseason with high-profile acquisitions of Shin-Soo Choo and Prince Fielder, and they figure to compete again in 2014, but they've taken on two contracts that could be onerous in a few years, and now they're dealing with injury issues.
Major League Signings
Notable Minor League Signings
SP Martin Perez: Four years, $12.5MM, with three club options
The Rangers
entered the offseason
needing to improve at first base and relieve their middle-infield logjam, and they solved both problems with one fell swoop by trading Ian Kinsler to the Tigers for Prince Fielder and cash. Fielder will, clearly, be an upgrade over the Rangers' 2013 first basemen, mostly
Mitch Moreland
and Jeff Baker. Moreland will become the Rangers' primary DH, where he should be no worse than Lance Berkman was in his last season before retirement.
Meanwhile, Jurickson Profar, who was to become the Rangers' new second baseman, would have provided at least the chance that the team wouldn't miss Kinsler too much. Profar struggled in his first extended shot in the big leagues in 2013, but as a former elite prospect who only recently turned 21, he should have been able to take a step forward in 2014. The 31-year-old Kinsler, meanwhile, had declined both offensively and defensively since his outstanding 2011 season. Unfortunately, the Rangers announced on Sunday that Profar would be out ten to 12 weeks with a muscle tear.
Long-term, the Fielder-for-Kinsler swap is a complex proposition. Even with the $30MM the Rangers received from the Tigers in the deal, and even with Kinsler's own large contract heading the other way, the Rangers added $76MM in salary in the trade, and they'll effectively be paying Fielder $138MM ($168MM minus $30MM) through 2020. The Rangers will need to hope that Fielder's relatively pedestrian .279/.362/.457 2013 season wasn't the start of a trend. Given his deficiencies on defense and on the basepaths, that line made him worth just 2.2 WAR in 2013. And seven years is an awfully long commitment for a slugger who's about to turn 30, particularly given Fielder's physique.
The Rangers did, of course, rid themselves of Kinsler's contract, but there's reason to think that Kinsler, a more athletic player who maintains some defensive value, might decline more slowly than Fielder will.  Age can be unkind to big sluggers. The Rangers' Fielder acquisition suited their needs brilliantly in the short term. In the long term, his contract could become a big problem.
The Rangers also made what was nearly a challenge trade with their division rivals in Oakland, sending whiz defensive outfielder Craig Gentry and depth pitching option Josh Lindblom in return for outfield prospect Michael Choice and young middle infielder Chris Bostick. Lindblom lacks upside and Bostick is little more than a lottery ticket, given his strikeout issues in Class A. So the deal mostly boils down to Gentry for Choice. Gentry is clearly a valuable player, but the Rangers wanted Leonys Martin to play every day in center, and Choice, who's coming off a strong season in Triple-A Sacramento, should give the Rangers a good, cheap option in a corner or DH whenever they have space for him.
The Rangers needed to find not one but two catchers, with both A.J. Pierzynski and Geovany Soto eligible for free agency after 2013. Rather than splurging on top free agent option Brian McCann, the Rangers brought Soto back, this time as a starter, and signed J.P. Arencibia to be his backup. Given that the Rangers proved perfectly willing to spend money elsewhere, these were savvy moves, even though there's downside risk, particularly in Arencibia's case. Soto vanished into backup-catcherdom thanks to a bad 2012 season, even though he was still fairly young and had a long track record of providing value. After a .245/.328/.466 season as Pierzynski's caddy in 2013, the Rangers are paying barely over $3MM to have Soto start. He's still a credible starting catcher, and his cost is negligible by the standards of MLB free-agent contracts.
Their signing of Arencibia was also a clever move. Arencibia is coming off a disastrous offensive season in Toronto, and his inability to hit for average is a problem even in the best of circumstances. He is developing a great reputation as a pitch-framer, however, and he has outstanding power for a catcher. It's not hard to imagine a season in which he bats .210 but remains very valuable by helping Rangers pitchers and belting 15 home runs in a very power-friendly ballpark.
The Rangers also added an interesting relief arm in Miles Mikolas, giving up only Chris McGuiness, a left-handed first baseman who would be stretched as a starter and who served little purpose with both Fielder and Moreland available. Mikolas doesn't have any immediate role on the 2014 Rangers, but he throws hard and gets ground balls, and he held his own in a half-season with the Padres in 2012.
On the extension front, the Rangers signed young starter Martin Perez to a four-year, $12.5MM deal that buys out two pre-arbitration seasons and two arbitration seasons, while giving the Rangers reasonable options on Perez's last arbitration season and two free-agency years ($6MM or a $2.45MM buyout in 2018, $7.5MM or a $750K buyout in 2019, and $9MM with a $250K buyout in 2020). The deal is extremely favorable to the Rangers, since $12.5MM is such a meager sum and since the contract gives the Rangers so much flexibility with Perez's age-27 through age-29 seasons. Perez is already off to a good start in his big-league career, and if he can improve at all beyond his performance in 2013, his contract will turn into a bargain very quickly.
Finally, the Rangers added Tommy Hanson and Joe Saunders on cheap contracts, hoping to replenish their starting pitching in the wake of a significant injury to Derek Holland. Tanner Scheppers will now join Yu Darvish and Perez in the Rangers' rotation, with Saunders, Hanson, Robbie Ross and Colby Lewis competing for the final two spots, while Alexi Ogando moves to the bullpen to set up Joakim Soria.
The rotation with which the Rangers are about to enter 2014 probably isn't what they would have imagined for themselves in October, but they'll have to make do. Hanson struggled with the Angels in 2013 as the velocity and effectiveness of his fastball continued to decline. Saunders was somewhat better in 2013 than his 5.26 ERA with the Mariners suggested, and he might turn out to be a modest bargain for the Rangers, particularly given the minimal amount of risk they assumed. But he's still an average starting pitcher at best. Holland and Matt Harrison (who is also working his way back from injury) can't return quickly enough.
2013 closer Joe Nathan headed to the Tigers after declining his 2014 option. The Rangers should still have a decent bullpen, however. Soria will take Nathan's place after a strong spring; he was once one of baseball's best closers, and he'll only be 30 in May, so it's not unreasonable to hope he might be able to return to his prior heights. With Ogando, Neal Cotts and Jason Frasor, Soria will be reasonably well supported. Neftali Feliz and Michael Kirkman, along with a number of the Rangers' lower-profile offseason acquisitions (Shawn Tolleson, Rafael Perez, Pedro Figueroa, Ryan Feierabend, and others) will compete for the last few jobs in the bullpen.
With Profar now out, the Rangers have a hole at second base. Top prospect Rougned Odor might be a possibility, but he has little experience in the high minors. If not Odor, the Rangers could turn to Adam Rosales, Kensuke Tanaka or Josh Wilson. None of those solutions are ideal. That leaves the Rangers with potential question marks not only at DH, but at second base as well — not that Profar would have been a sure thing, of course. Catcher could also be an issue, with Soto recently having a precautionary MRI on his knee. (The injury bug has bitten the Rangers badly.) Also, with lefties Choo and Fielder anchoring the lineup, the Rangers are thin against left-handed pitching, particularly if Choice doesn't make the 25-man roster.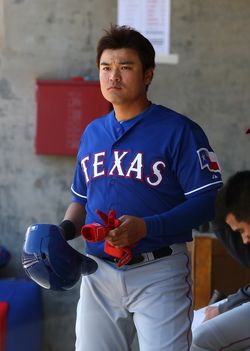 Shin-Soo Choo's massive deal falls into the same category as the Fielder trade — it fits the Rangers' needs to a tee right now, but could become a problem in a relatively short time. The Rangers needed a right fielder given the imminent departure of Nelson Cruz, and it's hard to argue with Choo's spectacular .423 on-base percentage last season. It also makes sense for him to be back in right field, since he was a defensive liability in center for the Reds last season.
In the long term, though, seven years and $130MM is a huge commitment for a 31-year-old corner outfielder who doesn't have elite power and who already arguably should be platooned — Choo hit just .215/.347/.265 against lefties in 2013, with the walk as his only real weapon against them. Given that Choo isn't an outstanding defensive player either, it's easy to imagine that he'll be a tweener type three or four years from now, putting up strong OBPs against righties, but platooning and frustrating the Rangers with his defense as he starts to lose speed. Projection systems are much more optimistic about Choo than they are about Fielder. But Choo comes with warning signs, and seven years is a long time.
Even with talented youngsters in Profar and Perez (plus a number of very interesting low-minors prospects) in tow, the Rangers were a win-now team even before the offseason began, and the Fielder and Choo moves ought to be viewed with that in mind. There's a reasonable chance that both moves will look ridiculous in four years or so, but if the Rangers can bring home a World Series trophy sometime before 2017, they'll happily live with that.
Losing Holland and Profar for at least the first couple months of the season hurts, though, particularly because the rest of the AL West is more competitive than it once was. The Mariners obviously are much better after the addition of
Robinson Cano
. The Athletics will likely continue to be competitive, although, like the Rangers, they're struggling to keep their starting pitchers healthy. The Angels still have
Mike Trout
and are a very good bet to win more games in 2014 than the 77 they won last season. And the Astros, with the additions of
Scott Feldman
and
Dexter Fowler
, along with
George Springer
in June, aren't likely to be complete doormats this year.
Still, in the short term, Rangers fans have plenty of reason for optimism. The Rangers have everyone in their current core of Darvish, Holland, Perez, Fielder, Choo, Profar,
Elvis Andrus
and
Adrian Beltre
under control through at least 2016, which gives them three shots at a title. And their depth of lower-minors prospects also puts them in excellent position to add talent at the trade deadline — interesting Class A players make ideal trade pieces for a contending team, because they aren't likely to help in the short term and because the team trading the prospects knows much more about them than the team receiving them. The Rangers' path to the playoffs shouldn't be easy, but they're guaranteed to be entertaining over the next several years, at the very least.
Their outlook beginning in 2017 or so is far less clear. But 2017 is three years from now, and the Rangers have already had four straight 90-plus-win seasons. The good run they're on isn't going to get any easier, but they've got more than enough talent to keep chugging for awhile.
Photo courtesy of USA Today Sports Images.