9:41pm: Texas has announced the completion of the trade.
8:23pm: Detroit will be sending $30MM to Texas, tweets Jeff Passan of Yahoo Sports.  With that cash, Texas will effectively be paying Fielder $138MM over seven years.  From the Tigers' side of things, they'll have a total savings of $76MM.
7:21pm: The Tigers have agreed to trade Prince Fielder to the Rangers for Ian Kinsler, according to Jon Heyman of CBSSports.com.  There's no word yet of another player being involved in the swap, but the Rangers will get cash back in the deal, according to Evan Grant of the Dallas News (on Twitter).  The deal's lone remaining hurdle would appear to be approval from the commissioner's office.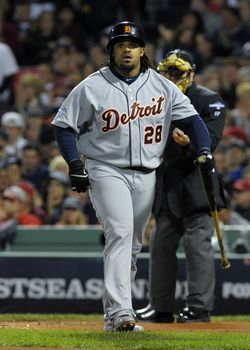 The Rangers were in the mix for Fielder when he was on the open market a couple years ago before the Tigers signed him to a nine-year, $214MM deal.  Fielder took a step back in 2013, posting a .279/.362/.457 slash line as opposed to the .287/.393/.538 batting line he posted in his previous eight campaigns.  For all of the concern over his conditioning, Fielder sure has been durable - the slugger has missed just one regular season game in the last five seasons.
Aside from giving Texas a five-time All-Star with a big bat, the deal would have the added benefit of opening up second base for Jurickson Profar.  Kinsler's name has been on MLBTR quite a bit in recent months thanks to the Rangers' middle infield logjam and lack of quality second base options available on the open market outside of kingpin Robinson Cano.  The veteran has spent his entire career with Texas, hitting .273/.349/.454 across eight big league seasons.  While not on the level of Fielder's deal, the 31-year-old has a pretty decent-sized contract himself as he is guaranteed $62MM through 2017.
FIelder has a limited no-trade clause as a part of his contract and it turns out that Texas was on his no-trade list, but he apparently waived it to help facilitate the deal.  Moving Fielder's deal, or at least a sizable chunk of it, could help free up the cash necessary to work out a new contract with star pitcher Max Scherzer.  There has been talk in recent weeks of the Tigers shopping the 2013 AL Cy Young Award winner (or fellow pitcher Rick Porcello), but it's conceivable that Detroit can now come to the table with enough breathing room to satisfy agent Scott Boras.  There's also the possibility of locking up Miguel Cabrera, whose eight-year, $152MM+ deal expired after 2015.
The trade figures to have a pretty serious domino effect on the free agent market.  The Tigers won't be bringing Omar Infante back to Detroit now that they've addressed their second base need with Kinsler.  The Rangers, meanwhile, have first base taken care of and their pursuit of a reunion with Mike Napoli is likely through.  If Texas is really ready to shake things up, they could theoretically move Jurickson Profar to make way for top free agent Robinson Cano.
The deal should prompt a positional shift for the Tigers, and one imagines that they will play Nick Castellanos at third base while slotting Miguel Cabrera at first.  
Photo courtesy of USA Today Sports Images.