The White Sox have locked up lefty Jose Quintana to a five-year deal worth at least $21MM, announced the team.  The guaranteed money in the deal is contingent on Quintana's arbitration status: $26.5MM if he qualifies as a Super Two after 2014, and $21MM if not.  Quintana will have two years and 133 days of Major League service after 2014, which would have qualified him for Super Two in two of the last five years.  The deal includes club options at $10.5MM for 2019 and $11.5MM for 2020.  A White Sox press release has the full salary breakdown.  Quintana is represented by MDR Sports Management.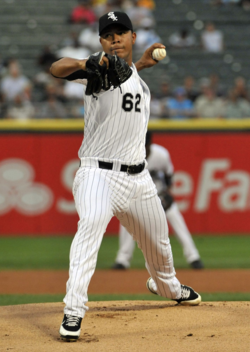 Quintana, 25, broke out last year with a 3.51 ERA, 7.4 K/9, 2.5 BB/9, 1.04 HR/9, and 42.5% groundball rate in 200 innings.  "Jose quickly has established himself as a quality major-league starting pitcher, and along with Chris Sale, we expect him to be an important piece of our rotation for the foreseeable future," said White Sox senior vice president/general manager Rick Hahn in the statement.  Sale, 25 this month, is potentially under team control through 2019.
Quintana has taken an interesting path to this $21MM+ deal.  Signed by the Mets out of Colombia for $40K in 2006, he was eventually released for a violation of the Minor League Baseball drug policy.  The southpaw signed with the Yankees, but never ranked among their top 30 prospects as ranked by Baseball America.  The Yankees offered Quintana a minor league deal after 2011, but White Sox scouts Joe Siers and Daraka Shaheed "made him stand out on the six-year free-agent list," Hahn told Joel Sherman of the New York Post in June 2012.  The Sox separated themselves by offering a Major League deal, and now they have a rotation mainstay.
Quintana's contract falls squarely between the last two deals done for one-plus service starting pitchers, as you can see in our Extension Tracker.  In November, the Rangers' Martin Perez signed a four-year, $12MM deal with three club options, which was in line with previous deals for pitchers in this service class.  In February, however, the Braves gave Julio Teheran a six-year, $32.4MM deal that included only one club option.  Quintana and Teheran have similar career ERAs (3.61 and 3.44), but Quintana has pitched 336 1/3 innings to Teheran's 211 2/3.  Perhaps the discrepancy is because Quintana never enjoyed Teheran's status as a top prospect, or perhaps Teheran's deal simply didn't reset the extension market for this service class as some speculated.
MLB.com's Scott Merkin first broke news of the extension, with Dan Hayes of CSNChicago.com providing the salaries.  Photo courtesy of USA Today Sports Images.