As their lengthy rebuild continued, the Astros added several veteran pieces and beefed up a payroll that had just one player earning $1MM or more at the end of the 2013 season.
Major League Signings
Scott Feldman, RHP: Three years, $30MM.
Chad Qualls, RHP: Two years, $6MMM.
Jesse Crain, RHP: One year, $3.25MM.
Matt Albers, RHP: One year, $2.45MM with a $3MM club option ($200K buyout).
Jerome Williams, RHP: One year, $2.1MM.
Total Spend: $43.8MM
Notable Minor League Signings
Trades and Claims
Extensions
Notable Losses
Needs Addressed
The Astros have finished with the game's worst record in each of the past three seasons, but despite that gloomy reality, they didn't enter the offseason with as many needs as one would think. Altuve and 2013 breakout catcher Jason Castro are locked into the lineup for the foreseeable future, and Jonathan Villar will get the opportunity to prove himself at shortstop while Houston awaits the arrival of former No. 1 overall pick Carlos Correa. At third base, Matt Dominguez is certainly a player that the team likes (more on him in a bit), and a number of top prospects are nearing the Majors.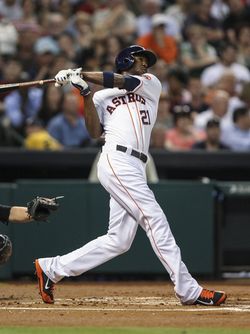 Houston entered the offseason with a clear need in the rotation, however, as none of its top pitching prospects are MLB-ready at the beginning of 2014. As such, GM Jeff Luhnow made a relatively large splash on the free agent market, adding Feldman on a three-year deal that exceeded my own expectations for the underrated right-hander. Feldman's career has been slowed by injuries — namely microfracture surgery on his right knee — but he's posted solid ground-ball rates and walk rates when healthy throughout his career. Paying him $10MM annually for his age-31 to age-33 seasons raised some eyebrows, but Feldman has the talent to make that look like a bargain if he can remain healthy.
Feldman will be trailed in the rotation by Jarred Cosart, Brett Oberholtzer, Lucas Harrell and Dallas Keuchel, but Luhnow and his staff also added some insurance by snatching up Williams after he was somewhat curiously non-tendered by the division-rival Angels. His modest $2.1MM salary wouldn't be detrimental to any club, and Williams can absorb some innings throughout the season as Houston looks to limit the workload of its young quartet of starters. Brad Peacock could also see some starts at some point this season, as he finished the 2013 campaign quite well as a part of the rotation (3.64 ERA and 54 strikeouts in 54 1/3 innings) and is a former Top 100 prospect with the A's.
The additions of Feldman and Williams should help a revamped bullpen lessen its workload, although the added quality to the relief corps could make the thought of overusing the 'pen in Houston a bit more tolerable. Last season, the Astros had the worst bullpen in the Majors, and no team was particularly close to their collective 4.92 ERA (the Mariners were second-worst at 4.58). If you think that's bad, their 5.09 FIP suggests things could've been even worse, and their 4.64 xFIP was 30 points higher than the next-worst unit (the Cubs). Qualls and Albers add veteran stability and a glut of ground-balls to the mix. Crain was one of baseball's best relievers in 2013 prior to getting hurt and could be a power arm to add to the closer mix when he returns from the DL in late April. Houston also pursued a reunion with former closer Jose Veras, though he ultimately signed with the Cubs. They may not have one of the best bullpens in the league, but there's no question that this group is improved.
Fowler's addition gives the club a productive veteran to slot at the top of an improving lineup, and he'll be controlled through the 2015 season via arbitration. He's not cheap ($7.35MM in 2014 plus one final arbitration raise next winter), which will lead some to speculate that he could become trade fodder with a solid performance in the season's first half. His career 12.3 percent walk rate and .365 OBP are attractive assets, even if one has to wonder how well he can handle Tal's Hill in center field at Minute Maid Park (defensive metrics regularly peg his glove in center as below average).
While the Astros didn't complete any extensions this offseason, it certainly wasn't for lack of trying. Houston is still said to be working on long-term deals for Dominguez as well as left fielder Robbie Grossman, and the team made an eye-popping seven-year, $23MM contract offer to top prospect George Springer before he even set foot on Major League soil. Somewhat controversially, Springer was optioned to Triple-A to open the season, prompting many to criticize baseball's service time structure and prompting Springer's agents to consider a grievance. The question of course being: If Springer is good enough to merit a $23MM contract offer, why then, is he not good enough to open the season with the team? (The obvious answer is to gain additional years of team control by stashing him in the minor leagues, thereby delaying his service clock.)
Questions Remaining
For a team that accomplished quite a bit this offseason, there are still plenty of questions remaining. Such is the nature of existence as a team that could improve by 11 wins in 2014 and still lose 100 games. Not all of Cosart, Peacock, Harrell, Oberholtzer and Keuchel are going to be long-term fits in Houston's rotation; Mark Appel and Mike Foltynewicz are on the fast track to the Majors, and they'll look to claim two of those rotation spots, possibly as soon as this season. Cosart may have the inside track due to his former prospect status and strong finish in 2013, but the same could be said about Peacock, and Oberholtzer was also impressive down the stretch.
The Astros prioritized first base this winter but came up empty despite making a reportedly solid offer to James Loney, heavily pursuing Jose Abreu and Mike Morse while also expressing interest in names like Mike Carp on the trade market. Instead, the club is going with a patchwork solution at first, using a combination of Guzman, Chris Carter and Marc Krauss. That's not an inspiring trio, but they figure to be merely keeping the seat warm for top prospect Jonathan Singleton. He, however, will have to hit his way to the Majors after slumping in 2013 and struggling with substance abuse issues.
Mid-season extension talks clearly don't bother the Astros, as they hammered out a long-term deal for Altuve last summer. As such, they could look to do the same in 2014, continuing their negotiations with Dominguez, Grossman and Springer. Could they look to lock up Castro before he begins to become too expensive? I'd wager that they're interested in doing so after last year's breakout.
Also of critical importance to the Astros is their failing television deal with Comcast SportsNet Houston. Owner Jim Crane has filed a lawsuit against former owner Drayton McClane, Comcast and NBC, accusing the trio of fraud and civil conspiracy. The lawsuit also accuses McLane of selling "an asset (the network) they knew at the time to be overpriced and broken" and claims that Crane was provided with "knowing misrepresentations" and "falsely inflated subscription rates" prior to agreeing to the purchase. CSN Houston is available to only about 40 percent of Houston-area homes, thereby limiting the earning potential and hampering the Astros' future financial outlook. In February, a federal judge placed CSN Houston's parent company under federal bankruptcy protection.
Deal of Note
The Fowler trade was surprising to a number of people for a number of reasons. For one, it was strange to see a rebuilding team such as the Astros swing a deal for a pricey veteran center fielder with only two years of team control remaining. On the other side of the coin, many felt that the Rockies didn't receive much of a return on Fowler and should've cashed in that trade chip a year earlier with Fowler coming off of a monster 2012 season.
The key piece traded for Fowler was Lyles, a former supplemental-round draft pick that was rushed to the Majors at the age of 20 despite having fewer than 100 innings at Triple-A under his belt. Houston likely felt that it had the pitching depth to move Lyles, especially considering the fact that his strange handling will likely lead to Super Two status. thereby driving up his price tag.
If the Astros trade Fowler fora greater return or sign him to a long-term extension, the deal will make more sense. As it stands, it's a bit curious for a team in their position to trade away controllable assets for two years of an expensive veteran when the team is likely more than two years away from contention. While Lyles' prospect star has clearly fallen from the time when he was Baseball America's No. 42 prospect heading into the 2011 campaign, he's still posted a 2.24 K/BB ratio and 48.8 percent ground-ball rate in his career, and he's also seen his average velocity rise each season in the Majors (his fastball averaged 92.2 mph in 2013).
Overview
Overall, the biggest question for the Astros at this point is simply: When do the kids arrive? In Correa, Appel, Springer, Singleton and Foltynewicz (among others), Houston has an enviable crop of prospects that are nearly MLB-ready and could take the Lone Star State by storm in the near future. An arduous rebuild could be drawing close to an end, but while there's a light at the end of the tunnel, the Astros will be hard-pressed to climb out of the cellar in 2014. At the very least, they could be positioned for another No. 1 overall pick in 2015, giving them an unprecedented four consecutive No. 1 picks.
Photo courtesy of Troy Taormina/USA Today Sports Images.