The Indians announced that they have signed second baseman Jason Kipnis to a six-year extension that runs through the 2019 season and contains a club option for the 2020 campaign. Paul Hoynes of the Cleveland Plain Dealer reports (via Twitter) that Kipnis is guaranteed $52.5MM over the life of the deal. Hoynes was the first to catch wind of the fact that a deal was close, breaking that news at roughly 3am ET.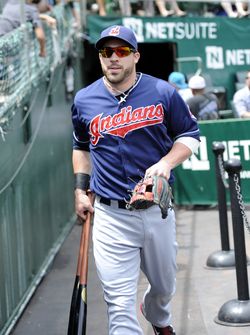 According to MLB.com's Jordan Bastian (on Twitter), the Beverly Hills Sports Council client receives a $1MM signing bonus and annual salaries of $2MM (2014), $4MM (2015), $6MM (2016), $9MM (2017), $13.5MM (2018) and $14.5MM (2019). The option, according to Bastain, is worth $16.5MM and contains a $2.5MM buyout.
Kipnis entered the 2014 season with two years, 69 days of service time, meaning he would have been under team control through 2017 without an extension. The new contract buys his final pre-arbitration season, all three arbitration years and a pair of free agent campaigns with an option for a third. His contract is worth $500K more than fellow breakout, All-Star infielder Matt Carpenter, who inked a six-year, $52MM contract with the Cardinals in Spring Training (Carpenter had two years, 12 days of service at the time of his deal). However, if the options are exercised on each deal, Carpenter's $68.5MM would top Kipnis' $66.5MM.
As shown in MLBTR's Extension Tracker, the deal is also comparable to the six-year extensions signed by Andrew McCutchen ($51.5MM), Justin Upton ($51.25MM) and Jay Bruce ($51MM) — each of which came when the player had two to three years of MLB service under his belt.
Kipnis, who turned 27 yesterday (talk about a birthday present), made his first All-Star team and finished 11th in the American League MVP voting on the heels of a stellar campaign in which he batted .284/.366/.452 with 17 homers and 30 stolen bases in 658 plate appearances. Defensive Runs Saved pegs him as an average defender to this point in his his career, while UZR/150 feels he's been slightly below (-4.2). Both metrics feel that he was above average in 2012.
Kipnis' contract falls a bit shy of Travis Hafner's four-year, $57MM extension, which is the largest in club history. It also marks the third contract extension that Cleveland has been able to strike in the past few months; Michael Brantley signed a four-year, $25MM extension in February, and Yan Gomes inked a six-year, $23MM deal last week. The Kipnis deal will likely lessen blow for some Indians fans who are still stinging over the club's inability to extend top starter Justin Masterson, even after he offered to take a discount of roughly two years and $35MM or three years and $51MM.
Talks between Kipnis and the Indians first surfaced in Spring Training of 2013, but both sides agreed to table the discussions when no deal was close on Opening Day. Talks resumed this spring, and while it looked as if they would once again be placed on hold with the season starting, Ken Rosenthal of FOX Sports recently reported that the two sides could continue talking early in the year.
Photo courtesy of Robert Stanton/USA Today Sports Images.