As the Mets look to transition from rebuilding to contending, the club made its largest free agent outlay in years, but will go without recovering ace Matt Harvey.
Major League Signings
Notable Minor League Signings
David Aardsma, Scott Atchison (non-tendered), Mike Baxter, Tim Byrdak, Pedro Feliciano (still unsigned), Frank Francisco (still unsigned), Aaron Harang, LaTroy Hawkins, Johan Santana, Justin Turner (non-tendered), Jordany Valdespin
The Mets addressed their biggest issue, perhaps, by finally saying goodbye to two contracts that turned sour. The club paid its final obligations to both Santana ($5.5MM buyout of $25MM option) and
Jason Bay
($3MM buyout on $17MM option). Of course, Bay had already been 
cut loose
, and technically will still be paid for some time due to a deferment arrangement. Likewise, the organization has reportedly made headway in moving past the well-documented financial tribulations of its ownership group.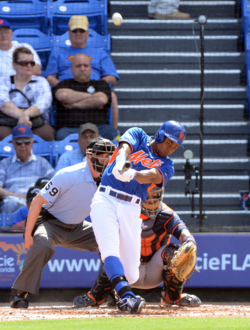 The major strategic issue facing Alderson was how to deal with the loss of Harvey, one of the game's best arms, who went down to Tommy John surgery. That constituted a major blow to the team's hopes of beginning to challenge in 2014, and raised the question whether spending would once more be put on hold. But the Mets moved ahead, with Alderson
setting down
 a tall challenge of winning 90 games this year.
Having cleared the Santana and Bay contracts, the Mets were able to add the 
fifth-most
 in guaranteed money of any team in free agency while opening the season with almost $10MM less on the books than last year. Looking ahead, New York has have the following future obligations: $54.05MM (2015); $45.05MM (2016); and $35.5MM (2017). 
So what did GM Sandy Alderson and company get for their cash? First and foremost, it added two veteran outfield options in Granderson and Young. Though the team cobbled together a 
passable unit
 last year, they traded away the surprising
Marlon Byrd
(who would have been a free agent anyway) and was rightly disinclined to rely solely on
Juan Lagares
,
Eric Young
Jr., and the defensively-challenged
Lucas Duda
. An upgrade was clearly in order.
In Granderson, the Mets added an established power bat (84 home runs between 2011-12) who missed most of last year due to injury. The cost was high for the qualifying offer-bound 33-year-old: $60MM over four years and the 48th overall choice in the upcoming amateur draft (the team's first choice, tenth overall, was protected). For his part, Young did not require a major commitment, and at age 30 is just a few years removed from a pair of 5-win seasons. But he struggled mightily with injury and performance issues last year. Disappointingly, Young's ongoing quad issues have once again reared up early in the year.
The second major area of need that was dealt with by the Mets was pitching. Though blessed with a series of promising young arms — Zach Wheeler cracked the bigs last year, while
Noah Syndergaard
,
Rafael Montero
, and others wait in the wings — the organization was at least a year away from fielding its full array of new starters. Absent Harvey, the club plainly had some innings to fill, and did so by adding the seemingly ageless Colon (in fact, he's 40), who threw to a 2.65 ERA in 190 1/3 innings in 2013. Of course, New York would be thrilled by a repeat, but more realistically will hope that Colon can carry that innings load at a slightly above average rate.
Alderson filled out the rest of the pitching staff with a series of veterans on minor league deals. Matsuzaka and Lannan provide starting depth, though the former is starting off in Triple-A and the latter in the bullpen. And Valverde and Farnsworth were both added to a bullpen that had a decent number of in-house options, some of whom the organization preferred to start out in the upper minors. 
We already covered two glaring roster needs above, but a third — shortstop — remains a huge question.
Ruben Tejada
, of course, opens the year as the starter after a massively disappointing 2013 in which he only logged 227 MLB plate appearances and put up a miserly .202/.259/.260 triple-slash. Though Tejada is not regarded as a good defender at the position, advanced metrics have not been quite as down on him as might be expected by the perception. (For his career, at short, Tejada has a slightly positive UZR/150 and is pegged at -8 DRS with over 2,000 innings in the bank.)
Though Tejada is just 24 and had been viewed as a promising prospect, it seems that the front office has soured on him quite a bit and has serious questions about his work ethic and conditioning. Moreover, player and team remain at odds —
last we heard
, anyway — over the decision to recall him just one day after he would have been able to reach three full years of service at the end of the season. Free agent
Stephen Drew
was a widely-pegged target for New York, but the club seems disinclined to give him the multi-year deal that he seeks. Of course, Drew still remains unsigned, and in theory could still be added, though that seems unlikely unless the Mets improve upon their less-than-inspiring start to the year.
Another major question mark that remains unresolved is first base, where Lucas Duda and
Ike Davis
were expected to battle for the starting role (for this year and, possibly, the future) over the spring. With both sidelined by injuries, that contest never really got started, and both made the Opening Day roster. Duda has been given the first chance to seize hold of the job, with Davis reportedly being
shopped
. Until a definitive step is taken, that situation remains unclear; even if one or the other is sent packing, moreover, the other will still have much to prove.
In the early going, the biggest roster challenge that has arisen is certainly in the bullpen, which has had a rough start to the year. Young power arm
Vic Black
had been expected to seize a set-up role, but struggled so much in the spring that he was optioned to Triple-A. Then, closer
Bobby Parnell
suffered a partial tear of the MCL which will require Tommy John surgery. In the immediate term, the question becomes whether Valverde can fill in and whether the rest of the pen can hold things together. Though promotions for younger arms seems to be on the horizon, the Mets must
balance
 their need at the big league level with the desire to keep the focus on an appropriate development timeline for its prospects.
Likewise, the starting rotation figures to see its share of flux over the course of the season.
Jenrry Mejia
got a crack at a role with a solid spring and a need for protection as
Jon Niese
works his way back, and could stick for the time being. But the 24-year-old has never thrown more than 108 2/3 frames in a professional season, and will certainly face a strict innings limit. Likewise, the pitchers waiting in the wings are not expected to be allowed to carry full starting loads over the entire season. While a late-season return for Harvey remains a theoretical possibility, the club will surely be hesitant to gamble with his future.
Granderson unquestionably makes the club better now, but the deal carries some doubt when looked at from other angles. For one thing, the overall commitment is not dissimilar from that given Bay. While the struggles of Bay mean nothing for the outlook of Granderson, that fact illustrates the risk at hand. (Of course, it is fair to think that inflation makes the more recent deal a much-less-significant one in relative terms.) Likewise, the Mets' relatively early strike ended up looking more questionable when the dust finally settled on
Nelson Cruz
, who ultimately cost just $8MM. While he is a less flexible option, especially for a National League club, and has not matched Granderson's overall production, Cruz required less than 15% the total outlay that the Mets laid out.
Of course, the Mets may not have viewed a player like Cruz as a comparable option to Granderson, who the team obviously sees as a valuable long-term piece who fits its expected development arc. 
"It was what we had to do,"
said COO Jeff Wilpon
.
"It was something we wanted to do. It fit well with the plan. And it's a commitment on our part to have him around. He wanted to be around to see the team turn the corner and be a part of it moving forward."
Likewise, Alderson cited Granderson's value in impacting the organization's culture. 
"No. 1, he brings a tremendous amount of professionalism," Alderson said. "He brings a personality. He brings credibility. He brings experience. And he brings talent. I think all of those things will be important. I really like the mix of players we have character-wise, personality-wise. I think he will enhance that mix. He's a gregarious, infectious personality."
Ultimately, the deal is not without its risks, but how many free agent contracts are? As Eno Sarris of Fangraphs argued in the aftermath of the signing, Granderson should be a solid-enough defender with a switch to the corner, should be able to stay valuable at the plate, and ultimately may not have received a "glaring overpay." If nothing else, of course, the signing represents the clearest sign that the Mets are ready to supplement their slate of attractive young arms with free agent spending, an important development for an organization that has been in a holding pattern while its owners dealt with the fallout of the Bernie Madoff scandal.
On the other hand, Granderson is already 33, missed much of last year due to wrist injuries, and has seen his strikeout percentage rise quite sharply in recent campaigns. In his limited action last year, Granderson's power dropped back significantly: he landed with a .178 ISO mark, after putting up .290 and .260 marks in 2011 and 2012, respectively. And Granderson, who has never reached base at a consistent clip, is carrying a sub-.320 OBP over the last two seasons. While baseball's inflationary environment means that the deal carries less relative risk than did the Bay contract, it could be that New York is spending a lot of money for a non-impact player who will be well on the decline by the time the team is ready to compete.
Overview
One could say that the team did not make enough of an immediate impact with its free agent signings to warrant the cost. After all, with Harvey out, a jump to playoff contention seems a tall order. But the Opening Day payroll is well shy of last year's tab, and New York can reasonably expect to be better. Given the restlessness of its fans and the organization's hope of building off of a young core to contention in the very near term, it made some sense to put a decent product on the field now while avoiding any truly massive deals that might have stung down the line. The question, of course, is whether that might have been accomplished at a cheaper price, and whether any of the recent commitments will have an impact on future needs.
At present, it is hard to view the Mets' offseason as being fully complete, in large part because major questions (with both short and long-term ramifications) are still open for answers. First base, shortstop, and the back of the bullpen could all see significant moves in the coming months. The true test of Alderson and his staff could well be yet to come, as he navigates the decisions at those spots, manages the team's young arms, and plots the final moves to ready the team for full-on contention.
Photo courtesy of Brad Barr/USA Today Sports Images.