Fresh off their second straight AL West Division Championship, the Athletics spent a significant amount of money to invest in what is now a stacked bullpen.
Major League Signings
Notable Minor League Signings
Extensions
Coco Crisp, OF: Two years, $22.75MM with a $13MM vesting option ($750K buyout).
Trades and Claims
Notable Losses
Needs Addressed
After a disheartening defeat at the hands of Justin Verlander and the Tigers in the 2013 ALDS, the A's entered the offseason facing the reality that top starter Bartolo Colon and closer Grant Balfour would likely command more dollars than the team was comfortable committing. The always active Billy Beane sought to fill these gaps on the free agent and trade markets, and baseball's most famous GM had one of his most active offseasons to date.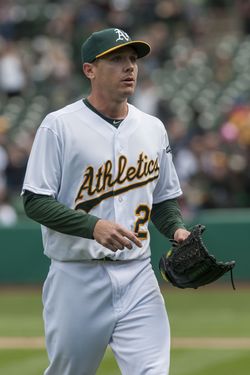 Scott Kazmir (pictured) was signed to a two-year deal that was actually $2MM more expensive than the two-year, $20MM deal that Colon inked with the Mets, but Beane and his staff appeared more amenable to the risk associated with Kazmir's injury history than Colon's age. Kazmir comes with significant upside, as ERA estimators FIP, xFIP and SIERA all feel that his performance was more indicative of a 3.35 to 3.50 ERA than the 4.04 mark he finished with. Kazmir's 10.1 percent swinging-strike rate and 92.5 mph average fastball velocity both ranked in the Top 25 in baseball among pitchers with 150 or more innings pitched. He was sidelined with a minor triceps issue this spring, but looked to be in good form in his first outing of the year (7 1/3 shutout innings with 5 strikeouts, no walks, and just three hits).
Many expected Balfour to sign a two- or three-year deal with a significant average annual value this offseason. The A's likely thought the same and deemed it too rich for the their taste, though apparently only in terms of contract length and not AAV. Oakland acquired Jim Johnson in exchange for Jemile Weeks and David Freitas in what amounted to a salary dump designed to free up payroll for the Orioles. It wasn't exactly a move that most would expect of Beane and his regime, as Oakland has long subscribed to the theory that closers are made, not born. (Balfour himself had just eight career saves prior to signing with Oakland.) When the A's have spent on a closer, it's been a more modest annual investment, such as their two-year, $10.5MM deal with Brian Fuentes prior to the 2011 season.
As if adding Johnson's $10MM salary wasn't enough, the A's doubled down on expensive relievers by flipping Seth Smith to San Diego in order to acquire one of the NL's best setup men — Luke Gregerson. Each player had one year left on his deal, though Gregerson will end up earning roughly $750K more than Smith after agreeing to a one-year, $5.065MM deal to avoid arbitration.
After seeing their acquisition of Chris B. Young result in a mere .200/.280/.379 batting line, the A's looked elsewhere for a lefty-mashing fourth outfielder and acquired Craig Gentry in an intradivision trade with the Rangers. In Gentry, Oakland secured one of baseball's best defenders and fastest runners — two skills that typically aren't rewarded through arbitration. That was unequivocally apparent when Gentry's first trip through arbitration resulted in a $1.145MM salary despite a healthy 6.2 fWAR over the past two seasons. That's nearly $10MM less than Young earned in 2013; suffice it to say, while Michael Choice was a reasonably steep price to pay, Oakland greatly improved its outfield depth for the next three years in a way that won't cost them financially. By acquiring Lindblom in the deal, they also gained another bullpen arm or potential rotation option, which has proven to be crucial this spring (more on that later).
Beane also acquired some future upside, though it doesn't come without risk; in Drew Pomeranz, he landed a former No. 5 overall draft pick (by the Indians) who has yet to flourish in the Major Leagues despite reasonable success at the Triple-A level. Pomeranz has opened the season in the Oakland bullpen after a strong Spring Training. Also acquired was the speedster Billy Burns, whose 10 steals in 26 Spring Training contests drew comparisons to another fleet-footed Billy — Billy Hamilton. Burns has averaged 76 steals per 162 games in the minors and has a career .420 OBP, and he's likely not too far from Major League ready.
Questions Remaining
Beane and his staff were able to make all of these moves without losing too many of the major pieces from last year's club. The loss of Colon, in theory, will be offset by the acquisition of Kazmir. Johnson and Gregerson are designed to replace Balfour at the back end of the bullpen, and while the loss of Anderson defintely sent some talent out the door, he pitched just 44 2/3 sub-par innings last season in a year when the A's won 96 games.
The question, then, becomes just how much — if at all — the A's improved. It's certainly curious to see Oakland spend this type of money on its bullpen, given the team's modest payroll. In Johnson, Gregerson and Eric O'Flaherty (who won't even pitch until midseason), the Athletics are spending more than $16MM. For a team that's in record-payroll territory despite an overall commitment of roughly $82MM, that's a significant amount of money to spend on late-inning relief.
Even before the benefit of hindsight regarding Jarrod Parker's Tommy John surgery, one could argue that some of those funds would have been better allocated to the starting rotation. Though Oakland starters finished ninth in the Majors in ERA last season, they finished 19th in FIP and 23rd in xFIP, and that was including the departed Colon. A full year of Sonny Gray will help those numbers, but a full season of Kazmir is far from a safe bet. Talented as Kazmir might be, he's topped 160 innings just twice in his career and logged 158 last season in his comeback with Cleveland. From a WAR standpoint, he may only need 250-300 innings to justify the value of his contract, but the A's are probably hoping for a higher total than that, which is no sure thing.
The question marks surrounding Kazmir's workload are magnified by the injuries to Parker and A.J. Griffin. Oakland has begun the season with Jesse Chavez in its rotation, and Lindblom has already been needed for a spot start. An early injury to Kazmir could push Lindblom into the rotation full-time and leave the club with little depth.
When everyone was healthy, adding two veteran starters might've seemed unnecessary, but perhaps they could have done so and moved a starter to address other needs. The team pursued a reunion with Tim Hudson this offseason and finished runner-up to the Giants; I wonder if foregoing the trade for Johnson could have left them with the financial wherewithal to add both Hudson and Kazmir.
That could've led to a trade to shore up their second base situation. For all of Eric Sogard's popularity — he nearly won the #FaceOfMLB contest this offseason due to his overwhelming popularity with the fans — the fact remains that he's a career .240/.295/.341 hitter. He and Punto provide strong defense at the keystone, and Sogard is a valuable member of the Oakland clubhouse, but a second base upgrade could have been beneficial. Had things shaken out differently, perhaps a second intra-division trade of the offseason could have been struck to add Nick Franklin to the fold. It won't be a surprise if the A's are in the market for a more potent bat up the middle this summer.
Deal of Note
While the Kazmir signing and the Johnson acquisition are both a bit out of character for the A's, perhaps the most interesting move the club made was its extension for Crisp. Beane and the A's are known for signing young, core players to long-term deals (and often trading them a few years into those deals), but an extension for a veteran player such as Crisp is of the utmost rarity for Oakland. The closest thing we've seen to a deal such as this one from Beane is Mark Ellis' two-year, $11MM signed following the 2008 season. Ellis was set to hit free agency following that season, while Crisp would've been a free agent following the 2014 season (Crisp's previous two-year deal with Oakland was signed in January 2012 as a free agent).
It's certainly a gamble, to an extent, on a 34-year-old whose game is largely based on speed, but Crisp has been worth at least two fWAR and 2.7 rWAR in each of his four seasons with Oakland. While he's not likely to play in 150 games per season, Crisp has been an underrated commodity in Oakland and should live up the value of his deal even when he faces some inevitable power regression (Crisp's average home run distance in 2013 was 353 feet, per BaseballHeatMaps.com, and Hit Tracker lumped eight of his 22 home runs from 2013 into the "Just Enough" category).
Overview
When coming off a 96-win season, it's difficult to find ways to definitively improve a club. Late injuries to Parker and Griffin have muddied the picture when looking at Oakland's roster, but heading into Spring Training, this looked to be a club that would challenge its record from 2013. Though the team could stand a few upgrades, Beane and his staff constructed a solid roster, top to bottom. It's possible that their spending spree on relievers was simply due to the fact that they had money to spend but so few glaring holes on the roster that they put the excess funds toward the only area that they felt needed a good deal of work.
The loss of Parker hurts, and Oakland has a lot of eggs in the fragile basket of Scott Kazmir's left arm. However, the club also has the depth to replace him, especially once Griffin returns to the mound. Injuries have ravaged the Rangers as well, somewhat lessening the blow of their own DL-related woes. While the Astros, Mariners and Angels all look to have improved, they're all still chasing the 2012-13 AL West Champions, and the A's figure to make a strong push for a divisional three-peat in 2014.
Photo courtesy of Ed Szczepanski/USA Today Sports Images.