MLBTR is re-launching its Draft Prospect Q&A series this season in order to give our readers a look at some of the top names on the board in this year's draft. MLBTR will be chatting with some of the draft's most well-regarded prospects over the next couple of weeks as they prepare for the 2014 draft on June 5-7.
University of San Francisco center fielder Bradley Zimmer is considered by some to be the best college position player in this year's draft. The brother of Royals prospect and 2012 No. 5 overall pick, Kyle Zimmer, Bradley is ranked as the fifth-best prospect in this draft class by ESPN's Keith Law (ESPN Insider subscription required and recommended). Baseball America has Zimmer ranked 14th, and MLB.com currently ranks him No. 10.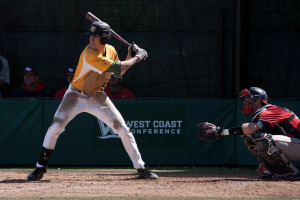 The 6'5″, 205-pound Zimmer put himself on the prospect map with an outstanding sophomore season in 2013 when he slashed .320/.437/.512 with 29 walks with seven home runs against just 31 strikeouts in 58 games.
He's followed up that breakout campaign with an even more impressive .368/.461/.573 batting line to go along with seven homers, seven triples and 10 doubles. Once again, he's walking (31 times) almost as often as he strikes out (34), and he's swiped 21 bases in 32 tries in 2014. Bradley was kind enough to take some time out of his busy schedule to talk with MLBTR last week:
Steve Adams: The first thing I want to ask you is if you can, in your own words, describe your overall game.
Bradley Zimmer: I think, I'd say I'm a very hard-working, very hard-nosed player. I go out there every day with the mindset that I'm going to do whatever I can to help my team win, whether that be stealing a base, driving in runs, or playing good defense.
SA: Is there a particular player or maybe multiple players that you modeled your game after growing up, or that you continue to model your game after?
BZ: Yeah, definitely. I think guys like Carlos Gonzalez, Matt Kemp, Jacoby Ellsbury — I think those are all some names that I kind of look to and model my game off.
SA: Those guys you mentioned there are kind of "complete players" — blends of power, speed and hitting for average. Is that the the type of player that you ultimately see yourself becoming in an ideal setting?
BZ: Yeah, I think so. I think that I have attained those five tools as my career has gone on. I think there's definitely room for improvement, and as time goes on, I think I'm just going to get bigger, stronger, faster and be able to hit for more power, run faster, throw a little harder. I think as time goes on, I'll just continue improving.
SA: I know you were drafted previously in the 23rd round by the Cubs back in 2011. Can you talk a little bit about the decision to head to college and go play at the University of San Francisco instead of signing out of high school?
BZ: I think it was a decision based off of the sole fact that I wanted to pursue my academics and play college baseball. I'd like to get my degree from USF whether that be now or in a year or two. That was a big reason, and I wanted to get the college experience. And the coaching staff at USF is amazing. I give them all the credit for my success as a player and a student. I got the opportunity to play with brother as well, which was awesome. I think those things were the main components of my decision.
SA: Talking about your brother, you've been through process before, to an extent, in terms of being exposed to the pressure and the attention that a potential first-round pick goes through. Has what Kyle went through a couple of years ago helped prepare you for that scenario this year?
BZ: Yeah. I think seeing him going through this process previously in 2012 was definitely a leap in the right direction for me, as far as getting to experience the process of being looked at and being a high prospect. I think that was definitely beneficial for my development as a player — being able to see him go through that.
SA: I've seen a couple reports that you were actually clocked in the 90s off of a mound. Kyle's obviously had plenty of success as a pitcher — was there ever any temptation for you to follow that lead and pitch as well?
BZ: No, not really. We've joked around about it here and there, but I never really strongly considered being a pitcher. I've always been a hitter, and I think that's the way I always will be.
SA: You've played all around the outfield, and you played center field primarily of late. Is that your preferred position in the outfield and the position you see yourself playing in the future?
BZ: Yeah, I got the opportunity to move over to center field this year, and I think did a really good job there. I think I helped our team quite a bit out there. I felt really comfortable, and I feel like I can really help a team the most at that position. Hopefully, I get a chance to stay there, but if not, whatever works — I can play corner outfield as well.
SA: There are some people that say you're 6'5″ — which is big for a center fielder. What's your response to scouts that say that despite the fact that you have good speed, you'll eventually have to move to a corner? Do you feel you can handle any outfield position?
BZ: Oh, absolutely. I played right field my first year in college, and I had no problem with it. Like I said, wherever works best and whatever fits for the team, I'm willing to do that.
SA: There's a lot of praise for your swing — a really smooth, line-drive stroke that lets you hit for good average. Have you ever felt any pressure to hit for power, or are you of the mindset that home runs will come when they come?
BZ: Yeah, I think some people question my power, but I think I've put up some good power numbers. But with that, I know it's only going to improve more. I've just got to keep going out there every day and do what I do and let the rest take care of itself.
SA: It seems like your sophomore season is what really put you on the map. Your freshman year, you hit .242 and walked four times, and then you had this breakout season as a sophomore where you walked almost as many times (29) as you struck out (31). What was the difference between those two seasons for you? What changed from freshman to sophomore year?
BZ: I think just overall experience of playing at the college level and knowing that I can compete at that level and potentially dominate. I think just the experience. The coaches are awesome. They helped me a lot. I felt a lot more comfortable and I knew that I belonged.
SA: At the beginning of this year you hit third a lot, and then toward the end you were hitting leadoff a lot. Do you have a preference between those two positions? What's your ideal slot in the future?
BZ: I'm not really used to hitting leadoff — I've been in the middle of the lineup the last few years — but coach put me there and he thought that was best for the team, so I had no problem with it. I think it's been going just fine. I've actually gotten used to it to the point where I enjoy hitting leadoff. I don't see that big of a difference in hitting leadoff versus hitting third, at least for me. My approach has pretty much stayed the same and like I said, I've enjoyed it.
SA: That's obviously a change late in the season. Have you, with the draft coming up, made any changes to your training regimen and day-to-day activities?
BZ: No, not necessarily. I've taken batting practice for a few scouts — they'll come out to practice — but other than that, it's pretty standard stuff at the ballparks. Just execute in my role and help my team win.
SA: I'll wrap this up pretty quick but wanted to ask one more question. If we fast forward to five years from now, and Bradley Zimmer is stepping into the box in the bottom of the ninth inning with two guys on base against Royals ace Kyle Zimmer, who is trying to close out a complete game shutout… who wins that battle?
BZ: [Laughing] Obviously, I've got to give it to myself. I'm going to win that battle. I think he wouldn't even mess with throwing me the offspeed stuff, he'd just try and blow it by me, so I'd be ready for that first-pitch fastball and just jump all over it.
SA: Future bragging rights at every family holiday?
BZ: Oh, yeah. Just wait for one of those 98 mph fastballs.
Photo courtesy of the University of San Francisco Athletics Department.