TUESDAY: Passan has the year-to-year breakdown of Singleton's contract (Twitter link). He will earn $1.5MM this season and $2MM per year from 2015-18. He notes that each of the second options have a $250K buyout as well.
MONDAY, 6:19pm: Jon Heyman of CBS Sports reports (via Twitter) that Singleton's options are worth $2.5MM, $5MM and $13MM. Singleton would earn $17MM for his pre-arbitration and arb years, with the $13MM option being for his first year of free agency.
5:30pm: The future of the Houston Astros is getting brighter and brighter, and the latest ray of light will make his Major League debut tomorrow. The Astros announced today that they have not only promoted top prospect Jon Singleton, but also inked him to a historic five-year contract extension with three club options despite the fact that he's never played a Major League inning. The Sosnick/Cobbe Sports client reportedly receives a $10MM guarantee, and his contract can max out at $35MM if all of the options are exercised and he reaches various performance bonuses.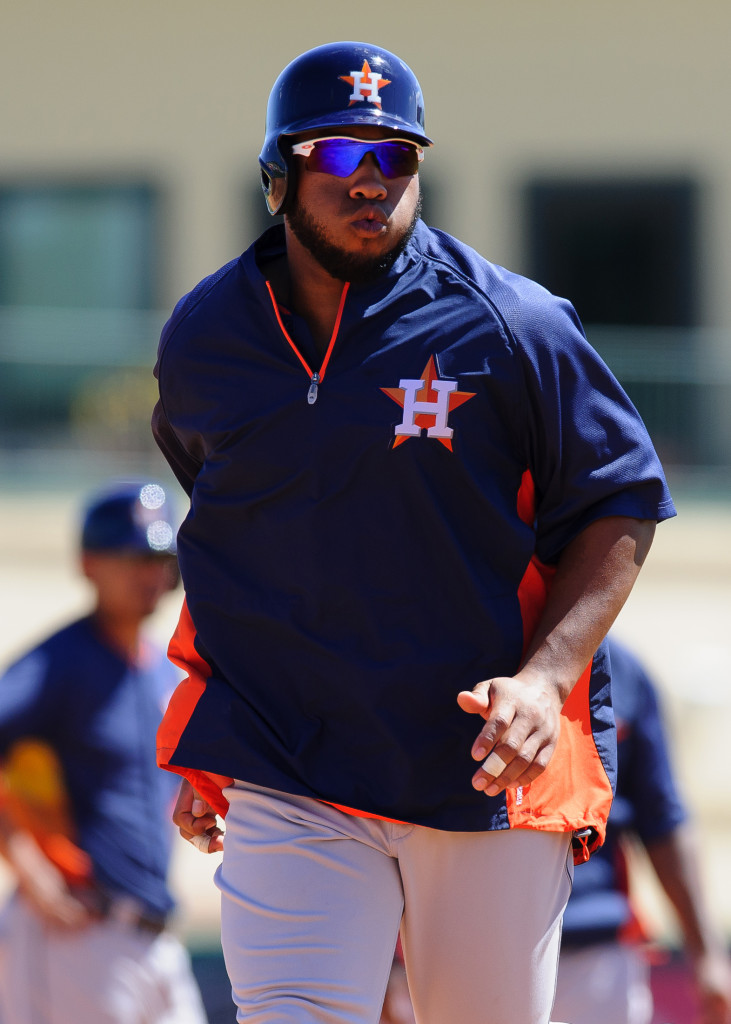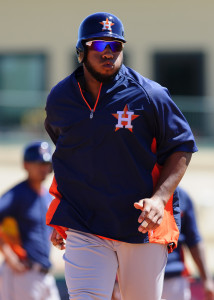 Singleton will reportedly earn $9.5MM in salary over the five guaranteed years, plus a $500K buyout if the Astros decline their first option.  The total value of all three option years is $20MM, with an extra $5MM available in bonuses and awards.
The extension sets a new precedent for players who don't have any Major League service time.  Singleton was already under team control through at least the 2020 season, though now the Astros have cost certainty over the slugging first baseman through all of his pre-arbitration and arbitration-eligible seasons, not to mention his first free agent season should Houston use all of its team options.  The 22-year-old Singleton is now locked up through his age-29 season.
The Astros aggressively pursued extensions with several of their young players over the last few months, pursuing deals with George Springer, Robbie Grossman and Matt Dominguez that would've covered all most or all of their arb and pre-arb years and given the team more options years, to boot.  Springer's proposed extension would have also locked him up prior to his ever playing a day in the bigs, the same as Singleton's contract.
Originally an eighth-round pick of the Phillies in the 2009 draft, Singleton came to the Houston organization as part of the trade package for Hunter Pence in 2011.  The left-handed hitting first baseman has been on a tear at Triple-A Oklahoma City this season (hitting .267/.397/.544 and hitting 14 homers over 239 plate appearances), rebounding from a tough 2013 campaign that saw him struggle at Triple-A and serve a 50-game suspension for marijuana use.
Despite his issues last season, Singleton was still ranked among the game's top prospects in preseason rankings by MLB.com (42nd overall), ESPN's Keith Law (78th) and Baseball America (82nd).  The 2014 Baseball America Prospect Handbook ranked Singleton as the seventh-best prospect in Houston's system and described him as having "middle-of-the-order potential" and "plus raw power," whle also praising his bat speed and ability to draw walks.  The BA Handbook questioned his consistency against left-handed pitching, though Singleton showed improvement by posting a .919 OPS in 77 PA against southpaws this season at Triple-A.
Yahoo Sports' Jeff Passan was the first to report the agreement, while ESPN's Jerry Crasnick reported some of the specific terms (Twitter links).
Photo courtesy of Steve Mitchell/USA Today Sports